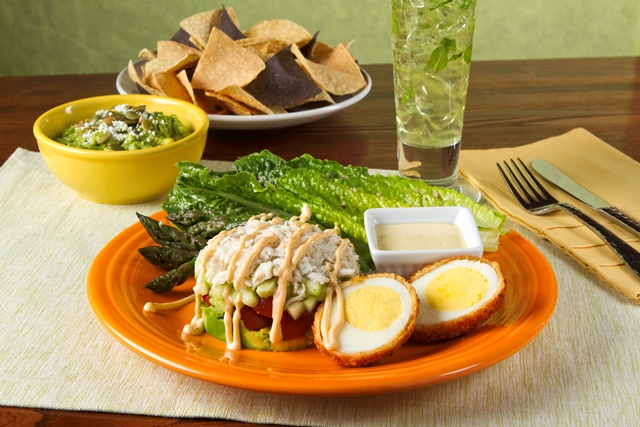 Valley Z'Tejas locations are spicing up summertime with the release of several new menu items–from tempting entrees to an adults-only dessert. Unveiled just this week and available through August 19, here is what diners can expect during their next visit to any of Z'Tejas' four Valley locations (and one on the way in Phoenix):
Entrees
Adobo Pork Quesadilla (lunch only)
Adobo marinated pork tenderloin, layered with Cajun slaw, grilled pineapple and cheddar and jack cheeses, served with mango guacamole.
Southwestern Crab Salad (lunch only)
Stack layered with crab meat, cucumbers, grape tomatoes and avocado, served with marinated romaine hearts, asparagus and a crispy hardboiled egg.
BBQ Smoked Duck Tacos
In corn tortillas with cheddar and jack cheeses, avocado-corn relish, spicy Cajun aioli, served with borracho beans and Southwestern slaw.
Apricot Mustard-Glazed Pork Tenderloin
Served with sweet chipotle rice, grilled summer vegetable medley and Serrano mint chimichurri.
Citrus-Glazed Barramundi (dinner only)
Fresh barramundi seared over an open flame and finished with a citrus glaze, served atop a bed of roasted summer succotash, topped with a grilled pineapple salsa.
Lobster Ravioli (dinner only)
Lobster filled ravioli striped with squid ink, served with a roasted green chile sauce and red bell pepper puree.
Cocktails
White Grape Cilantro Margarita
El Jimador Silver Tequila, Cointreau, white grapes and lime juice with a sprig of cilantro.
Skinny Pineapple Honey Faux-jito
Little Black Dress Pineapple Honey Vodka, Herradura Agave Nectar, soda water, lime wedges, mint leaves with a splash of Midori. Under 250 calories.
Dessert
21 Berry Trifle
Tequila soaked sponge cake layered with el Jimador Silver Tequila mousse and fresh berries. Must be 21 or over to order this dessert.
For a complete menu, visit www.ztejas.com.