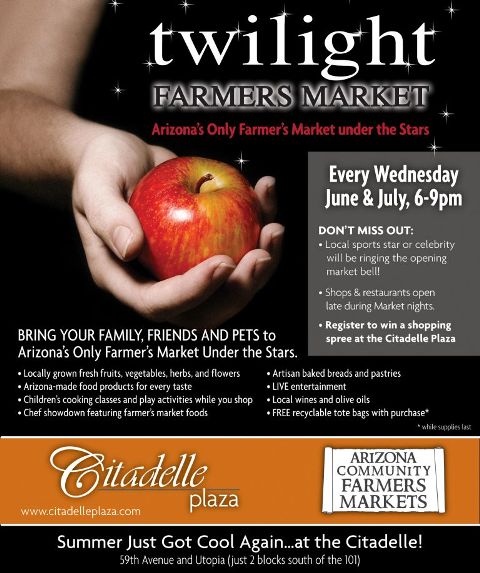 The Valley is full of some incredible farmers markets; however, summer isn't high time for them…until now. Today marks the beginning of the Twilight Farmers Market, the Valley's only evening farmers market. The Twilight Farmers Market will take place from 6-9 p.m. at Glendale's Citadelle Plaza, located on 59th Avenue, two blocks south of the 101 Loop. The family- and pet-friendly shopping and dining experience will be a celebration of Arizona's summer bounty. Glendale Vice-Mayor Manny Martinez is scheduled to ring the opening market bell at 6 p.m., followed by a live performance from the WNBA's Phoenix Mercury Hip Hop Squad and musical entertainment from the award-winning Mountain Ridge High School Sax Choir. The special nighttime farmers market will take place each Wednesday evening through July 29th.
If you're concerned about the heat, a special cooling system will keep the plaza comfortable as shoppers seek out delicious and unique food finds from more than two dozen Arizona farmers and food artisans. Here's just a sampling of the Twilight Farmers Market selections:
· Organic fruits and vegetables
· Fresh herbs and flowers
· Heirloom tomatoes and peppers
· Free-range eggs
· Grass-fed beef
· Locally farmed seafood
· Artisan breads, pastries, fruit tarts and cookies
· Specialty tamales and locally produced salsas
· Jams, jellies, sauces, dips and gourmet apple butter
· Vegan products
· Homemade ice cream
· Gourmet pet treats
And, luckily, you won't be left hanging after purchasing these home-grown goodies. Figuring out what to do with all of the market ingredients will be a breeze after weekly "Chef Showdowns" between Citadelle Plaza chefs from Tutti Santi Italian Restaurant and Corbin's Bar & Grill. These culinary experts take on the challenge of transforming selected farmers market items into delicious, easy-to-make dishes for shoppers to sample or recreate at home using the showdown recipes posted on Citadelle Plaza's Web site, http://www.citadelleplaza.com/.
Parents can shop at leisure while kids choose to take a cooking class led by "Cooking with Chef Morgan: It's Kid's Play" or get physical in a special Market Night organized play class from 6-7 p.m. at BUSY BODIES Planned Play. Shoppers will carry their culinary treasures home in a recyclable Citadelle Plaza signature tote bag free with first purchase. Market shoppers will also have a chance to win a Citadelle Plaza shopping spree. Twilight Farmers Market is co-sponsored by the Citadelle Plaza and Arizona Community Farmers Market, a green-roots organization that supports local growers, producers and cottage food industries in the State of Arizona.