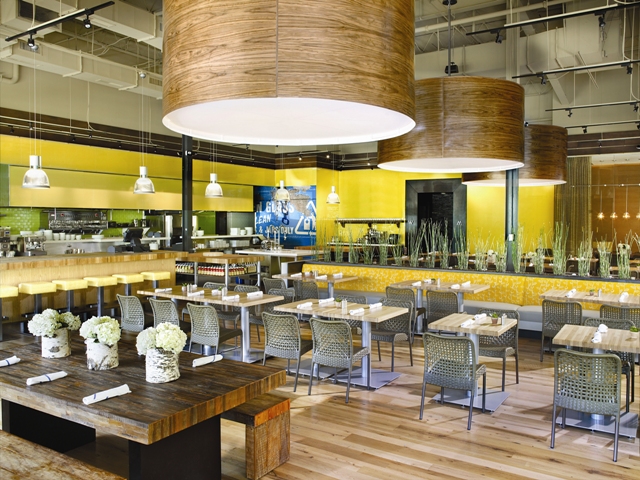 Biltmore Fashion Park's True Food Kitchen has integrated nutritious ingredients into kids' favorites with their new kids menu. Steering clear of the typical chicken fingers or mac and cheese, these new additions will still entice tiny taste buds.
The new kids menu items include:
· Little Chopped Salad ($5) with carrots, cucumbers, broccoli, romaine lettuce, white cheese and dill ranch
· Almond Butter, Strawberry & Banana Sandwich ($6) on grain-nut bread with carrot sticks
· Chicken Teriyaki Bowl ($7) with peas, broccoli, carrots and brown rice
· Baked Ziti ($7) with gluten-free pasta, tomato sauce, greens and mozzarella
· Corn & Tomato Pizza ($7) with mozzarella cheese
· Kids' Organic Peanut Butter ($5) with vegetable sticks and grapes
· A signature kiddie cocktail: Homemade Strawberry Lemonade ($3)
The menu at True Food Kitchen continues to feature global cuisine, influenced by areas such as the Mediterranean, Asia and California. "We have several True Food Kitchen regulars who bring their children into the restaurant and have been asking for a menu geared specifically to kids," said Executive Chef Michael Stebner. "We believe in healthy eating for all ages and were happy to introduce fun-to-eat children's dishes that feature sneaky, hidden nutritious elements." A wide variety of all-ages menu offerings are available, including: soups; appetizers; salads; pasta, rice and noodle dishes; wood-grilled dishes; sandwiches and burgers; brick oven pizzas; and desserts. 2502 E. Camelback Rd., Ste. 135, Phoenix, 602.774.3488, www.foxrc.com.