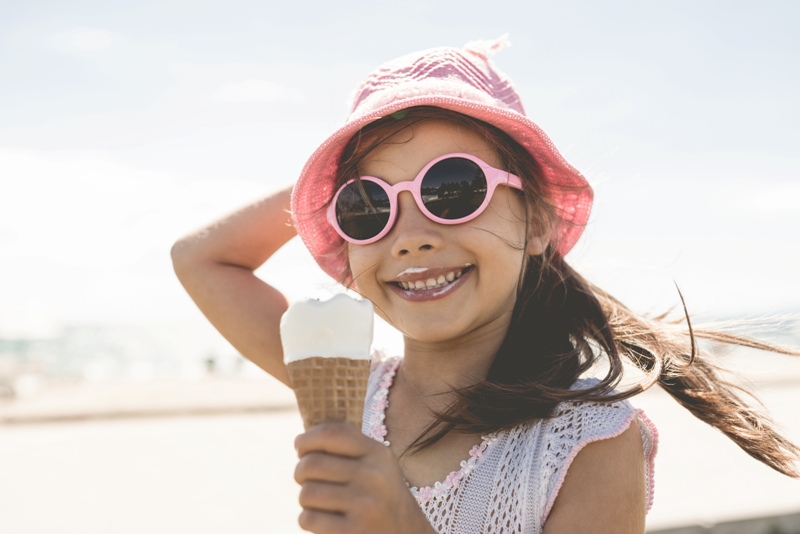 From bubble waffle cones to taiyaki (fish-shaped cake cones) to over-the-top milkshake creations, the Valley is experiencing no shortage of Instagram-worthy ice cream moments. But what about a tried-and-true scoop, malt or sundae? Here are a few of the more traditional Valley ice cream shops for enjoying on a hot summer day. 
Every scoop at Sweet Provisions Local Creamery & Bake Shop in Scottsdale is made fresh every day using local dairy, which is why locals come back again and again for its ever-changing menu of flavors. (The pastel, old-timey interior couldn't be any cuter, either.) Plus, parents will appreciate the selection of freebie toppings (like sprinkles and whipped cream). Is your sweet tooth really aching? Pick your favorite flavor and topping and have is whirled into a milkshake.
Everything is better in a pretzel cone, and our favorite is at Phoenix's CHURN. (We especially love it with scoops of peanut butter and double chocolate ice creams.) Rotating flavors include everything from goat cheese-honey-pistachio to candy corn and egg nog, but traditionalists can dig into the classics as well in this colorful, too-cute spot from the talents behind Postino Winecafe, Windsor and Joyride Taco Shop.
Peterson's Ice Cream has been around for nearly a decade—so they must be doing something right. The old-fashioned ice cream shop in Gilbert scoops favorites like Superman, New York cherry and cookie dough; take a seat at the counter for a truly back-in-time experience.
Since 1958, Sugar Bowl has been synonymous with "ice cream in Scottsdale." From creamy shakes and malts to Camelback sodas to a heaping scoop of traditional ice cream, parents who celebrated good grades and birthdays at Sugar Bowl during their childhood are now taking their own kiddos for a round of milkshakes to celebrate life's little and big milestones.
Take a step back in time at MacAlpine's Diner & Soda Fountain in Phoenix. The retro diner is kitschy and fun for the entire family, with each booth having a jukebox and the servers dressed in their 50's best. There are dozens and dozens of options for old-school ice cream lovers here, from huge sundaes topped with a big dollop of whipped cream (kids will love Bears at the Beach) to ice cream sodas and egg creams.
From-scratch recipes and innovative flavors set Sweet Republic from the pack. Among the rotating list of flavors are sweet corn, honey-lavender, watermelon, sweet cream pie and many more can't-miss concoctions. (Today's list is located on the Sweet Republic Web site so you can know before you go.) There are locations in both Scottsdale and Phoenix.
Located at The Orchard in Phoenix, Splurge Ice Cream & Candy Shop offers freshly made gelato in kid-approved flavors like bubble gum and chocolate brownie and dishes up a delish adults-only root beer float, too. PS: there is a splash pad right outside of Splurge. Ice cream plus splash pad equals serious summer fun.
Using milk from their own dairy farm, Superstition Farm, Udder Delights in Gilbert is about as local as you can get. Year-round favorites include flavors like Arizona Sunset, Superstition Farm and Butter Pecan; a rotating list of seasonal scoops is also available. Can't get to Gilbert? Keep an eye on Udder Delights' social media to learn the whereabouts of its ice cream truck, which is a popular fixture at East Valley events.
At The Screamery's locations in Phoenix and Tucson, fans expect from-scratch ice cream made from grass-fed dairy and natural ingredients. (It has racked up the awards for having Tucson's best ice cream.) With flavors like sweet cream honeycomb and blueberry cheesecake, who can choose? That's why The Screamery offers a flight with six sample-size scoops for less than $8.