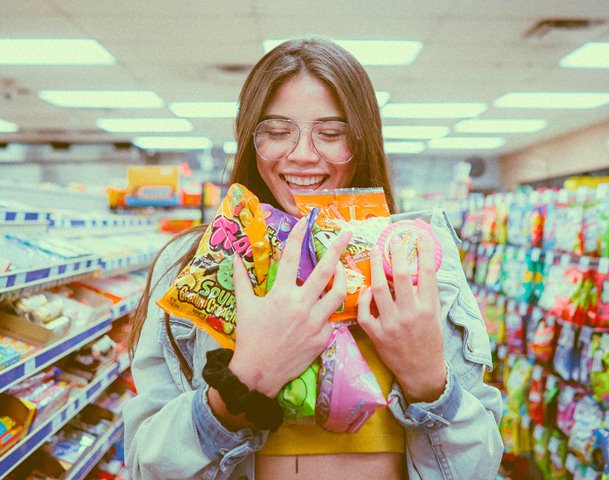 Photo by frankie cordoba on Unsplash
At nearly 13,000 square feet of wall-to-wall candy, this family-owned and -operated company is a Chandler favorite. Sweeties Candy is known for its old-time classics stocked all the time in addition to sugar-free options and every Jelly Bean flavor possible. Sweeties Candy is open Monday through Saturday 9 a.m. to 7 p.m.
Candy Addict
Are you nostalgic for your all-time favorite candy you grew up with? Well, lucky for you Candy Addict on Mill Ave. in Tempe has it all and so much more. In addition to international brands, gourmet chocolate bars and no-sugar-added candy, there is a full wall of licorice and gummies. Come enjoy sweets from the past, present and future.
See's Candies
Since 1921, See's Candies and chocolates have been made from scratch and become a forever crowd-pleaser for generations. With all-new summertime favorites like Tango Chocolate and Marshmallow Treats, these seasonal, delicious desserts are a must-have for the summer snacking.
Old Town Candy and Toys
With more than 144 baskets and bins of mix-and-match candy, Old Town Candy and Toy's charming, sweet shop is the perfect afternoon stop for some summer fun (and very delighted taste buds.) Known for its retro candy and toys, this scrumptious store is fun for all ages; a great stroll down memory lane and a must-do family activity when in Scottsdale.
Fuzziwig's Candy Factory
You can't resist stepping into the Fizziwig's Candy Factory (Willy Wonka, anyone?) The bright colors, one-of-a-kind collector's toys and a remarkable 400-plus candy varieties inside, this sweet, delicious factory has candy and treats for everyone. With multiple locations all over the Valley, make an afternoon of it with the whole family and fill up those candy bags.
IT'Sugar
This modern-day playground is known for its tongue-and-cheek attitude and chic twist on candy stores. IT'SUGAR is the perfect place for candy-obsessed lovers to come and mix, taste and leave with a satisfied sweet tooth, as well as pick up a few fun gifts for family and friends (like mugs, plush toys and more). You will not be disappointed with this upscale, Instagram-approved candy shop.
Rocket Fizz
Rocket Fizz Soda Pop and Candy Shop is an independently-owned and -operated sugar frenzy that specializes in unusual flavors and are old-time favorites. Starting out in California, Rocket Fizz has now spread across the country including Arizona (with Gilbert and Scottsdale locations)—lucky us! Make sure you pick up a "Fun Fixin Gift Basket" while you're there for your next house-warming gift and trick friends with the wacky soda flavors.
Rocky Mountain Chocolate Factory
This classic candy and chocolate store is an all-time fan favorite. With its large displays of fudge, beautiful caramel apples, appealing colorful cases of yummy treats and perfectly packaged tins for gifts and presents, Rocky Mountain Chocolate Factory is your one-stop shop to curb your sweet tooth and pick something up for later while you're at it. Located inside Scottsdale Fashion Square Mall, it's the perfect post-shopping treat for the whole family. –Eliza Cann