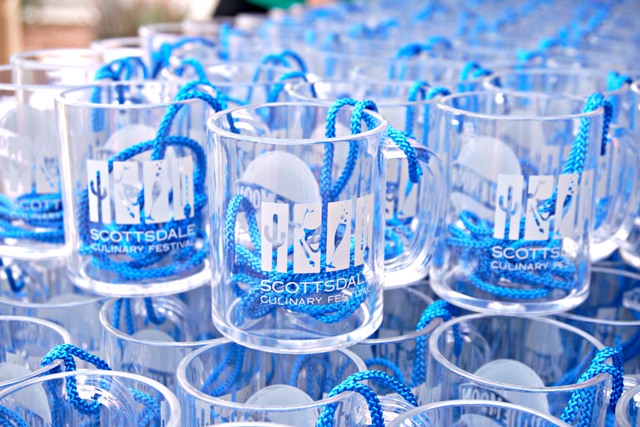 We sure hope you're hungry. This weekend, April 16 and 17, is one of the Valley's favorite annual events (and Best of Our Valley winner): Scottsdale Culinary Festival. The two-day event takes place at the Scottsdale Civic Center Mall and is hosted by the Scottsdale League for the Arts.
Take a look at the dishes being doled out by more than 40 event participants:
• Angelo's Italian Ice—Italian ice bowl, gelato bowl
• Beignet Babes—Traditional beignet, Cuban beignet, bourbon peach beignet
• Black & Bleu American Grill– Pretzel bites with beer cheese sauce and French onion dip, truffle and sundried tomato mac n' cheese with bacon, pulled pork and short rib slider duo, filet bites
• Bourbon Jacks—Pulled pork sample, mac n' cheese, pulled pork sandwich
• Caketini—Bundt cake, parfait pop, entremets
• Cien Agaves Restaurant—Chips and salsa classica, guacamole
• Crab & Mermaid—Tuna Poke
• Crust Restaurants—Garlic knots, assorted rusticsas (pizza)
• Dakota—Chicken and arugula toast, shrimp ceviche
• DC's Smokin BBQ—Rib basket, brisket slider, pulled pork slider, BBQ baked beans, coleslaw
• Delice Bistro—Crepes, panini, baguette sandwiches, salads, French pastries
• Dos Gringos—Pork green chile taco, shredded chicken and chorizo taco
• Garcia's Mexican Restaurant—Tacos, burritos and nachos—all beef or chicken
• Grimaldi's Pizzeria—Cheese and pepperoni pizza by the slice
• Honey Bear's BBQ Inc.—Pork-n-cup (beef or chicken) rib bone, pork, beef or chicken slider, rib tips, loaded fries, sweet potato pie tart, BBQ cowboy beans
• Inching Bamboo Garden—Dragon chicken, veggie combo (rice, noodles, sweet and sour veggies), non-veggie combo (rice, noodles, sweet and sour chicken), Chinese bhel
• Jamba Juice—Smoothies, beer brezen pretzel bits
• Lulu's Sorbetto—Sorbetto: pure coconut, pure chocolate, pure mango
• Marigold Maison—Samosa, chicken tikka masala, lamb biryani
• Pastries N Chaat—Samosas, Indian chaat, veggie biriyani, chicken biriyani, pastries
• Pita Jungle—Gyro, shawarma, hummus and pita, hummus and chicken, quinoa and super greens salad, Greek salad, walnut baklava, pita chips
• Pork on a Fork—Mac n' cheese, smoke bacon wrapped meatballs, smoked chicken sliders topped with coleslaw, pulled pork slider topped with coleslaw
• Riot Hospitality Group—Chips and salsa, chicken tinga taco, ground beef Picadillo taco
• Roka Akor—Braised pork ribs with sweet garlic soy glaze, grilled corn on the cob in soy- garlic butter and tenkatsu
• Roy's—Wood grilled szechaun pork ribs, lobster potstickers
• Spinato's Pizzeria—Cheese, pepperoni, tomato, basil and garlic pizza
• Sushi Roku—Spicy tuna hanabi, ebi bacon skewer, edamame hummus with wonton crisp
• Squid Ink—Seared salmon rice bowl, coconut curry chicken with rice, coconut curry vegetables with rice, bacon crackerjax
• The District—Back to Manhattan sliders, fireman sliders
• The Muffin Girl—Gourmet muffins: s'mores, cinnamon roll, coffee cake, lemon poppy seed, peanut butter chocolate chip
• Treatery—Ice cream cone, root beer float, ice cream sandwich
• Two Brothers Brewery& Restaurant—Waffle BTL Slider
On Saturday, the festival is open from noon to 9 p.m. and, on Sunday, from noon to 6 p.m. Tickets: $10 general admission; kids 12 and under are free; $40 Southwest Festival of Beers – includes GA to the Scottsdale Culinary Festival plus a souvenir tasting mug and 20 beer samples; $140 Saturday VIP admission; $115 Sunday VIP admission; VIP admission includes exclusive demo seating, and unlimited food and beverage tastings inside the VIP tent, while supplies last. All net proceeds raised will support the non-profit Scottsdale League for the Arts in its effort to promote the arts and arts education organizations in the Phoenix metropolitan area, via annual fundraisers such as the Scottsdale Culinary Festival and The Friends of James Beard Benefit Dinner.