Has it been a while since you've ventured to SouthBridge, the shopping/dining destination near Scottsdale Fashion Square? Well, a trio of SouthBridge eateries Canal (where food and fashion collide), Estate House (a multi-level dinner house serving American contemporary fare) and Metro Brasserie (here you can find New Orleans-French cuisine) have teamed up to bring hungry Scottsdalites a brand new dine-around experience: The Taste de Tour. For $49 per person, diners get an appetizer and cocktail at Canal, an entree and salad at Estate House and finish up with a cup of coffee and some dessert at Metro Brasserie. (Metro's beignets, oh how I love thee!) The Taste de Tour is an especially great opportunity for those who've wanted to sample these SouthBridge restaurants but haven't got around to it.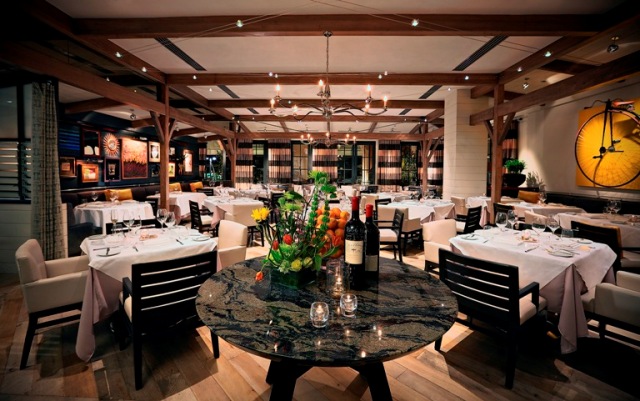 Here's a sampling of what you can order during the Taste de Tour:
Canal
Signature cocktails: ginger martini, strawberry smash, Canal cocktail (made with St. Germain elderflower liqueur, Prosecco and soda), cherry lemonade  (not as PG as it sounds, I promise) or Asian watermelon mojito
Appetizers: sweet corn cakes, Asian chicken taquitos, Thai chicken summer rolls, marinated beef lettuce wraps or Canal grilled cheese bites with roasted tomato bisque and mustard aioli
Estate House
Salad: mache salad with goat cheese truffles, blood orange and sherry vinaigrette or honey-roasted baby beet salad with minted tender greens
Entree: hand-made tagliatelle with oven-dried tomato, roasted garlic, basil, frantoia and shaved bottarga; Shiraz molasses-braised short rib; grilled baby lamb; Mediterranean sea bass or roasted rock hen with Tuscan white bean puree, pancetta chip and candied garlic-basil zupa
Metro Brasserie
Dessert: lemon-thyme tart with macerated seasonal berries; brown butter crepes; beignets served with Nutella, raspberry cream and vanilla coulis (did I mention that I love these little guys?); bulles etcreme with sweet cream gelato and chef Jon's birch beer; creme brulee or walnut-pear tart tatin
Good luck making your decisions, people–it all sounds good to me. And come hungry! To make reservations, call 480.970.7890. The Taste de Tour is available through April 30.
PS If you haven't thought about Valentine's Day dinner plans just yet, may I suggest considering an alfresco feast for two at Estate House. (I'll be providing even more Valentine's Day suggestions next month, so don't fret just yet.) Anyways, this place is definitely romantic and luxe without being too candlelit-y and over-the-top. There are several outdoor dining areas and the weather is kinda amazing right now so take advantage.