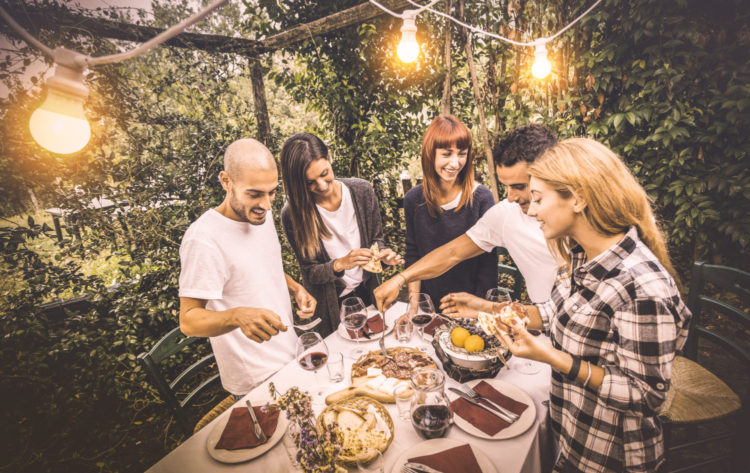 Make Thanksgiving dinner a snap by placing your order at one of these Valley restaurants for a tasty to-go feast. Don't worry; your holiday secret will be safe with us.
Match Restaurant & Lounge offers a Thanksgiving to-go dinner with Waldorf salad and roasted turkey dinner including rosemary gravy, house-made cornbread stuffing, Yukon Gold smashed potatoes, brown sugar candied yams with toasted marshmallows and almonds, green bean casserole, cranberry sauce with cherries and thyme and dinner rolls. Pumpkin pie is available for an additional $20 per pie and sweet potato pie is available for an additional $24 per pie. Orders must be received by Tuesday, Nov. 26 at 5:00 p.m.; pick-up orders may be scheduled to retrieve at the Match Bar between 10 a.m. and 4 p.m. on Thanksgiving Day.
Chef Just Beckett will be cooking up classic Thanksgiving sides and his award-winning fig and pecan pies to serve at your upcoming Thanksgiving dinner. Orders for sides and pie will be accepted now through Saturday, Nov. 23. All orders must be placed by Nov. 23. Orders will be available for pick up on Wednesday, Nov. 27, from 11 a.m. to 6 p.m. Sides and pie orders placed at Beckett's Table must be picked up at Beckett's Table and orders placed at Southern Rail must be picked up at Southern Rail.
Miracle Mile Deli offers its oven-roasted turkey dinner. It includes your choice of white or dark meat, mashed potatoes, gravy, stuffing, bread and butter and cranberry sauce. Prices of side items vary. Must order by Nov. 26 with pick-up by Nov. 27 at 8 p.m.
Prepare Chompie's exclusive recipes in your own kitchen with Chompie's Thanksgiving catering. All the turkeys and trimmings are prepared from scratch the same day as your scheduled pick-up with reheating instructions. Complete Thanksgiving meal packages are available for $249.99 and serve 12 to 15 generously. On the menu: white meat roasted turkey breast served with stuffing and cranberry sauce, along with a bevy of side dishes, like mashed potatoes, home-style string beans, candied yams and freshly-baked rolls. For dessert, your choice of homemade pumpkin or apple pie.
Let the ZuZu's chefs craft the perfect dinner including turkey, whipped potatoes, stuffing and much more. Place your order by 5 p.m. on Nov. 26 for $36 per person, with whole pies available for $15.
At Hearth '61, a slow-roasted Two Wash Ranch turkey dinner with country gravy, yukon gold mashed potatoes, chorizo cornbread stuffing, local organic vegetables, cranberry orange relish and parker house rolls is available to go for $42 per person, with whole pies available for $20 to $24. Place your order by Nov. 26 at 5 p.m.
This Thanksgiving, dinner hosts can switch out the traditional pumpkin pie for a healthier variation: True Food Kitchen's squash pie. Made with a vegan graham crust, filled with puréed butternut squash and topped with dairy-free coconut whipped cream, this not-too-sweet yet flavorful pie will make a great addition to any Thanksgiving meal. Pre-orders are being taken now through Sunday, Nov. 24; pies will be available for pick-up on Tuesday, Nov. 26, and Wednesday, Nov. 27, for $25. New this year, guests will be able to order the pie online for in-store pick-up.
Olive & Ivy's sommelier will take care of the decision-making for holiday wine picks. Stop by Olive & Ivy's marketplace to pre-order a holiday wine pack of four hand-selected bottles of wine for $50. Each pack will contain one red, one rosè and two white wines that will pair with any holiday meal. Holiday wine packs can be picked up at the marketplace Monday, Nov. 25, through Wednesday, Nov. 27.
Liberty Station American Tavern and Smokehouse is offering a complete Turkey Day feast that can easily be heated and served at home. The menu includes sliced smoked turkey with gravy, mac n cheese, garlic mashed potatoes, stuffing, pie and much more. Cost is $25 per person, not including tax. Guests must order by 10 a.m. Sunday, Nov. 24, and pick up times will be scheduled on Wednesday, Nov. 27, between 2 p.m. and 6 p.m. and Thursday, Nov. 28, between 11 a.m. and noon.
Trapp Haus BBQ is firing up the smoker and making slow-smoked specialties to delight guests. Orders on being accepted on whole pecan-smoked turkey is available for $85 (serves 8 to 10 people); Cajun fried turkey for $95 (serves 8 to 10); a variety of sides available in half pans and much more. Pre-orders and pick-up times can now be arranged.
For those who wish to bring dessert to their Thanksgiving gathering, Executive Pastry Chef Lance Whipple and his team at Four Seasons Resort Scottsdale at Troon North are ready to lend a hand. Proof, An American Canteen will be offering a selection of delicious pies for pick-up on Nov. 27 and Nov. 28. The menu will offer apple rhubarb pie, pumpkin pie, bourbon pecan pie and French chocolate silk pie. Each pie is $25. A side of whipped cream or salted caramel sauce is available for $9 each and a quart of any flavor of  Proof's house-spun ice cream is $12 each. Email scottsdale.holidayinquiries@fourseasons.com to order.
Chase's Diner has rolled out its holiday pie and cake offerings including carrot, German chocolate and red velvet cakes and pumpkin, apple, cherry, pecan, chocolate cream and key lime pies (among others). All cakes and pies require a 48-hour advance order time now through Dec. 31.
AZ Food Crafters prepares a Thanksgiving Dinner for four (with plenty of leftovers for next-day noshing!) for $109 and including the following: brined and slow-roasted turkey breast, gravy, stuffing, mashed potatoes, green bean casserole and more, plus a variety of scratch-made deep-dish pies. Thanksgiving orders must be received by midnight on Wednesday, Nov. 20.
Leave the cooking to Phoenix Public Market Café as it is offering an "Everything But The Bird" special and homemade pies available to pick-up for the holiday. The Everything But The Bird Special is $165 for seven to 10 guests; the package includes winter kale salad, pumpkin soup, garlic mashers, Noble bread rolls, seasonal market veggies and your choice of pumpkin, apple crumb or pecan pie. Orders must be placed by Monday, Nov. 25, at 2 p.m. with pick-up on Wednesday, Nov. 27, from 11 a.m. to 8 p.m. Pies are $26 each and can serve eight to 10 people (same order and pick-up deadlines as the meal special.)
Luci's Healthy Marketplace or Luci's at the Orchard offer pickup for its holiday feast at Luci's Healthy Marketplace the day before Thanksgiving (Nov. 27 between 3 and 6 p.m.). The complete menu is $159.99 and feeds six to eight people (pre-cooked all-natural turkey, turkey gravy, cranberry sauce, dinner rolls, various sizes and a pumpkin pie). A la carte dishes and pies are also available, as well as just the turkey.
Sweet Provisions, The Collins and The Macintosh will all be featuring to-go pies. Slice into a variety of house-made flavors including pumpkin, apple, butterscotch-pecan and coconut cream for a perfect sweet treat for the holiday season. For all Common Ground Culinary holiday pies, 72-hour advanced ordering is required. All pies cost between $20 and $24. Thanksgiving pies must be ordered before Nov. 25 and can be picked up on Tuesday, Nov. 26, and Wednesday, Nov. 27, at the respective locations. 
Gadzooks' famous sweet and spicy cornbread is the perfect starter for stuffing or delicious on its own. A large tray of Gadzooks cornbread (serving seven) is available for order (baked or unbaked) for $15 through Nov. 27.