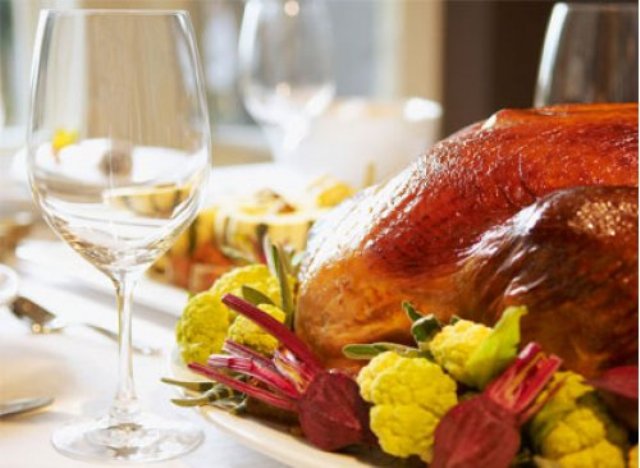 How long should you defrost that bird? Isn't Uncle Al allergic to pumpkin? Is your cousin bringing her new boyfriend? Instead of fretting these Thanksgiving Day questions, make a Turkey Day reservation (we mean it, reserve your spot now) at one of these Valley restaurants.
For a traditional meal showcasing holiday classics with home-style accompaniments served "family-style," stop by Quiessence at The Farm at South Mountain in Phoenix. Reserve your spot–at one of three seatings–for a farm-to-table feast for the entire clan. http://www.quiessencerestaurant.com/.
Diners are invited to ZuZu at Hotel Valley Ho to enjoy a la carte holiday specials like crab cakes eggs Benedict for breakfast or, for dinner, choose from butternut squash soup, slow-roasted Red Bird Farms Turkey, pumpkin pie and pecan pie. www.cafe-zuzu.com.
Maple-glazed ham, sage-and-bacon stuffing, brown sugar sweet potatoes and much more are on the three-course Thanksgiving Day menu at T. Cook's, located at The Royal Palms Resort & Spa in Phoenix. www.royalpalmshotel.com.
Whether you are seeking a buffet or a divine three- or four-course feast, Phoenix's Arizona Biltmore is hosting three different opportunities to dine on Thanksgiving at its Gold Room and Frank and Albert's and Wright's at the Biltmore restaurants. http://www.quiessencerestaurant.com/.
Phoenix's JW Marriott Desert Ridge Resort & Spa is offering delicious holiday menus this Thanksgiving at its trio of delicious restaurants: Blue Sage, Tuscany and Meritage Steakhouse. http://www.jwdesertridgeresort.com/.
La Grande Orange is giving Phoenicians the chance to order all the Turkey Day trimmings, desserts and even the main course for pick-up. Choose from salads, sides and desserts like Chef Cole's Famous "Can Free" Pumpkin Pie and fresh, free-range turkey. Order by Nov. 19. http://www.lagrandeorangegrocery.com/.
Whether you are craving an over-the-top buffet or a traditional three-course spread, Palm Court at the Scottsdale Resort & Conference Center has a dining opportunity for you. http://www.thescottsdaleresort.com/.
Bobby Q's smoked turkeys are available to-go for four days only (November 18-21). Orders must be placed 72 hours in advance of desired pick-up date. To side the smoked bird, the gravy as well as the smoked walnut stuffing will only be available on Nov. 21 for pick up. http://www.bobbyq.net/.
The Valley's Pointe Hilton Resorts are taking care of Thanksgiving dinner this year; Different Pointe of View and Pointe in Tyme at Pointe Hilton Tapatio Cliffs Resort and Rico's American Grill and Hole-in-the-Wall at Pointe Hilton Squaw Peak Resort will all serving up traditional Thanksgiving feasts. http://www.pointehilton.com/.
In addition to their regular menus, the three eateries at Fairmont Scottsdale Princess (Bourbon Steak, La Hacienda and The Grill at TPC Scottsdale) are each offering one-of-a-kind Turkey Day spreads. Take note of La Ha's interesting menu; it offers a Latin spin on the traditional holiday feast. www.scottsdaleprincess.com.
Sheraton Phoenix Downtown Hotel's District American Kitchen & Wine Bar's three-course Thanksgiving feast will end on a high note with a chocolate chiffon pumpkin tart. http://www.sheratonphoenixdowntown.com/holiday.
The five-course Thanksgiving prix fixe dinner at Arrowhead Grill in Glendale includes traditional favorites like turkey breast and turducken and Arrowhead Grill's gourmet prime rib, Atlantic salmon or Delmonico steak. http://www.arrowheadgrill.com/.
Lon's at the Hermosa Inn offers a three-course Thanksgiving dinner that pan-seared snapper, roasted turkey, pumpkin soup and fresh garden greens, to name some of the yumminess. www.lons.com.
NOCA in Phoenix will be offering a four-course tasting menu, with additional wine pairings. (A "Kid's Mini-Feast" will also be available.) The first seating on Thanksgiving will be at 3 p.m.; last seating will be at 7 p.m. www.restaurantnoca.com.