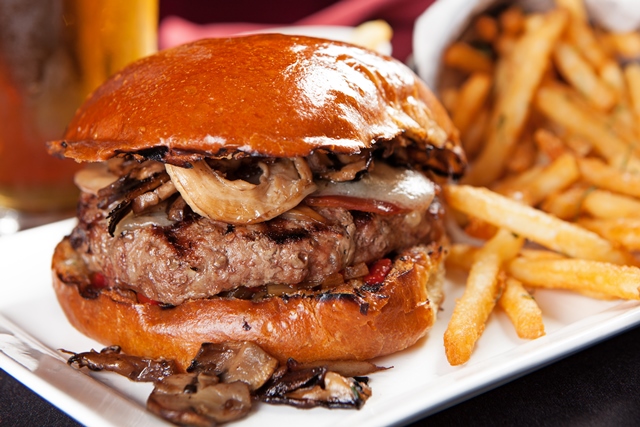 Foodie news roundup for the week of May 12.
Delicious spring recipes featured Angry Orchard Cider.
Healthy tips for at-home chefs from Pita Jungle.
The Chalkboard Pig for the Adventurous Eater (featuring a nose-to-tail special that changes monthly) at Bryan's Black Mountain Barbecue has become a favorite of diners at the Cave Creek restaurant. Back by popular demand, chef Bryan Dooley has opted to make his mesquite-dusted frog legs with preserved lemon tarter sauce a Friday chalkboard special.
In honor of the new film, "Chef," Phoenix Public Market Café and Short Leash Hot Dogs have partnered up to host a lunch and learn event on May 16 (the day of the movie release). At 11:30 a.m., join PPMC chef/owner, Aaron Chamberlin, and Short Leash co-owner, Brad Moore, for a lively chat about the real life of chefs, the ways street foods are influencing today's cuisine and the importance of passion in the kitchen. During the discussion, attendees will savor a farm-fresh salad from PPMC, and then afterward receive a swag bag that includes a $10 food ticket to be used at any of the food trucks at the adjacent Phoenix Public Market's Food Truck Friday, two passes to a weekday showing of the movie "Chef," and a poster from the film.  The event is $25 per person and reservations are required by calling 602.253.2700.
Bootleggers Modern American Smokehouse in Phoenix is hosting a four-course meal of slow-smoked perfection, each paired with beer from Oskar Blues Brewing Company on Tuesday, May 20 from 7 to 9 p.m.  For $50 per person, enjoy scallops caramelized in Mama's Little Yellow Pils or a Jack Daniels-spiked brownie topped with Old Chub Nitro ice cream.  Reservations are required by calling 602.996.4228.
Tempe's King's Fish House has announced the return of Lobster Festival. Starting May 20, in conjunction with Maine Lobster season, the restaurant features a fresh selection of lobster- and clam-based menu items, like clam bake and lobster bisque.
Throughout the entire month of May (National Burger Month), when you purchase a burger at Kelly's at Southbridge in Scottsdale, you will receive the second burger 50 percent off.
ZuZu at Hotel Valley Ho hosts Monday Night Chef's Table on May 19, featuring Trefethen Family Vineyards of Napa. The four-course dinner starts at 6:30 p.m. and is $64 plus gratuity and tax. Reservations are required by calling 480.421.7997.
Valley company, go lb. salt, have introduced a line of chile salts; the first salt to hit the market is sriracha salt ($10 for two ounces) and is available for purchase at www.golbsalt.com, at the Gilbert Farmers' Market and the Fountain Hills' Farmers' Market.
Papa Murphy's has opened a brand new store in Phoenix at 35th Avenue and Bethany Home Road and will be donating 35 percent of all purchases to the 100 Club of Arizona on Monday, May 19 from 10 a.m to 9 p.m. Plus, the 35th person to make a purchase will win free pizza for a month (four large pizzas).
Liberty Market in Gilbert hosts a "Hedges Family Estate" Community Dinner on May 20 at 6:30 p.m. The five-course dinner is $95. To RSVP, call 480.892.1900.
For more fab foodie news, become a fan on Facebook, check us out on Pinterest and Instagram and become a follower on Twitter @AZFoothillsfood.