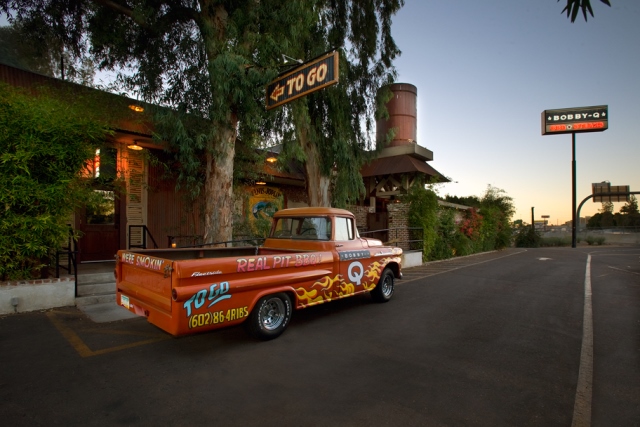 Foodie news roundup for the week of Feb. 24.
A taste of Ruffino Fine Italian Cuisine.
The semifinalists for the 2014 James Beard Foundation Awards have been announced.
On Tuesday, March 4, IHOP guests all over the country can enjoy a free short stack of the buttermilk pancakes on National Pancake Day. The free pancake fundraiser will benefit Phoenix Children's Hospital in the Phoenix area. Miss Arizona, Jennifer Smestad, will be stopping by a local IHOP next week to flip pancakes and serve guests supporting the cause.
Available Monday through Friday from 3 to 6 p.m., Bobby Q's (pictured) dishes up delectable barbecue during its happy hour. Dishes include brisket quesadilla, beer-battered barbecue fries, classic cheese nachos, chicken fingers and buffalo wings–-and all for for $3.50 each. Diners are invited to wash down their happy hour eats with a $3.50 margarita, $3 pints of craft and imported drafts, or a $3 house wine.
Through the month of March, Taggia at Scottsdale's FireSky Resort and Spa is offering a special spring training menu. Eats include popcorn with butter and southwest spices; chicken wings; smoked chicken pizza; pretzel bites with fontina fondue and truffle mustard; and much more. www.taggiascottsdale.com.
Vistancia's third-annual Food Truck Experience takes place Saturday, March 1, from 11 a.m. to 3 p.m. The premier West Valley food truck event is free and open to the public. Guests can enjoy 12 gourmet food trucks–including Island Loco, Hey Joe!, Luncha Libre, Pizza People,  Torched Goodness and Mojo Bowl–located throughout the Peoria's community's new home neighborhoods by Woodside Homes, Ryland Homes, Mattamy Homes, Gehan Homes, Taylor Morrison and T.W. Lewis by David Weekley Homes. Limited complimentary food samplings will be available from all food trucks during the event.
For more fab foodie news, become a fan on Facebook, follow us on Twitter @AZFoothillsFood and check us out on Pinterest and Instagram.