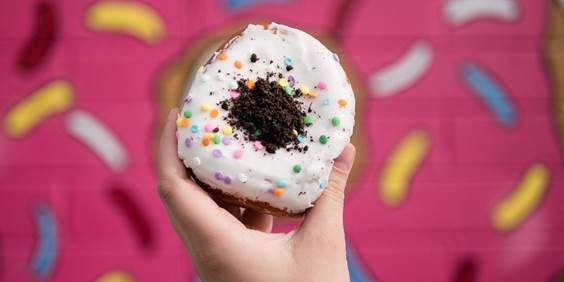 Foodie news roundup for the week of August 26.
Snooze, an A.M. Eatery is celebrating National Bacon Day on Saturday, August 31, with three tasty bacon-centric specials–and all for a good cause. For one day only, Snooze is offering a special menu with a cocktail (Bacon It Easy), a pancake (Sweet Swine O'Mine) and an eggs Benedict dish (Bacon a Difference Benny), each featuring the highly-praised Tender Belly Bacon. Tender Belly Bacon is one of Snooze's long-standing partners and sustainable purveyors given their high quality product and shared passion for sourcing with care. Last year on National Bacon Day, Snooze donated $31,142 to local charities focused on nutritional education.
It's hatch chile season, and Sprouts is fired up with fresh Hatch chiles by the pound ($.99 per pound) and unique Sprouts Brand snacks and ingredients inspired by the popular pepper. Favorites include Hatch Mac & Cheese, Hatch Hummus and Hatch Chile Salsa, among many other spicy snacks. And now's the time to enjoy these Hatch goodies for less: Guests from coast to coast can enjoy 25 percent off these store brand products during the Hatch sale from August 28 through Sept. 4.
The very first of its kind, Spinato's–one of our favorite Valley pizzerias–has unveiled new Broccoli Crust Pizza, a healthier alternative to flour crust and even most cauliflower-based pizzas. The Broccoli Crust Pizzas features rBST-free cheese, hormone-free chicken sausage and nitrate- and nitrite-free pepperoni and is available in the following flavors: Mediterranean Supreme, Primavera and Aged Asiago, Romano, Mozzarella and Margherita with Slow-Roasted Tomatoes. Best of all, kiddos won't even know you're slipping in extra veggies on family pizza night! Click here to find Spinato's Broccoli Crust Pizza near you.
Dorian is offering students a deal during their weekend brunch this semester. Students can enjoy buy-one-get-one half off entrees during the Scottsdale restaurant's Saturday and Sunday weekend brunch. Students must show a valid college ID. 
Thursday, Sept. 5, is National Cheese Pizza Day, and Fired Pie wants to help you celebrate by offering half off a cheese pizza with the purchase of any drink at all 21 locations. This deal is valid for cheese pizzas only and not through third-party delivery services. Also during the month of September, Fired Pie is participating in the No Kid Hungry Campaign. For every $1  you donate to No Kid Hungry while at any of Fired Pie's 21 locations, you will receive a voucher for a free Pookie (a chocolate chip cookie or macadamia nut cookie dough topped with vanilla bean ice cream) for use on your next visit. You will have 30 days from the date of purchase to use the voucher, vouchers cannot be used on the purchase date.
For the month of September, Donut Bar Scottsdale will reward all students by giving them a free doughnut. Bring in a test or paper with a letter A grade on it and receive one free Oh My Birthday Cake Oreo doughnut (pictured).