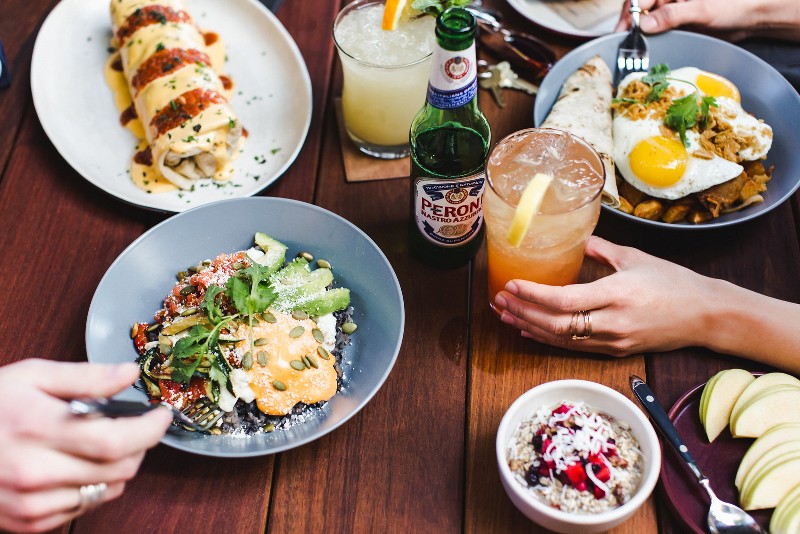 Foodie news roundup for the week of April 1.
On Wednesday, April 3, Culinary Dropout at the Yard (pictured), opened the doors to its fourth Valley location, this time in Downtown Gilbert at Gilbert Road and Hearn Way. The family-friendly 25,000-sq.-ft. space includes plenty of indoor and outdoor seating, backyard-style games like cornhole, pingpong and foosball, a laidback bar with high-top seating, a private dining room and, of course, colorful, too-cool design that Fox Restaurant Concepts are known for. There is even an art installation comprised of musical instruments donated from Valley residents and arranged along one wall with the words "We're Getting the Band Back Together" painted alongside! Culinary Dropout is open from Monday through Thursday, 11 a.m. to 11 p.m.; Friday, 11 a.m. to 1 a.m.; Saturday, 9 a.m. to 1 a.m.; and Sunday, 9 a.m. to 10 p.m. Happy hour will be from 2 to 5 p.m. Monday through Friday, and weekend brunch will be offered from 9 a.m. to 3 p.m. If you're stopping by for brunch, get ready to try the just-released brunch menu with standouts like the smoked salmon avocado toast and hearty fried chicken and biscuits. 
On Friday, April 5, all Valley Dutch Bros. locations will participate in Coffee Day of Giving. Buy any drink all day long and $1 from every drink sold will be donated to Phoenix Children's Hospital. All Dutch Bros. employees will be dressed as superheroes as a show of strength for Phoenix Children's patients.
The Phoenix Ale Brewery Central Kitchen hosts its third-annual PEEPS & Pints4Pups pairings from April 8 to April 11. The pairings cost $10 for a flight of four craft brews selected to complement four different flavors of specialty PEEPS (think a chocolate-caramel swirl PEEPS paired with an Ironwood Porter). Best of all, Central Kitchen will donate $3 from each flight to the Arizona Small Dog Rescue.
Huss Brewing Co. has created a new market segment for craft beer in Arizona, releasing the first wide-release light, low-carb beer (110 calories and 8 grams of carbohydrates per 12 ounces) in cans styled after familiar domestic lagers: Arizona Light. Arizona Light hits taps this month at all Arizona locations of Buffalo Wild Wings. Package sales (12-pack cans) will hit retail stores and major grocery chains in April.
Provision Coffee Bar expand its offerings with the new Shakeratos this month. The Shakeratos combine Provision's custom recipe of espresso, honey, sea salt and cream (with dairy, coconut or almond options) with ice to get the end result of frothy cream on top and a rich espresso flavor throughout. The new Shakeratos can be customized with flavored syrups and will be available at Provision's Chandler and Phoenix locations.
National Beer Day is Sunday, April 7, and Kelly's at SouthBridge in Old Town Scottsdale will be spreading the lager love with beer specials from open to close. Guests will enjoy $5 draft beers, $4 domestic beers and $2 "wild card" brews. Two Brothers Tap House & Brewery, also in Old Town, will ring in the special day with $4 pints of Love of Hops, $4 pints of any of its"4321" brewed beers, $4 Peanut Butter Beer Stout Float, and special deals on any of its food that has beer in it.
La Grande Soiree at Voila French Bistro will delight diners this April. This special wine-paired dinner on Sunday, April 7, will feature three courses of creative dishes paired with excellent French wine. The dinner will be served from 5 to 7 p.m. for $79 per guest. Reservation required.
On April 9, ZuZu at Hotel Valley Ho is spreading the magic by bringing back the highly popular Unicorn "Show Stopper" Shake for one day only in honor of National Unicorn Day. On Tuesday, April 9, from 11 a.m. to 11 p.m., Pastry Chef Lisa Graf will be whipping up plenty of mixed berry milkshakes, topped with a variety of confections including a confetti cupcake, marshmallows, cotton candy, rainbow lollipop, whipped cream, white chocolate-dipped waffle cone and rainbow sprinkles for $16.
Hula's Modern Tiki has long been the Valley's home for tasty tropical cocktails and island-style eats, so it's no surprise that when the couple behind the sold-out annual Tiki Oasis festival in San Diego looked to expand out of state for the first time, that they would pick Scottsdale and choose to host the official kick-off pre-party at Hula's Modern Tiki in Scottsdale. Held on Thursday, April 11, from 3:30 to 6 p.m., and open to the general public, Tiki fans are invited to swing by Hula's Scottsdale location for Tiki Time Happy Hour, including $6 signature tropical cocktails, $6 island-style starters and more. Plus, this will be your first opportunity to pick up official 2019 AZ Tiki Oasis merchandise and collectible souvenirs. (Hula's Phoenix will also be open and serving up Tiki Time Happy Hour specials from 3:30 to 6 p.m., but is not hosting an official AZ Tiki Oasis event.)
On Saturday, April 6, Executive Council 70 and Executive Council Charities present the 46th Annual Original Taste. Held at the Scottsdale Waterfront, located at 7135 E. Camelback Road, the event helps fund critical youth programs for organizations such as Phoenix Children's Hospital, Boys & Girls Clubs of Greater Scottsdale, Ryan House, Ronald McDonald House Charities and, in addition to food and beverage tasting, features live music and entertainment throughout the night. The main event takes place from 7 to 10 p.m. with tickets available for $125 and including all tastings and entertainment. (VIP tickets are also available.) Tickets can be purchased online via www.ec70phx.com.