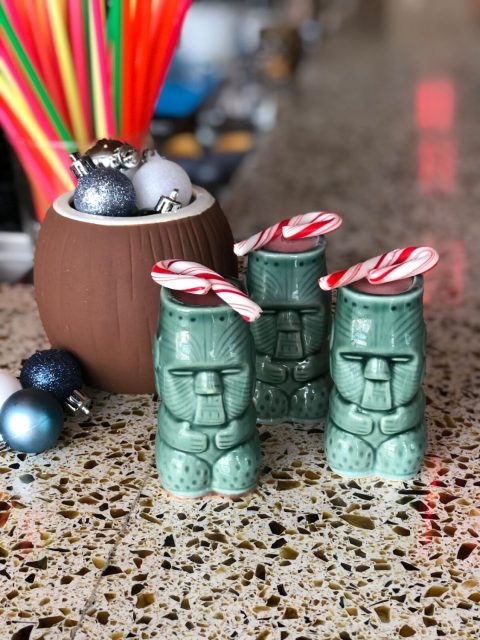 Foodie news roundup for the week of Dec. 17.
For a healthful end to the year, Original ChopShop has debuted a new Superfruit Bowl. The Avocado Nice Cream is freshly blended with a whole avocado, spinach, pineapple and apple juice and topped with granola, strawberry, banana and dark chocolate shavings. Avocado Nice Cream is available through Dec. 31.
Bring the kids to meet Santa Claus on Friday, Dec. 21, from 5 to 7 p.m. at the Unicorn Cupcake Boutique in Scottsdale. Children will get to write a letter to Santa, take a photo with him and get a red reindeer nose. No cost to attend, but advanced registration is required as space is limited.
Hula's Modern Tiki in both Phoenix and Scottsdale is shaking up festive holiday cocktails–like the snickerdoodle martini and Hula's Coconut Candy Cane Shot (pictured)–now through the end of December. Also, swing by Hula's Captain's Cabin, the craft cocktail bar located next door to Hula's in Phoenix, for a special late-night cocktail menu on Christmas Eve (6 p.m. to close).
You might do a double take next time you pick up some Kilt Lifter at the grocery store. Timed with its 21st anniversary, Four Peaks Brewing announces its first-ever packaging redesign. The beloved brewery will be modernizing its brand with a fresh packaging design that epitomizes its Arizona roots and approachable personality. The updated packaging will begin to roll out to market this month.
For more fab foodie news, follow us on Twitter @AZFoothillsFood or Instagram @AZFoothills.