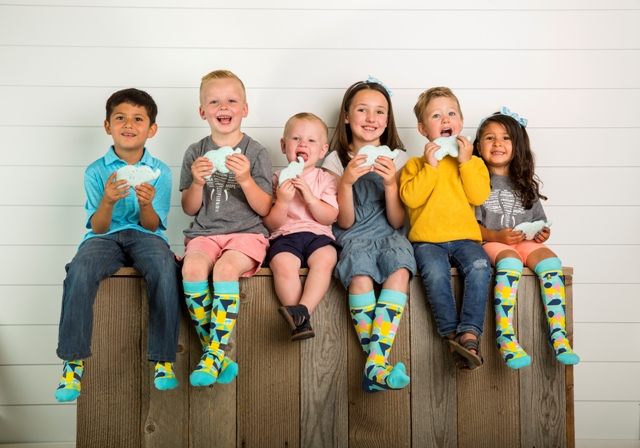 Foodie news roundup for the week of Sept. 10.
Kneaders Bakery & Cafe has launched its 2018 Hope Fights Childhood Cancer campaign with a goal to raise both awareness and funds for childhood cancer research. During September's National Childhood Cancer Awareness month, all 59 Kneaders locations throughout the country, including 17 in Arizona, will sell elephant-shaped sugar cookies (pictured) and campaign-themed retail items to support advances in childhood cancer research in the Schiffman lab at Huntsman Cancer Institute. One hundred percent of every $2.99 cookie sale goes directly to childhood cancer research in the Schiffman lab and childhood cancer resources at HCI.
The family-friendly Rockin' Taco Street Fest returns to Downtown Chandler on Saturday, Sept. 15, with lucha wrestling, low riders, live music, margaritas, beer, eating competitions (winners will receive $100 in cash) and an abundance of creative tacos from 20 local restaurants and food purveyors. This year's entertainment lineup offers a headlining performance by Metalachi, the world's first and only, heavy metal mariachi band. Plus, Evil Waze, a Santana Tribute Band will return with their throwback sound. Other highlights include a custom lowrider car show with In the Streets Magazine showcasing over 60 trucks, cars, and bikes followed by Lucha  Libre Voz wrestling matches throughout the day.
Arcadia Tavern will celebrate National Cheeseburger Day with $10 special double cheeseburger and a domestic draft beer or soda. This deal will be valid Saturday, Sept. 15, through Tuesday, Sept. 18.
The new Zookz Sandwiches location in Downtown Phoenix is offering all guests a free coffee drink (iced or hot) from 7 to 10 a.m. for the month of September with the purchase of any sandwich. This offer is valid only at the Zookz Sandwiches Downtown location (1 North First St.). This offer is not valid through third-party delivery, limit one per person. Plus, the restaurant will be offering 20 percent off their famous No. 33 breakfast sandwich all September long at both Zookz locations.
Set to highlight National Hunger Action Month which takes place every September, Oregano's "Carbs for a Cause" event supports St. Mary's Foodbank Alliance by donating three pasta meals for each one ordered at any of its 15 Valley locations from Monday, Sept. 17, through Sunday, Sept. 23. Last year, 50,000 meals were donated to St. Mary's and the organization hopes to shatter that record later this month.
Taco Guild is holding the first-annual Roger Clyne's Mexican Moonshine Tequila Mix-Off on Monday, Sept. 17 from 7 to 10 p.m. Eight bartenders from establishments around the Valley are participating in seeing who can mix up the perfect margarita using the Mexican Moonshine Tequila. The judges for the event are Roger Clyne, Beth McDonald and Gina Lee Nolin. Tickets can be purchased here.
Congrats to Chef Bertrand Bouquin as he has been introduced as the new Culinary Director at Desert Mountain Club. Chef is responsible for the extensive offerings and menus at Desert Mountain's seven restaurants. In his new role, he will ensure each restaurant on the property is as unique as its origin and what Desert Mountain already has in its arsenal by adding a sensational cross between authentic and leading-edge fare.
On Saturday, Sept. 15, Momma's Organic Market returns outside at Park West in Peoria. More than 100 vendors will be there from 9 a.m. until 2 p.m. They will be displaying fresh produce, natural meat, wild-caught fish, local dairy, fresh bread, raw milk, local honey and much more. There will be amazing local food, handmade items, kids activities, food trucks and more.