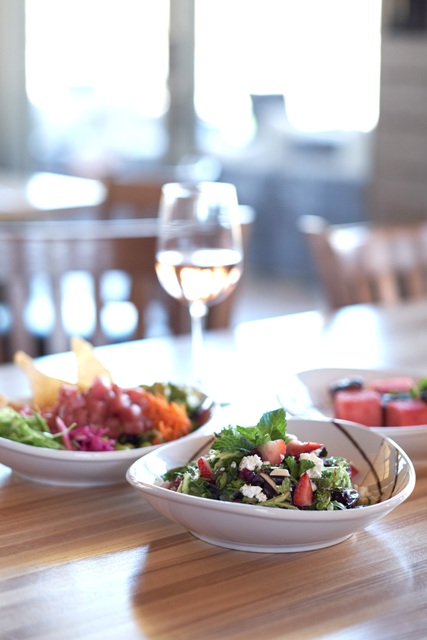 Foodie news roundup for the week of Sept. 3.
Phil Johnson, owner and pitmaster of Trapp Haus BBQ, is hosting a party on Friday, Sept. 7, in correlation with downtown's famed First Friday Artwalk, to celebrate Trapp Haus' first six months in business. Guests can celebrate this milestone with the Trapp Haus family featuring an all-you-can-eat whole hog roast ($10 adults, $5 per child, while supplies last) and live music, from 5 to 10 p.m. Trapp Haus is also offering new specials and offerings, now available, including: Slab Saturdays — $25 St. Louis Ribs all day long (Saturdays only); Free local delivery in the Downtown Phoenix area between 11 a.m. and 3 p.m., Tuesday through Fridays (orders via website only); Weekday Sammitch Specials — $2 off any Sammitch, Tuesday through Friday from 11 a.m. to 3 p.m.; and Friday: Beats, Beer & Q.
The team at the Wrigley Mansion is keeping the seasonal fun going with weekly Sunday BBQ Brunch, starting Sept. 9. Wrigley Mansion Executive Chef Christopher Gross plays pit-master and pulls out the smoker to present a special brunch spread perfect for the whole family. The brunch features chef-manned stations serving Sorghum-glazed beef brisket, pulled pork, coleslaw, freshly baked rolls, and tortillas (for taco-making). Guests will also be invited to build their own salads and macro-bowls from a selection of fresh vegetables, greens, grains, fruits, and cheeses. Breakfast options include made-to-order omelets, eggs and waffles, along with bacon, sausage and fresh fruit. Sunday BBQ Brunch is priced at $45 per person and includes sparkling wine, mimosas, domestic beers and select wines by the glass. Reservations are available from 10 a.m. to 2 p.m.
If you're heading to the movies this weekend, show your ticket stub at Thirsty Lion at Fashion Square mall to receive a half-priced pizza (classic margherita, smoked chicken and pesto, or the pepperoni, spicy sausage and prosciutto are a few pizza options).
From 11 a.m. to 5 p.m. on Saturday, Sept. 15, Kief-Joshua Vineyards and Elgin Distillery, which produces handcrafted Arizona bourbon and rye, brandy, rums, vodka, and gin, are hosting the Whiskey and Wine event in the Kief-Joshua Vineyards Tasting Room. Guests will receive a souvenir wine glass in which to enjoy five wine tastes, and a shot glass in which to sip five distillery tastes.
Cycle Ave. and Sushi Brokers in Gilbert are offering riders and sushi enthusiasts two fun "Bikes and Bites" events taking place on Monday, Sept. 10 and Thursday, Sept. 20. After their ride on these two evenings, Cycle Ave. guests can head over to Sushi Brokers Gilbert, where they'll receive a complimentary round of appetizers and drink specials to cheers to their ride. "Seat" reservations can be made at www.cycle-ave.com. First-time cyclists receive a free ride when using code BIKESANDBITES via online registration.
Andaz Scottsdale is hosting an intimate four-course dinner in partnership with Silverado Vineyards on Sept. 12. The dinner will take place in their plancha-style kitchen and dishes include seared foie gras; duck breast; stewed grapes, celery leaves and pork belly; braised short ribs; celery root puree, Thumbelina carrots, and pickled red onions. The tickets are on sale for $85 plus tax and gratuity.
This September, Arizona Vig (pictured) restaurants including location at the Vig Fillmore, The Vig Uptown, The Vig Arcadia, The Vig McDowell Mountain and the Vig McCormick Ranch will be supporting neighborhood elementary, middle and high schools through their annual "The Vig Gives" fundraising campaign. Now through Sept. 30, when guests dine at their local Vig restaurant for brunch, lunch or dinner, the restaurant will donate a portion of its proceeds to the schools' PTO/PTA within the surrounding area in addition to giving $500 in gift cards to one lucky school to assist in school fundraisers and events.
All Wildflower locations will be giving away free full-sized pastries to the first 100 guests who purchase an entree Sept. 6 to Sept. 8.