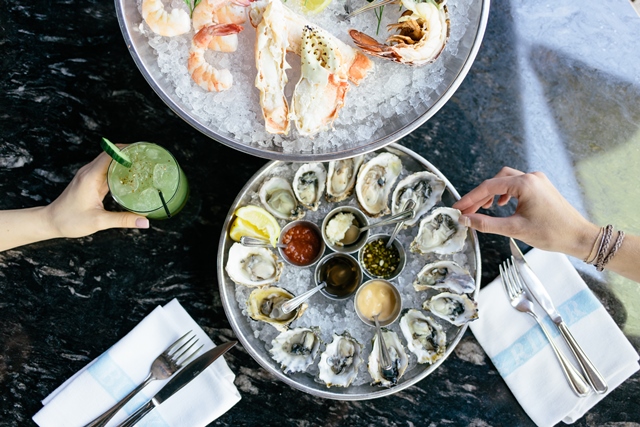 Foodie news roundup for the week of May 7.
Join Executive Chef Sean Currid and local farmer Pat Duncan for the 12th annual "Farmer in the House" dining series at Blue Hound Kitchen & Cocktails at Kimpton Hotel Palomar Phoenix. Chef Currid will prepare a four-course, prix-fixe menu incorporating locally grown fruits and vegetables from Duncan's Trading Co., paired with Clown Shoes Beer. The proceeds will be donated to the Association of Arizona Food Banks to assist in alleviating childhood hunger. Dinner starts at 6:30 p.m. and is limited to 30 guests. $65 plus tip and tax.
Buck &Rider (pictured) is showcasing the best seafood from around the globe with its new Summer Dining Series, a monthly event taking place from May to October. The inaugural dinner is set for May 17, featuring dishes sourced from the East Coast and prepared by Executive Chef Travis Sassmann, who will guide guests through the feast, discussing not only where the food comes from (and why it's the best), but how the dishes were prepared as well. Each of the five courses will be accompanied by a wine specifically curated for each dish. The May Buck &Rider Summer Dining Series will officially begin at 7 p.m., but doors open at 6:30 p.m. Click here for tickets.
The Breadfruit & Rum Bar is celebrating 10 years of success in Downtown Phoenix by hosting the first ever rum-centric event in Arizona. The 10th Anniversary Rum Festival will take place place Saturday May 12, from 4 to 10 p.m. Guests can expect a spectacular lineup of top rum brands providing samples of their finest varieties, live reggae music, food and fun, all to support the Phoenix Center for the Arts. Tickets are $45 for regular admission. Click here to purchase.
Carlson Creek Vineyard is releasing its newest refreshing summer white wine – the 2013 Chenin Blanc. On Thursday, May 10, from 6 to 8 p.m., the Arizona-based vineyard will be hosting a release party at their Scottsdale tasting room to debut this new summer wine with a party (open to the public) including a complimentary first taste of the 2013 Chenin Blanc plus light bites, live music and conversation with co-owner/winemaker Robert Carlson III.
Helio Basin Brewery's annual Police vs. Fire First Responders Throwdown is coming up on May 12, starting at 1 p.m. The community event is open to all police officers, firefighters, first responders, and people of all ages. The family-friendly Blue Line Blonde Police V. Firefighters throwdown will feature live music, a firetruck, a vintage police car and more. Ten percent of all proceeds from the Blue Line Blonde will benefit the 100 Club of Arizona, a nonprofit organization providing financial assistance to families of public safety officers and firefighters who are seriously injured or killed in the line of duty.
The Bacon and Beer Classic is back at Scottsdale Stadium on Saturday, May 12. Play giant Jenga on the concourse, bob for bacon in the outfield, and pose with friends on the warning track, all while indulging in unlimited suds and grub. More than 30 Arizona restaurants–Metropolis, Trapp Haus, and Even Stevens, to name a few–will serve up original bacon dishes. Wash it down with samples of more than 100 craft beers from local and regional breweries. General admission tickets start at $49, Power Hour tickets start at $69, and VIP tickets start at $89.
James Beard Award-winning chef Chris Bianco headlines a fundraising dinner, RhibaFarms Spring Fling, on Saturday, May 19, in support of RhibaFarms. Joining Bianco are Jason McGrath, Craig Plevack of Fire & Foraged, Sasha Raj of 24 Carrots, David Traina of Liberty Market, and Micah Wyzlic of Phoenix City Grille. Each course will be paired with brews from The Shop Beer Co. The 3.3-acre San Tan Valley farm's Food Rescue program fuels the desert soil to grow amazing products people don't always associate with the climate. RhibaFarms provides the chefs and their restaurants with produce, wheatgrass, microgreens, mushrooms, eggs and flowers for the tables. In a true regenerative form of farming, the brewery also uses RhibaFarms ingredients for several of its brews and RhibaFarms uses The Shop's spent grains for compost. Guests will get to tour the farm for a first-hand look at just how much food a small urban farm can produce for the community, then sit at tables amongst the vegetable fields. Proceeds of the dinner will go toward additional infrastructure like greenhouses, aquaponics, mushroom boxes, worm and insect bins. Guests are encouraged to take the 60s and 70s Spring Fling theme to heart with tie-dye and flower child attire. The farm also asks guests to bring a flashlight and dinner plate for a uniquely Bohemian, vegetarian-based, family-style dinner. In addition to the dinner, there will also be a blind auction fundraiser where private dinners from the chefs and other goodies are up for grabs. Seating is limited. Tickets for the RhibaFarms Spring Fling are available online at RhibaFarms.com/collections.
For more fab foodie news, become a fan on Facebook and a follower on Twitter @AZFoothillsfood.