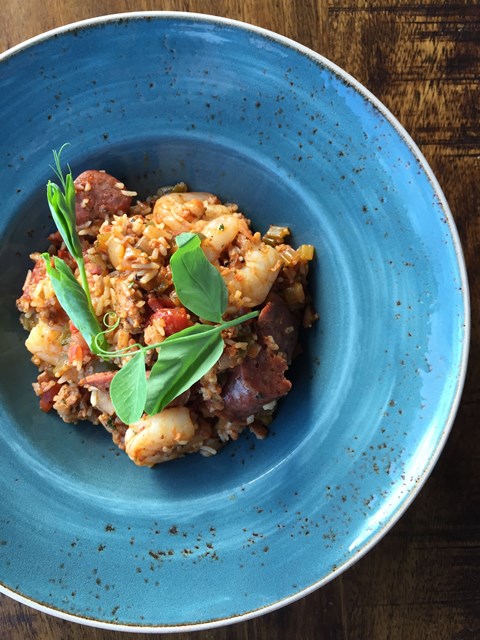 Foodie news roundup for the week of Feb. 12.
Grimaldi's Pizzeria is celebrating its 15th anniversary of the Old Town location this February. In honor of this milestone, Grimaldi's will be giving away free pizza for a year to 15 lucky winners who find the official prize cards using clues from a scavenger hunt that will take place in Old Town. Riddles and hints will be posted on Grimaldi's Facebook and Instagram accounts starting on Feb. 17. (Like Grimaldi's on Facebook at Grimaldi's Pizzeria and follow them on Instagram.) There will be three winners at each of five different locations. Each person who finds a prize card will receive free pizza for a year, one pizza per month. Limit one per household.
Time to head north, beer drinkers. Arizona Governor Ducey recognized Flagstaff as a leading Craft Beer City with a Commendation presented by the Flagstaff City Council on Tuesday, Feb. 6 The Flagstaff Mayor and City Council also declared the month of February "Craft Beer Month" in the City of Flagstaff. Flagstaff is home to eight craft breweries supporting key economic development sectors with a commitment to their craft, providing world-class brews both locally and throughout the world.
Gino's East of Chicago has announced that a familiar face–Chef Eddie Matney–has joined the restaurant as an advisor and the debut of the DeepAF pizza. Matney will join the Gino's East management team as a consultant where he will play an integral role in preparing dishes and training team members as Gino's East introduces the new DeepAF pizza. The DeepAF pizza debuted last year in Chicago to rave reviews and features 33 percent more dough, 75 percent more cheese and double the toppings.
Southern Rail invites guests to enjoy the weather, listen to smooth jazz and savor cocktails and comfort food from the patio for the biannual Jazz & Jambalaya Series. The series begins this Sunday and features sazeracs, half-price bottles of Arizona wine, as well as Chef Justin Beckett's signature jambalaya (pictured). Jazz & Jambalaya will take place every Sunday from Feb. 18 through April 29, with live jazz music from local artists from 5 to 8 p.m.
Proof, An American Canteen, will host a WhistlePig Rye Whiskey Weekend on Feb. 16-17. The event will feature a special three-course menu, plus welcome snack, highlighting the rich flavors of WhistlePig, a Vermont-based premier rye whiskey company, as well as a line-up of specialty cocktails. The menu is priced at $55 per person. The specialty menu items also may be enjoyed a la carte. Proof also will feature a WhistlePig Primal Cut Dinner during the weekend. The primal cut is an 8-pound Wagyu beef shank, which is prepared over three days with WhitlePig's premium 14-year "Boss Hog" rye whiskey. Served family-style for up to four people, it is accompanied by a barrel strength rye demi, potato gratin, and seasonal vegetables. The WhistlePig Primal Cut Dinner is priced at $185.
Sauce Pizza & Wine is giving back to those who have given so much. Every Monday all Sauce locations in Phoenix will be thanking the brave men and women of this country with its "Mondays are for Heroes" promotion. From 11 a.m. to 9 p.m., all active police active firefighters, active EMTs, as well as active, reserve, and retired US Military will receive 20 percent off their order. All they have to do is come in uniform or bring a military ID demonstrating their proof of service. This offer is valid for dine-in or take-out and excludes alcohol and gift card purchases.
The third-annual CrushBrew Festival brings together craft beverage artisans and thirsty attendees with a love for thoughtfully blended and brewed libations. The festival will bring together more 40 local and national beer and wine vendors, nearly a dozen spirits distillers, a handful of food trucks and live music on the main stage in downtown Scottsdale's Civc Center Plaza on Feb. 17 from 4 to 9 p.m. (VIP entry is 3 p.m.). This year's festival will feature a special Whiskey Lounge, a party tent and large grass area on which guests are encouraged to relax on their own blankets and take in the sights and sounds of the day. To cap off the festive event will be an after-party conveniently located just steps away at the Saguaro Hotel. General admission tickets are $45 and includes 10 drinks. VIP admission is $95 and includes 15 drink tickets, access to VIP tent, Royal Restrooms and early entry.
For more fab foodie news, become a fan on Facebook and a follower on Twitter @AZFoothillsFood and Instagram @AZFoothills.