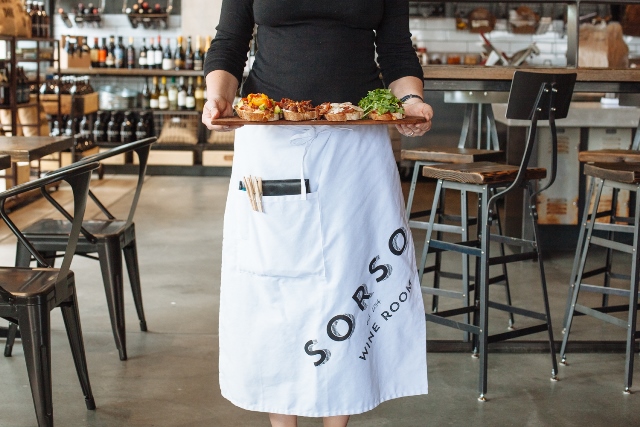 Foodie news roundup for the week of Jan. 1.
Tickets to the seventh annual Arizona Cocktail Week-End will go on sale on Monday, Jan. 8. Now hosted in the heart of Downtown Phoenix, Arizona Cocktail Week-End returns on Feb. 17 through Feb. 19 with all-new venues and more walk-able, pedestrian-friendly event lineup. Tickets to Arizona Cocktail Week-End start at only $40, and a portion of the proceeds will be donated to AZCW's new charity partners, the Local First Arizona Foundation and Child Crises of Arizona.
Jan. 8 through March 19, from 7 to 8 p.m., tune into "The Bachelor" and enjoy a bottle of wine and a board of bruschetta for only $20 during Bottles, Boards & The Bachelor at Sorso Wine Room (pictured). Guests can also join in the the Bachelor Fantasy League, and the lucky winner takes home a $100 gift card! Register here.
Weekdays just got more delicious. Chase's Diner in Chandler has announced two terrific specials: every weekday morning enjoy two pancakes, two eggs and bacon or sausage for $4.39 (two dollars off weekend price) and, on Friday nights, dig into an all-you-can-eat fish fry for $9.79 (includes fish, french fries and coleslaw).
Sprinkles Cupcakes is celebrating the Golden Globes 2018 (airs Sunday night!) with the Red Carpet Box. Each box includes Red Velvet, Black & White and Vanilla cupcakes with a gold star and bow tie toppers and is available now through Jan. 31.
Crudo hosts Tacos Chiwas for the a one-night-only event, Tacos & Riesling, on Tuesday, Jan. 9 from 7 to 9 p.m. Hosted in the bar area, this fun, culinary mash-up brings together the combined talents of Crudo's Chef Cullen Campbell and Taco's Chiwas' Armando Hernandez and Nadia Holguin for a delicious a la carte feast. Chef Campbell will also be serving up spicy-food-friendly wine pairings from a globe-spanning collection of fine Riesling wines.
National Hot Pastrami Day is Sunday, Jan. 14, and to celebrate Miracle Mile Deli is offering a special deal on their award-winning, famous hot pastrami sandwich all weekend long. On both Saturday, Jan. 13, and Monday, Jan. 15, Miracle Mile Deli will be offering its hot pastrami sandwich for just $9, make it a New Yorker of Straw for just $2 more. This deal is valid for both dine in and take out.
For more fab foodie news, become a fan on Facebook and a follower on Instagram @AZFoothills and Twitter @AZFoothillsFood.