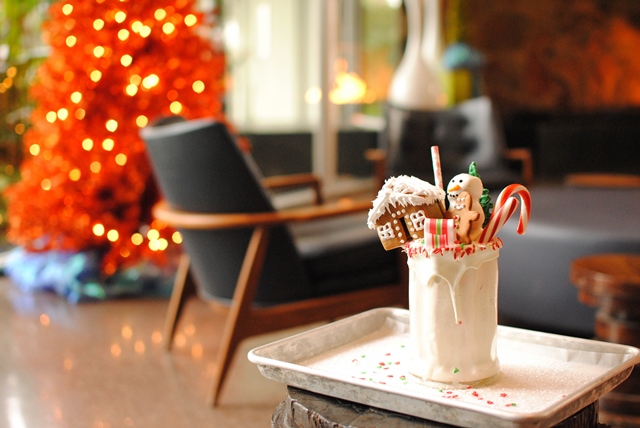 Foodie news roundup for the week of Dec. 11.
Pastry chef Audrey Enriquez of Hotel Valley Ho's ZuZu is making sweet dreams come true with the Show Stopper Shake ($16, pictured). This featured flavor of the month is eggnog, featuring a mini gingerbread house, a snowman cake pop, a candy Christmas tree and a gingerbread man. Available at ZuZu any day after 2 p.m.
Rott n' Grapes in Uptown Phoenix is hosting a Rott n' Ugly Sweater Party, Saturday, Dec. 16, at 6 p.m. Prizes will be award for most creative and funniest sweater.
Le Macaron at Scottsdale Quarter is spreading the holiday spirit with several new flavors: Chestnut, Gingerbread, Mint and Violet Chocolate. The holiday flavors are now available for $2.75 each or at a discount when purchased in a set.
Kelly's at Southbridge is teaming up with Phoenix Children's Hospital to give back for the holidays. For every pumpkin martini and peppermint mocha martini sold at Kelly's in Old Town, $1 will be donated to Phoenix Children's Hospital and Kelly's will match the donation.
On Monday, Dec. 18, the building (a former church) that houses Taco Guild is turning 124 years old and the restaurant is celebrating. On that day, guests will enjoy a special Milagro Select Barrel tequila tasting at 5 p.m., 7 p.m. and 9 p.m. Then, all week long (Dec. 18 to Dec. 24) Taco Guild will have a birthday cocktail and shot special: Feliz Cumplemango, a mix of Milagro Reposado tequila, Solerno Blood Orange liquor, black peppercorn syrup, fresh lime juice, mint and mango ($10), and Ancho Sour Drop, a mix of Ancho Reyes Chile liquor, Milagro Reposado tequila, fresh lemon and orange juice ($5). If purchased together, a special discount of $12.24 (as a nod to celebrating 124 years!) will be given. A spiked birthday cake will be on the menu on the Dec. 18 and Dec. 24, plus a daily taco special. Plus, Taco Guild is giving out gift cards to diners all week. Every night at 7 p.m., a raffle drawing will choose a lucky winner to receive a $25 gift card to Taco Guild. On Dec. 24, the gift card will be for $100.
BRIO Tuscan Grille at San Tan Village is hosting Breakfast with Santa on Dec. 16 from 7 to 10 a.m. Guests will enjoy a delicious buffet breakfast and holiday activities, while Santa visits each table to collect wish lists and take pictures. Reservations are required.
Santa will be making two visits to the new Over Easy and Press Coffee locations at the Biltmore Center building on Dec. 16 and Dec. 23 from 9 a.m. to 1 p.m. for photos and last-minute gift requests. There is no charge to meet with Santa. He and his elves will be outside of Press Coffee at the Biltmore Center II building at 24th Street and Camelback. Press will be serving its full menu of espresso drinks, hot coffee and cold brew as well as hot chocolate and hot cider.  Over Easy will also be open and serving its full menu of breakfast and brunch items at its new restaurant in the same building. In addition to Santa, there will be holiday movies playing on the big screen TV's, holiday music, a tree and patio games like ping pong, cornhole and shuffleboard. Free parking is available at in the building parking lot and underground garage.
On Saturday and Sunday (Dec. 16 and 17), reserve your spot for the gingerbread house-decorating class at LON's at the Hermosa Inn. (The class takes places from 11 a.m. to 1 p.m. both days for $69 plus tax and gratuity per gingerbread house.) LON's pastry chefs host two classes to cheerfully guide guests on a holiday journey of creating their unique and delicious dream gingerbread house with a myriad of edible materials. Snacks and beverages are included. Registration is online here.
Old Town's newest dining destination, Famous 48, has festive fun planned for this holiday weekend. From noon to 4 p.m. on Dec. 17, join in the Holiday Sweater Party for your chance to win prizes and giveaways and enjoy drink specials (best ugly sweater winner will be announced at 3 p.m.) To start the week, on Monday, Dec. 18, and Tuesday, Dec. 19, take free photos with Santa from 4 to 6 p.m. Sip a complementary cup of hot cocoa (Famous 48 offers free hot cocoa each day until New Year's)–grownups can even add a shot for $3.
For more fab foodie news, become a fan on Facebook and a follower on Instagram @AZFoothills and Twitter @AZFoothillsFood.