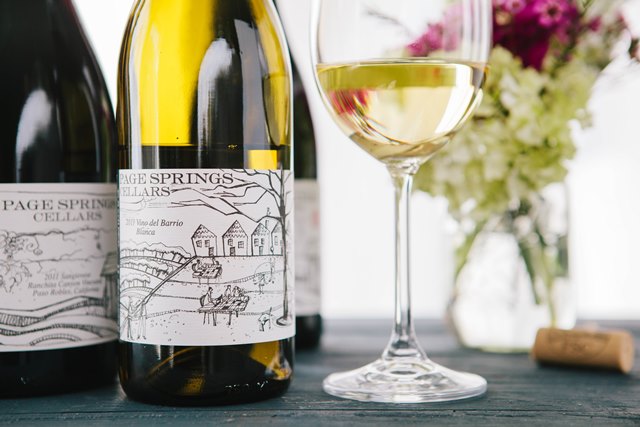 Foodie news roundup for the week of Oct. 16.
This October, Elly's Brunch & Cafe at Uptown Plaza is helping to raise funds for St. Mary's Food Bank by getting the kids involved in a fun decorating experience.  All October long, guests can purchase a pumpkin to decorate while they are awaiting their breakfast and brunch, ranging from $3 to $20, and all proceeds from the pumpkins will go directly to St. Mary's Food Bank to help purchase meals for families this holiday season. The decorated pumpkins will adorn Elly's throughout the month of October and November.
Chompie's is getting in on the holiday action. At the bakery, you can find creepy-cute dessert creations including sugar cookies in the shape of Halloween classics including skeletons, monsters, pumpkins, bats, eyeballs and more ($1.99 each). The bakery is also also offering vanilla cupcakes with colorful frosting in the shape of witch hats, spiders, ghosts and pumpkins ($3.75 each) in honor of Halloween.
Page Springs Cellar Wine and The Market Restaurant + Bar by Jennifer's (pictured) is partnering for a special multi-course dinner on Oct. 24 at 6 p.m. Winemaker Eric Glomski will be in attendance, and the one-of-a-kind dining event is $85 per person, plus tax and gratuity. Call 602.626.5050 to RSVP.
True Food Kitchen has just introduced its new menu items featuring seasonally-driven dishes and fall-inspired cocktails and refreshers. New standout dishes include butternut squash pizza, Moroccan chicken and, for dessert, squash pie.

A dollar from every fresh baked cookie sold at locally owned CM2 Pizzeria & BakeShop, during the month of October (Breast Cancer Awareness Month), will go to Singleton Moms.
Press Coffee now has a mini-café inside Chandler's Palette Collective workspace. During its grand opening event on Saturday, Oct. 21,  everyone can stop by for a free cup of drip coffee.
On Saturday, Oct. 21, Girly Girlz hosts two fun-filled events. At Grandma & Me Tea, from 4 to 5 p.m., girls and their grandmas (or honorary grannies) can enjoy cupcakes, a craft project and more for $16.95 per girl. (Click here to reserve your spot and include your the girls' names and ages in the comments box.) Then stick around from 5 to 6:30 p.m. for the Halloween Spooktacular and dig into pizza, glitter tattoos, crafts, a costume show and much more for $29.95 per girl. (Click here to reserve your spot, and include the girls' names and ages in the comments box.)
Over Easy is now open in the Biltmore neighborhood and will celebrate with a grand opening weekend on Oct. 21 and 22. On that weekend, all guests of Over Easy at the Biltmore Center (2398 E. Camelback Rd.) will get 25 percent off their bills.
In honor of the upcoming 20-year anniversary of Chase's Diner, the Chase family is hosting three fun events from Oct. 20 to Oct. 22. Kicking off the festivities from 9 a.m. to noon on Friday, Oct. 20, is a "Friendor Fair," featuring Chase's vendors on site, interacting with guests and offering fun for the kids. Saturday, Oct. 21, is Chase's Diner "Giveaway Day." The first 50 guests in line will be presented with a card for which they can redeem a free short stack of Chase's  buttermilk pancakes. These 50 guests will also be eligible to win a ton of other prizes such as T-shirts, gift cards, a flat-screen TV and the grand prize — free pancakes from Chase's Diner for an entire year (one short stack of pancakes per week). On the final day of this three-day event, Sunday, Oct. 22, Chase's Give Back Day is dedicated to raising important funds for Maricopa County Animal Care and Control. Puppies and kittens from the shelter will be on the patio from 8 a.m.  to 12 p.m. Chase's will be collecting wish list items and monetary donations for the shelter throughout the entire month of Oct. including collars, leashes, toys, and bones. Chase's will be matching all donations raised on Oct. 22, dollar for dollar.
On Saturday, Oct. 21, and Sunday, Oct. 22, 15 of the state's top wineries (like Arizona Stronghold, Carlson Creek Vineyard, Keeling Schaefer Vineyards and more) will be returning to pour their award-winning wines at the Willcox Wine Country Fall Festival and Benefit Dinner, hosted by the Willcox Chamber of Commerce & Agriculture and the Willcox Wine Country committee. The two-day festival (held from 11 a.m. to 5 p.m. at the historic Railroad Avenue Park, 157 N. Railroad Avenue, Willcox, AZ 85643) will also feature a pop-up street bistro featuring Tucson-based Dante's Fire, top music acts hailing from Phoenix and Tucson and more than 45 local artists, farmers and other purveyors, including locally grown pistachios, pecans and other specialty foods.  Pre-sale tickets are available for $15, which includes a wine glass and six tasting tickets, or $20 which includes a wine glass and 10 tasting tickets. In addition to the festival, the Willcox Wine Country committee will also be hosting a benefit wine dinner on Saturday evening at 6 p.m. with proceeds benefiting the Northern Cochise Community Hospital. The reception and wine dinner features many of the festival's participating wineries (for a total of 16 to 25 wines being featured), entertainment and dinner prepared by Chef Ken Foy of Dante's Fire. Held at the Willcox Community Center (412 W. Stewart St., Willcox, AZ 85643) two blocks south of the festival, tickets are $45 per person.
For more fab foodie news, become a fan on Facebook, and a follower on Twitter @AZFoothillsFood and Instagram @AZFoothills.