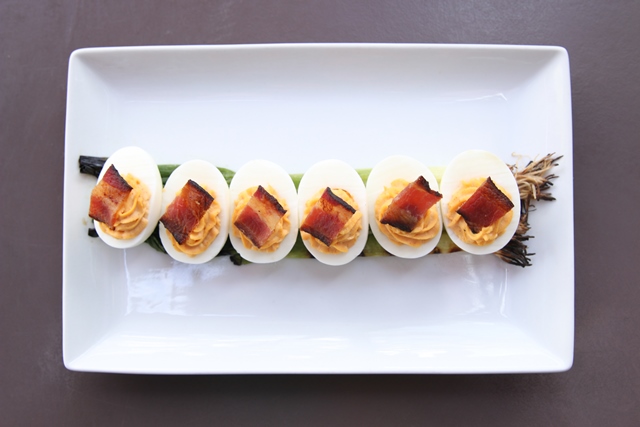 Foodie news roundup for the week of Oct. 9.
Market Street Kitchen celebrates its five-year anniversary in Scottsdale with $5 food and drink specials over five days, from Oct. 15-19. Enjoy $5 deviled eggs (pictured), MSK meatballs, rotisserie chicken tacos, select beer and wine and much more.
Cooks & Corks is set to return for its fifth year at the Four Seasons Resort Scottsdale at Troon North on Friday, Oct. 20. Hosted by The Scottsdale League for the Arts and presented by Earnhardt Cadillac, Cooks & Corks will feature eats from Arizona's top local chefs (names to look for include Lisa Dahl, Samantha Sanz and many others) and libations provided by a superb collection of fine wines, spirits and craft beer. Guests can also check out the silent auction packed with amazing gifts from local restaurants and retailers, then head over to the Fotobot booth to commemorate the evening with a group selfie. General admission is $125 and includes admission at 6:30 p.m., unlimited food and drink samples throughout the event. VIP admission is $175 and includes early entry at 5:30 p.m., a Campagne welcome courtesy of Moet and Chandon Champagne, a gift bag and private seating. Presale tickets for both VIP and general admission are available online at www.cooksandcorks.org.
From Oct. 13-15, it's time to eat, drink and be merry as Four Peaks Oktoberfest returns to Tempe Town Lake for its 45th year. The free, three-day event—with live music, food and drinks, games and dancing—benefits Tempe Sister Cities.
Celebrate TEXAZ Grill's  32nd anniversary with sweet dining deal on Tuesday, Oct. 17, featuring your choice of any two dinner-size chicken fried entrées (steak, chicken or pork chop), plus two non-alcoholic beverages and a dessert to share all for only $32. Available from 11 a.m. to 10 p.m.
The Crepe Club is ringing in autumn by announcing its special fall menu, available now for a limited time at all locations. New dishes includes pumpkin pie crepe, made with pumpkin filling, cinnamon, Biscoff cookie crumbles and whipped cream, hot and ice pumpkin latte and a selection of waffles (s'mores Nutella, strawberry "shortcrepe" and Nutella with strawberries). The perfect time to stop in is Monday, Oct. 16, as The Crepe Club will honor World Food Day by donating 20 percent of its proceeds to Feed My Starving Children, a nonprofit that provides nutritionally complete meals specifically formulated for malnourished children around the world.
Saturday, Oct. 14, is National Dessert Day and Sprinkles is celebrating by giving away a free cupcake that is filled with sprinkles to the first 50 guests. Still hungry? National Chocolate Cupcake Day is Wednesday, Oct. 18, and will offer a free cupcake when you purchase a dark chocolate cupcake. Simply whisper "chocolicious" upon ordering. Limit one per guest.
The Valley's most dog-friendly Oktoberfest is set for Thursday, Oct. 19, from 5 to 8:30 p.m. at O.H.S.O. Distillery's Scottsdale outpost. For the ticket price of $29 (or two for $49 before 10/12), enjoy an amazing selection of German food and locally crafted beers while relaxing on a patio with their four- and two-legged best friends. The event also includes live music, a 50/50 raffle, the new Puppy Kisses Pumpkin Porter, pet goody bags and much more. All proceeds from this event will go to the Arizona Animal Welfare League.
Hyatt Regency Scottsdale Resort & Spa at Gainey Ranch is proud to present a highly anticipated winemaker dinners, which the resort hosting Rombauer Vineyards on Oct. 19. Featured guest for the evening will be Alan Cannon, director of distribution and education for Rombauer Vineyards, who will share the winery's story. Each of these evenings begins with an appetizer and wine reception, followed by a memorable four-course dinner. The reception begins at 6:30 p.m. with dinner at 7 p.m. $95 plus tax and gratuity, per person. Space is limited. Reservations are required, call 480.444.1234.
Making its debut on Sunday, Oct. 15, High Street in Phoenix has added a monthly farmers' market. With more than 65 vendors selling food, arts and more, this outdoor event will bring shoppers from across the Valley together to buy some unique local products while enjoying the beautiful Arizona weather on High Street. The farmers' market takes places between 10 a.m. and 2 p.m. every third Sunday of the month through Spring 2018.
Sauce Pizza and Wine is gearing up to open their 13th location (not including Sky Harbor) this Saturday, Oct. 14, in Queen Creek. In honor of the opening, the fast-casual Italian restaurant is donating 100 percent of the day's proceeds to 2nd Chance Dog Rescue, a local dog sanctuary that is in dire need to raise funds after being forced out of their current space. In addition, the first 50 guests on opening day will receive a $10 gift card with their purchase.
The Phoenix Ale Brewery Central Kitchen is celebrating Oktoberfest with two weeks of brats, "brew-lette" (like roulette, only better), a Pizza & Pints beer dinner and Beer & Barre exercise class that incorporates beer into a resistance training routine. OktoberPhest Central runs now through Sunday, Oct. 22:
Mon., Oct. 9 – Sun., Oct. 22 
Brew-lette. In this brew-themed version of roulette, you spin the wheel to find out how much you will pay for your pint of beer and have the chance to win prizes.
OktoberPhest Central Selfies. German themed hats, clothing and other props will travel from table to table for guests to take #OktoberPhestCentral Selfies. Guests who post their photos to social media with the hashtag #CentralKitchen will receive $1 off their brew.
Brats & Brews 4 Rescues. Guests can enjoy a mouthwatering brat steamed in King George Amber and paired with a Phoenix Ale Brewery pint for only $12 during OktoberPhest Central. Central Kitchen will donate $2 from each Brats & Brews 4 Rescues combo to the Arizona Small Dog Rescue. 
Friday, Oct. 13 
Firkin Friday. Bartenders at Central Kitchen will tap the Harvest Hop Chowda firkin at 5:00 p.m. The firkin will remain on the bar all night as guests order the juicy IPA enhanced by a  special dry hop of simcoe and citra. Giving off flavors of: pine, passionfruit, guava and a fruity dankness. 
Saturday, Oct. 14, 10 a.m. 
Beer & Barre. Join Central Kitchen and TenPoint5 Barre for a morning barre class in the Crown on 7th courtyard. The class will blend resistance training with stretching exercises to achieve long, lean muscles. It is set to choreography that strategically accelerates muscle conditioning and sculpting, and, of course, is paired with a beer to make a great workout even better. Participants must be at least 21 years of age. Admission costs $10 for the general public and $5 for TenPoint5 Barrre members. Each entry fee includes a 12 ounce can of ice cold beer. The Phoenix Ale Brewery Central Kitchen will open at 9:30 a.m. for brunch. Call 602.313.8713 or visit Central Kitchen in person to reserve your spot. 
Thursday, Oct. 19, 6:30 p.m.  
Pizza & Pints with Beer Geeks. Enjoy a four-course meal while learning from some of the top beer experts in the Phoenix area during Pizza and Pints with Beer Geeks. Tickets for Pizza and Pints with Beer Geeks cost $40 plus tax and gratuity. Make reservations by phone at 602.313.8713 or in person at Central Kitchen. Seating is limited so please purchase tickets early.
For more fab foodie news, become a fan on Facebook and a follower on Twitter @AZFoothillsfood and Instagram @AZFoothills.