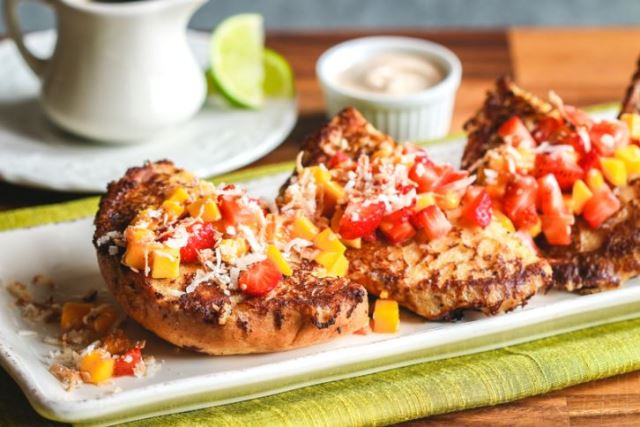 Foodie news roundup for the week of August 21.
Z'Tejas Southwestern Grill celebrates the annual harvest of hatch chiles with its limited-time Hatch Chile Fest menu. The sweet and savory lineup of new dishes includes chile and watermelon gazpacho, tequila-glazed ribs, pecan pie with green chile ice cream and much more. This seasonal menu will be available at all five Phoenix Z'Tejas locations through Oct. 31.
Taco Guild in Phoenix as rolled out an all-new brunch menu. Keeping in line with its lunch and dinner menu, the new brunch menu is broken into Old World (like Chiliquiles, plantain brulee cornmeal pancakes and coconut French toast, pictured) and New World (including Guild chicken and cornmeal waffle and Guild parfait) dishes. Brunch is served every Saturday and Sunday from 10 a.m. to 1 p.m
The Crepe Club celebrates Banana Lover's Day on Sunday, August 27, by inviting customers to add free banana slices to their favorite crepe. The Crepe Club has locations in Phoenix, Tempe and Gilbert.
TEXAZ Grill rings in National Burger Day on Sunday, August 27, with $6 specially-priced burgers (normally priced at $8.50), served from 10 a.m. to 4 p.m.
For National Dog Day, August 26, Sprinkles Scottsdale location is giving away a free year of dog-friendly "pupcakes" to the family of every homeless pooch adopted at the Arizona Animal Welfare League. Sprinkles' pupcakes are miniature sugar-free vanilla cakes with yogurt icing topped with an orange bone. Pupcakes are available year-round at the bakery for $2.50.
CRUjiente Tacos re-launched Margarita Mondays, meaning all margaritas are $5 from 3 to 10 p.m. Stop by for new flavors like the Arcadia (with jalapeno, cucumber and cilantro), cinnamon, marionberry and mint and more.
On Saturday, August 26, at 6 p.m., Coup Des Tartes in Phoenix will host another Murder Mystery Dinner. Enjoy a three-course prix fixe menu while trying to figure out who did it. (Come dressed in 60's attire.) $65 plus tax and gratuity, per person. To purchase tickets, visit www.nicetartes.com.
Congrats to former AZ Foothill's Woman Who Moves the Valley, Chef Tracy Dempsey, as she just expanded her standalone bakeshop, Tracy Dempsey Originals, and added boutique wines to the selection by introducing ODV Wines. ODV Wines will share the same freestanding storefront in Tempe and is located next door to the TDO Bake Shop and kitchen classroom. The bake shop opened in 2015.
Crudo in Phoenix has two wine dinners planned for the coming days: Rosenthal Wine Dinner ($50 plus tax and gratuity per person) on August 26 at 6:30 p.m. and Scribe Wine Dinner ($55 plus tax and gratuity per person) on August 29 at 6:30 p.m. Each dinner serves three wine-paired courses, and reservations are required for both.
For more fab foodie news, become a fan on Facebook and a follower on Twitter @AZFoothillsfood and Instagram @AZFoothills.