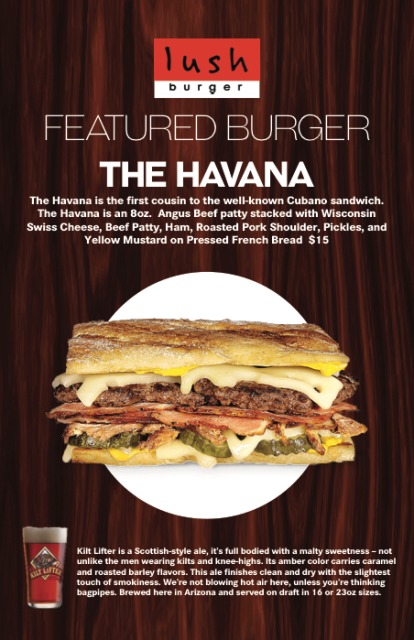 Foodie news roundup for the week of August 14.
Lush Burger in Scottsdale has new owners at the helm. Michelle Hoff moved to the Valley about a year and a half ago from Rhode Island, where she also operates The Abbey-A Burger & Beer Joint. Hoff has kicked up the Lush Burger menu, including a burger of the month offering (we love the Havana burger, pictured, which will become a menu regular) and plans some decor changes for the restaurants, including new bar stools and fresh menus.
Now that it's back-to-school time, ASU students are offered a 10 percent discount with a valid I.D. at Fired Pie (Tempe or Downtown Phoenix locations) and Dave & Buster's Tempe Marketplace.
To celebrate the arrival of hatch chile season, Food City is asking families across the state to share their secret hatch chile recipes (can be anything–sauces, enchiladas, etc.) for a chance to be crowned Hatch Chile "Mandamas." From Wednesday, Aug. 16 to Sunday, Sept. 24, home cooks are invited to share their family's hatch chile recipe and a photo with Food City. Entrants be vying for a chance to win a $500 Food City gift card. Judging will take place on Food City's Facebook page from Sept. 25 until 10 p.m. on Sept. 28. Entrants must submit their recipes by 11:59 p.m. on Sunday, Sept. 24, through Food City's website at www.myfoodcity.com/hatchchilecontest. Entrants must include a recipe name, a list of ingredients, cooking directions, and a photo, as well as why the recipe is special to their family. The winning recipe will be announced on Friday, Sept. 29 on Facebook.
To celebrate its 12th anniversary, Sprinkles would like cupcake lovers to follow Sprinkles Cupcakes on social media and post and share their #SprinklesThrowback moments for a chance to win prizes. A winner will be selected every two weeks. The first #SprinklesThrowback flavor, Almond Dark Chocolate, will be available August 17 through August 30. Prizes will include a $100 Sprinkles gift card, three dozen cupcakes, cupcake mixes and Sprinkles baking book. High-res images and the throwback flavor schedule is available upon request.
TRES, a new restaurant in Tempe, is hiring for all positions. There will be a "talent try-out" on Wednesday, August 23, from 11 a.m. to 5 p.m. at the Chandler Chamber of Commerce (25 S. Arizona Pl. #201, Chandler) for those looking to work for a modern concept with an honest expression of food and style tailored for a new generation's approach to dining.
Hawaiian Day is Friday, August 18, and Market Street Kitchen in Scottsdale is celebrating. (Tiki Thursday will be moved for the celebration.) Guests who are dressed in Hawaiian attire such as a Hawaiian shirt, grass skirt or coconut bra will receive special happy hour pricing on Tiki cocktails all night long, from 5 p.m. to close. In addition to Tiki cocktails, Market Street Kitchen will feature island-inspired dishes.
In celebration of National Waffle Day, Lo-Lo's Chicken & Waffles locations Valley-wide are treating fans to a free waffle with purchase from Monday, August 21, to Friday, August 25, with the purchase of any "Hood Classics" meal.
Now through Sunday, August 20, Christopher's Restaurant & Crush Lounge executive chef and owner Christopher Gross will prepare a three-course dining menu, including French onion soup, tart of escargot and coq au vin, in honor of the August 15 birthday of the late Julia Child, whom he worked alongside years ago on her groundbreaking PBS television series as an up-and-coming chef. The meal is $44 per person plus tax and gratuity; wine pairings available for an additional $20.
Guests who stop by Nobuo at Teeter House on Sunday, August 27 can sample their way through James Beard Award-winning Chef Nobuo Fukuda's special tasting menu for half-off the traditional price. (Those who visit on the second and fourth Sundays of this month can work their way through the regularly $80 tasting menu for only $40.) Highlights include a daily selection of sashimi served up four different ways,  a soft-shell crab salad served panko-fried alongside rice noodles, peanuts and nuoc cham and pork belly served up with caramelized banana leaf, mushroom rice and pickles. Also on the Teeter House calendar this month is a Japanese beer-pairing dinner set for Thursday, August 24, which will feature an array of Japanese brews ranging from Sansho ale to miso lager served alongside snacks and Nobuo at Teeter House specialties. Seating for this one-night-only event is available for $80 per person plus tax and gratuity (be sure to make reservations).
On August 24 from 6:30 to 9:30 p.m., the CrushBrew Crawl celebrates the talent behind incredible local libations with a sampling from participating establishments. Stop #1:  El Panzon y Frida; Stop #2:  Two Brothers Tap House and Brewery; Stop #3:  Carlson Creek Vineyard Tasting Room; Stop #4:  Casablanca Rooftop Lounge. Tickets are $25 and include one drink ticket per location, discounted small bites, golf cart ride, T-shirt and 50 percent general admission ticket code to 2018 festival.
Join Tanzy Restaurant at Scottsdale Quarter on Wednesday, August 23, at 7 p.m. for a spectacular dinner featuring a four-course meal, including tuna and watermelon crudo and wagyu rib eye) paired with Hollywood's elite drink of choice, Piper Heidsieck Champagne. This dining experience will cost $95 a person and $80 for iPic members, with additional Champagne pairings available. (iPic members use the promotional code "Sapphire" for your discounted tickets at the Eventbrite tickets checkout page.)
On Tuesday, August 22, at 6 p.m., North Italia in Arcadia will be hosting a community dinner for $45 per person and includes beverage pairings (tax and gratuity excluded). The dinner will feature a four-course Italian feast (including fritto misto, heritage pork ragu and more) that is expertly crafted by Chef Andrew Vera and is themed after Umbria, an central Italian region known for its historical towns and rolling hills. Space is limited and reservations are required. To make a reservation, call 602.324.5600.
For National Lemonade Day this Sunday, August 20, Flower Child will be giving free 16 ounce lemonades to the first 100 people at each location. The only requirement is that Valley residents must show that they are following Flower Child's Instagram account, @eatflowerchild. Limit one lemonade per person.
For more fab foodie news, become a fan on Facebook and a follower on Twitter @AZFoothillsFood and Instagram @AZFoothills.