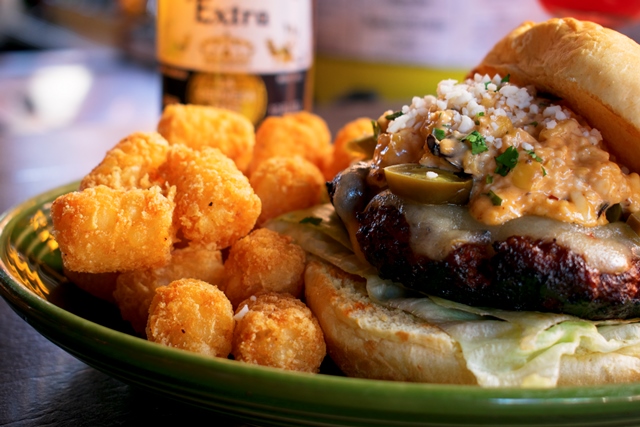 Foodie news roundup for the week of April 17.
Old Town Gringos has launched a new menu, which features a variety of Mexican and American favorites prepared with an "Old Town Gringos twist." In addition to a larger selection of draft beer and wine and new specialty cocktails, diners can enjoy a Mexican cheeseburger (pictured), a BBQ pork sandwich, Elote dip (a mix of Mexican street corn, creamy cotija sauce, lime and chile powder), various street tacos and many of new eats. (The new menu coincides with the restaurant's fresh look under its new ownership of Chicago-based Glass Half Full LLC and features items that celebrate its Chicago heritage and new Southwest home.)
In observance of Earth Day, True Food Kitchen is encouraging guests to "Drink to Planet Earth."  True Food Kitchen, in partnership with ixa organic tequila, has committed to planting one tree for every Citrus Skinny Margarita sold at every True Food Kitchen nationwide on Earth Day.  To make it easier to 'go green' without spending lots of 'green,'  True Food Kitchen will feature its Citrus Skinny Margarita for $8 (regularly $11) all day long on Saturday, April 22.
On Saturday, April 22, Flower Child is making a difference on Earth Day by donating 100 percent of proceeds from the Mother Earth bowl to support The Girl Scouts Urban Garden project, a local initiative.
On April 21, Texas celebrates San Jacinto Day, honoring the 1836 battle where the state won its own independence from Mexico. Thus, TEXAZ Grill is serving up Texas-themed food and drink specials on Friday, April 21, in honor of its 181st year of independence. Between 11 a.m. and 4 p.m., enjoy a cup o' TEXAZ Red Chili or a Shiner Bock beer for $1.81 each. Plus, enjoy a specially priced $4.21 TLC cocktail (Tito's, lime, and cranberry juice) featuring Texas' own Tito's Vodka. TEXAZ Grill will also be selling copies of "The Chili Cookbook," " Legends of Texas Barbecue," and " Texas Eats" from famed cookbook author, Robb Walsh, for only $18.36 all day long.
Proof, an American Canteen, at Four Seasons Resort Scottsdale at Troon North is offering limited-edition, tiki-style Thirsty Thursday specials. Enjoy the ambiance of the evening by donning a complimentary lei and taking a trip to the islands. The tiki-style drinks are available every Thursday night; drinks include the Flaming Zombie Bite, with over-proof rum, gin, pineapple, orgeat, orange and raspberry. The Bitter Burro combines dark rum, amaro, ginger liquor, bitter, ginger beer and lemon. Or try the Lava Flow, combining rum, pineapple juice, coconut rum ice cream and strawberry. These specialty drinks range from $12 to $16. Small bites, like bacon bao bun and shrimp bibimbap, are available to accompany the drink menu.
Z'Tejas Southwestern Grill announces a new partnership with the United Phoenix Firefighters Charities through its charitable giving campaign, Cornbread for a Cause. Now until June 31, a portion of cornbread sales from all five Phoenix Z'Tejas locations will be donated to the Firefighters Charities. To raise awareness of this partnership, local firefighters will be guest bartenders and servers at Z'Tejas on three special nights. The first will be on Thursday, April 27, at the Chandler Z'Tejas. The next will be on Thursday, May 18, at the Tatum Boulevard and Shea Road location of Z'Tejas. The last will be on Wednesday, June 14 at the Tempe location. Firefighters will be serving cornbread and pouring drinks from 4:30 to 6:30 p.m. on all three dates.
Celebrate all things food and wine at the monthly Monday Night Chef's Table series hosted by ZuZu inside the Hotel Valley Ho. A seasonal four-course menu is paired with four wines or spirits from the special guest. At the upcoming dinner on Monday, April 24, explore wines from Caymus Vineyards of California. Chef LaCasce and the special guest will discuss the evening's fare and how the wines are made. The evening kicks off at 6:30 p.m. and costs $68 per person, plus tax and gratuity. Reservations are required and can be made at 480.421.7997.
Stella Artois is celebrating the unique art, culture, and cuisine of Phoenix with the unveiling of collage artist and Phoenix native Travis Bedel's [Bedelgeuse] "Art of the Chalice" mural and pop-up event with food, music and more on Thursday, April 27. The pop-up event will be built around Bedelgeuse's mural on The MonOrchid, which was inspired by his hometown and the iconic Stella Artois Chalice. Stella Artois has also enlisted local Chef Kevin Lebron and local glass artist John Longo to help celebrate the city. John Longo will highlight his unique art with an on-site glass-blowing machine. Consumers 21-plus are invited to join Stella Artois to celebrate the spirit of Phoenix and learn about our very own Nine Step Pouring Ritual to pour the perfect Stella Artois. RSVP here: Art of the Chalice: Phoenix Facebook Page.
Downtown Scottsdale's Brat Haus will be hosting its third annual Sausage Fest from 12 to 8 p.m. and will be donating a portion of the proceeds to Honor Flight Arizona, a nonprofit foundation that flies World War II veterans to visit their memorial in Washington D.C. The sausage-themed soiree includes live music, yard-style games like corn hole and life-size Jenga, a stein holding competition and Arizona's largest brat. Sausage connoisseurs and general attendees alike can enjoy a variety of craft beers, different flavored homemade brats and soft pretzels while giving to a charitable foundation and toasting over a sausage celebration in Brat Haus' alfresco beer garden. Other libations such as wine, cocktails, bottled water and lemonade will also be served. Tickets are $1 each, beers are five tickets and brats are eight tickets and the event is 21 and over only.
U.S. Egg is celebrating 31 years in the Valley this year and they are thanking customers with deals every month. In celebration of National BLT Month, U.S. Egg will be selling $5 BLTs all day on Tuesday, April 25, at all six locations (regularly priced at $9.59).
For more fab foodie news, become a fan on Facebook and a follower on Twitter @AZFoothillsFood and Instagram @AZFoothills.