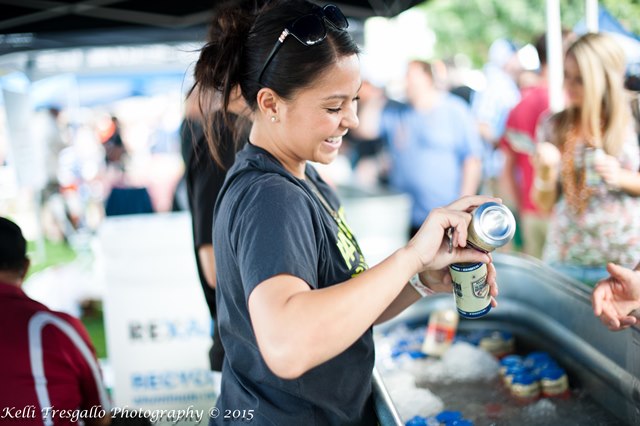 Foodie news roundup for the week of May 9.
The sixth-annual AmeriCAN Canned Craft Beer Festival (pictured) is set to return to the Scottsdale Civic Center on Saturday, May 14 from noon to 6 p.m.  Presented by Rexam, AmeriCAN features more than 300 rare beers from over 100 local and national breweries, many of which are not available in the state of Arizona. The festival will celebrate the canned craft beer revolution with live entertainment, food, a VIP tent, beer science garden and beer Olympic games. New elements this year include a mobile canning station and brewing demonstrations. Presale general admission tickets are available online at www.cannedcraftbeerfest.com for $35 and include admission, a souvenir can and 20 four-ounce pours. Day of admission is $45. VIP tickets are also available through presale purchase only for $100. VIP tickets include admission one hour early, a souvenir can, 20 four-ounce pours, catered food, a private VIP zone with private restrooms and exclusive specialty beer sampling. AmeriCAN Canned Craft Beer Festival will open its doors at noon to VIP ticket holders and at 1 p.m. for general admission. The festival ends at 6 p.m. This is a 21 and over event, no exceptions. Ticket purchasers and all guests must be 21 or over and must present a valid picture ID upon admission.
A new gastropub concept, The Phoenix Ale Brewery Central Kitchen (Central Kitchen), opened in Central Phoenix yesterday, May 11. Serving up a diverse menu of craft food paired with locally brewed craft beer, the restaurant is the first collaboration between The Phoenix Ale Brewery and Owner Rich Stark, former CEO of NYPD Pizza. The restaurant will offer many distinct flavors and all dishes (including fried chicken, burgers and beer) have been created to pair perfectly with The Phoenix Ale Brewery's nine beloved brews on tap at the restaurant. (In fact, a third of the menu items include their beers as a key ingredient.) Central Kitchen will donate 20 percent of proceeds May 11-17 to Gabriel's Angels.
TEXAZ Grill is serving up summer lunch specials for $9 each beginning May 16 through the end of August. Available on Monday through Saturday from 11 a.m. 4 p.m., enjoy farm-fresh versions of classic summer recipes such as spinach salad topped with grilled chicken breast, fish tacos filled with grilled cod filet and turkey salad stuffed into a tomato or served on a toasted French roll.
Fractured Prune Doughnuts, a specialty doughnut shop and Best of Our Valley winner for Best Doughnut, is expanding in Arizona. The concept will unveil a new location in Gilbert on Tuesday, May 17 at San Tan Village east of Dillard's. The opening marks the seventh location that the locally owned franchise has opened in just over two years, with another location planned to open in Flagstaff next month.
Not sure how to cook up seasonal farmers' market produce? Join The Farm at South Mountain and Melanie Albert of Experience Nutrition for a unique opportunity for a private tour of a certified organic farm, lead by on-site grower, Maya Dailey, followed by a hands-on demonstration of intuitively cooking a light lunch. Learn culinary skills such as making the perfect salad dressing every time, enjoy the sense of community and learn how to cook intuitively with fresh and organic ingredients from The Farm. Registration will close on Friday, May 20 at 3 p.m. so that adequate supply counts can be made for class. The experience is from 10 a.m. to 2 p.m.; $45 per person. For any questions, email ashleyo@thefarmatsouthmountain.com.
Throughout May, Shake Shack guests who donate $2 or more to No Kid Hungry will receive a card for a complimentary hand-spun shake-valued at $6, redeemable on their next visit. One hundred percent of donations will benefit No Kid Hungry.
Join The Market Restaurant + Bar by Jennifer's in Phoenix on May 19 at 6 p.m. for its monthly wine series. This month, Albert Bichot Wines will be featured and paired with delicious dishes prepared by Chef Jennifer Russo. Dishes include deconstructed bouillabaisse, rainbow trout, risotto and more for $85 per person, plus tax and gratuity.
Sunday, May 15 is National Chocolate Chip Cookie Day. To celebrate, Corner Bakery Cafe is holding a contest for a year of free cookies. From May 15 through May 20, people are asked to guess the number of mini chocolate chip cookies in a jar at their Corner Bakery Cafe by filing out an eCafe card with their guess. A winner selected from the correct answers at each of the three Corner Bakery locations in North Scottsdale, Tempe, and Phoenix-Biltmore will get a dozen cookies a month for a year.
LDV Winery Wine Gallery presents A Taste of Persia on May 16 at 6 p.m. with Saffron JAK chefs and winemaker Curt Dunham. The five-course dinner, which includes dolmeh quiche and roasted red pepper coulis, is $95 per person  or $190 per couple, plus tax and gratuity. To register, click here.
Page Springs Cellars winemaker, Eric Glomski, makes his way to the Valley early next week for two must-attend events. First, on Monday, May 16, at 7 p.m. is the fourth-annual wine barrel tasting at Kazimierz World Wine Bar. Kazimierz is partnering up with Arizona winery Page Springs Cellars to bring this rare straight-from-the-barrel experience to guests. Glomski and his team will be on-hand pouring the glasses. The bottle debut of last year's barrel tasting will also be available for sale. $10 at the door. Then, on Tuesday night, May 17, is the Sommelier Showdown Rematch at Scottsdale's Cowboy Ciao. Glomski will take on Cowboy Ciao's owner Peter Kasperski in a battle of the bottles. This five-course, 10-wine showdown begins at 6:30 p.m. for $60 per person. Reservations are required; call 480.946.3111.
To celebrate their first location in the Valley, Creamistry is giving away free single ice creams at their Scottsdale Waterfront location (7135 E. Camelback Rd.) from 4 to 8 p.m. on Saturday, May 14. In addition, they're having the following Grand Opening week promotions for ice cream hungry fans: On Thursday, May 12, buy one Creamistry creation, get another creation of equal or lesser value free; and on Friday, May 13, 50 percent of the the day's sales will benefit local nonprofit MASK.
For more fab foodie news, become a fan on Facebook and a follower on Twitter @AZFoothillsFood and Instagram @AZFoothills.