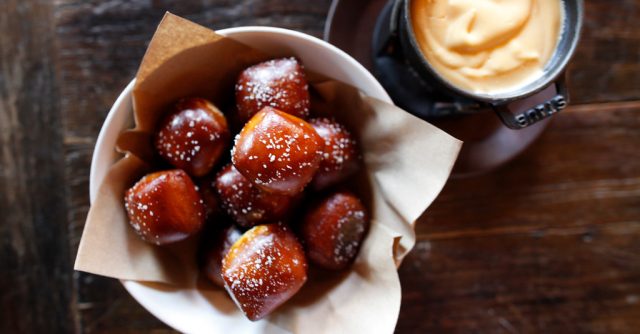 Foodie news roundup for the week of April 18.
Tokyo Joe's 2 for 1 Sushi night is offered every Monday from 4 p.m. to closing time. Guests who dine in can enjoy any made-to-order sushi off the menu and get their second order of sushi free. Tokyo Joe's has three locations in Chandler, Mesa (Val Vista) and Town & Country. The fast-casual asian-style restaurant offers a variety of rolls available in four or eight pieces.
Longtime Valley favorite Chompie's is now open in Glendale. It opened the doors of its fifth location in the Arrowhead Towne Center on Monday, April 11. Hours of operation are 6 a.m. to 3 p.m. with plans to extend to dinner hours later in May.  The new location opening at 7700 W. Arrowhead Towne Center #1145 in Glendale features approximately 6,100 square feet of dining space to accommodate up to 200 guests enjoying the made-from-scratch selections the family run restaurant is known for. To celebrate the start of Passover, Chompie's offers a special-dine in menu on April 22 and 23.  The dinner for $32.95 for adults and $14.95 for children includes soup, starter, a choice of traditional entrees, sides and dessert. Passover starts at sundown on Friday, April 22 and ends at sunset on April 30.
Roka Akor in Scottsdale is pleased to announce a vintner dinner on Wednesday, April 27, with Twomey Cellars, a part of California's Silver Oak Winery. The event, beginning at 6 p.m., will educate guests about the California winery's award-winning wines and pair four courses of artfully crafted dishes to complement each vintage. Tickets start at $150 per person plus tax and gratuity, and a reservation is required. Purchases can be made by calling the restaurant at 480.306.8800 or e-mailing Scottsdale@RokaAkor.com.
On April 28, from 5 to 7 p.m., visit Inde Fusion in Scottsdale for henna happy hour.  For $15, enjoy a signature fusion cocktail or a 6-ounce glass of wine, an appetizer and a henna design from local henna artist Purvi. Live music will also be performed and ladies enjoy happy hour pricing from 4 p.m. to close.
Set to take place on Monday, April 25, Liberty Market's upcoming Community Dinner will feature favorite dishes from Northern Italy served family style (think osso bucco, gnocchi and much more). The dinner is open to the public with sign up at the Liberty Market Strada Bar. Limited seating is available for up to 30 people. Dinner will start at 6:30 p.m. Cost for dinner is $60 per person, and an additional $20 per person with our wine and cocktail pairing.
Phoenix Public Market Cafe has launched a wholesale bakery division, becoming the largest gourmet bakery in Downtown Phoenix. The cafe now has a team of seven pastry cooks and is delivering daily pastries to a growing number of independent coffee shops and cafes, including all six Valley Cartel Coffee Labs; Futuro in Downtown Phoenix and Peixoto Coffee in Chandler. The Cafe has also expanded its catering division, offering drop and go catering to Valley business and curbside pick-up for folks on the go.
TEXAZ Grill is serving up a Texas-themed party starring famed cookbook author, Robb Walsh and featuring authentic and complimentary Texas-style eats today, April 21, in honor of Texas' 180th year of independence. From 2 to 4 p.m. at TEXAZ Grill, the public is invited to come out and meet Walsh, who will be on-hand signing copies of his "Legends of Texas Barbecue" and "The Chili Cookbook." Both books will be available for purchase during the event. Even tastier, throughout the event, TEXAZ Grill will be serving up samples of its house-made chili and hot links from Southside Market in Elgin, Texas complimentary to all guests. There will also be a cash bar.
Casino Arizona and Talking Stick Resort are adding a delectable new menu item that's sure to please seafood lovers. Select restaurants at both properties are featuring lobster tacos along with sides and a drink for $19.95. For those wanting a smaller meal, a singe lobster taco is $7.95.
Dining in the Dark, hosted by Crust Chandler on April 26 at 7 p.m., benefits the Arizona Center for the Blind and Visually Impaired. Relying solely on your sense of taste, smell and sound, Dining in the Dark offers a unique awareness experience where guests will taste their way through a sensational four-course wine pairing dinner. Delicately crafted to enhance the sensory experience, Crust staff and special guests from the Arizona Center for the Blind will help guide guests through a four-course dinner. Tickets for Dining in the Dark are $65 per person, plus tax and gratuity. Reservations are required and space is limited. Call Crust Chandler to reserve your spot at 480.917.4903.
Culinary Dropout is celebrating National Pretzel Day on Tuesday, April 26 by donating 100 percent of the proceeds from its house-made Soft Pretzels & Provolone Fondue (pictured) to the Angelman Syndrome Foundation.
From 11 a.m. to 5 p.m., 100 percent of lunch purchases at The Market Restaurant + Bar by Jennifer's will go to Dining Out for Life, international fundraiser for the fight against HIV and AIDS, on Thursday, April 28. (Food only.)
In honor of Passover, Miracle Mile Deli is celebrating all that week by offering up their brisket, veggies and matzo ball soup for just $12 from April 22 to April 30.
Sprinkles wants to let every assistant know that they are a star with their UR A Star Box. Featuring dark chocolate, vanilla and red velvet, these cupcakes spell out "UR A STAR", available on April 27 in honor of Assistant's Day. For Passover, order Sprinkles' Gluten-Free Flourless Chocolate Cake for April 22-30 for Passover. The ultra-rich cake topped with a delicious vanilla bean glaze.
For more fab foodie news, become a fan on Facebook, and a follower on Twitter @AZFoothillsFood and Instagram @AZFoothills.