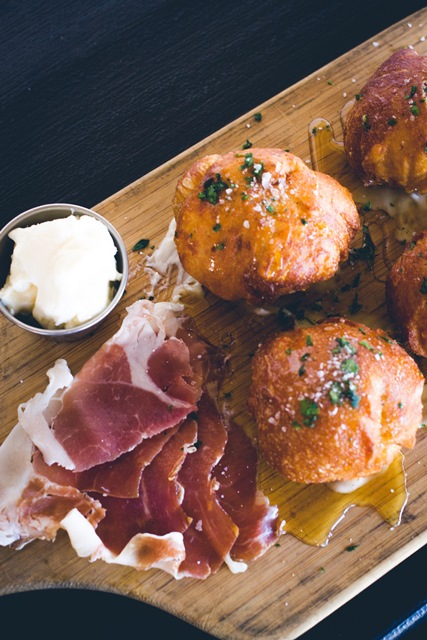 Foodie news roundup for the week of April 4.
Visit Bluewater Grill Phoenix for Journey to the Inside Passage: Pan-Seared Alaskan Halibut on Tuesday, April 12. Executive Chef Jason Mazur serves his signature pan-seared Alaskan halibut with parmesan polenta cake, oyster mushrooms, spinach and oven-roasted tomato vinaigrette, paired with a glass of Bluewater house white wine. The cost is $35 per person.
Scottsdale's il Capo Pizzeria (pictured) is launching a brand new, all day, every day happy hour from 11 a.m. to 6 p.mm. beginning on Friday, April 15. A few of the seven days a week happy hour features include meatballs, arancini, whole pies, $5 dollar wines by the glass and $6 pitchers of local brews and domestic drafts.
On Tuesday, April 12, Cowboy Ciao will host veteran Central Coast vineyard owner/winemaker, Adam LaZarre, of LaZarre Wines in a rematch of the battle of the bottles against owner/wino Peter Kasperski. Guests will enjoy a five-course dinner with two tastings per course. Diners will vote blind as to which wine paired better with each dish. Starts at 7 p.m.; $60 per person. Reservations are required; call 480.946.3111.
For a limited time, Grimaldi's will be offering its Barbecue Chicken Pizza. This is back by popular demand and is made with Sweet Baby Ray's Barbecue Sauce, chicken, smoky bacon and red onion on Grimaldi's classic pizza crust.
Benihana Inc. needs your help; the restaurant is engaging guests in a creative competition that allows them to name a new addition to the menu. The new menu item features filet mignon and chicken breast, accompanied by Benihana Onion Soup, Benihana Salad, hibachi shrimp appetizer, hibachi vegetables, homemade dipping sauces, steamed rice, Japanese hot green tea and a dessert of ice cream or sherbet. The item is an upgrade to the popular Rocky's Choice offering featuring hibachi steak. Participants may upload their submission to Twitter, Instagram or Facebook using #cravethename or by visiting benihanacravethename.com from April 1 through April 30. The winning entrant will receive $100 in Benihana gift cards every month for one year and see their winning entry featured on the Benihana menu. In addition, the program will award five finalists one $50 gift card each.
Buck & Rider, a seafood eatery from the team at LGO Hospitality, now offers a new weekday happy hour in Abby's Oyster Bar. From open to 7 p.m., Monday through Friday, enjoy a half-priced food bar menu featuring daily oysters, other selected raw bar items, featured sushi rolls, and Cooked & Good provisions (such as baked oysters, snapper ceviche, Dixie picnic chicken and more). The full menu is displayed in the bar area on two large felt boards. Buck & Rider and Abby's Oyster Bar also features $6 signature cocktails, house pours and selected wine and beer by the glass. The drink specials during happy hour are available in the entire restaurant.
On April 8 at 8 a.m., The Herb Box will be the first tenant to open its doors at The Colony, a new mixed-used development at Seventh Street and Missouri Avenue in midtown Phoenix. The Herb Box has two existing locations in Scottsdale, one at DC Ranch in the North Valley and another at Southbridge in Old Town. The Herb Box is known for its innovative world cuisine, showcasing fresh, seasonal ingredients, with a menu heavily focused on healthy, veggie-centric dishes. The Herb Box at The Colony will offer the same signature dishes that longtime fans know and love, featuring unexpected twists on tried-and-true cuisine. In addition to lunch and dinner, The Herb Box will offer a full-service breakfast Monday through Friday, as well as an expanded brunch menu Saturday and Sunday.
Roka Akor is launching a variety of spring dishes with a special tasting menu being offered between April 6 and 9. The farm-to-table tasting menu will denote where the ingredients are sourced, mostly showcasing local purveyors whom Executive Chef Jason Alford has close relationships with in the Valley. The special tasting menu, with courses like seared red snapper and Kusshi oysters, is available from 5 to 10 p.m. $78 per person for food, minimum two people.
Today, April 7, is National Beer Day and Uptown Alley wants you to celebrate, as they will offer $2 off select draft beers all day.
Speaking of National Beer Day, Two Brothers Tap House & Brewery will unveil a crisp, springtime brew called the Pollinator and complimentary samples will be available all day on April 7. The restaurant and brewery will also offer complimentary beer-centric appetizers to guests who mention National Beer Day.
Plus, head to Cold Beers & Cheeseburgers today (any Valley location) where there are beer happy hour specials all day long (that means $3 domestics and $4 local crafts).
Lon's at the Hermosa hosts two can't-miss events this weekend: On Saturday, join in on the Art of Cooking Class: Summer Dishes from 12 to 2 p.m. For $69 per person, learn how to make light, refreshing summer dishes. On Sunday, sign up for the Wine of the World Educational Series: Summer Wines, from 4 to 5:30 p.m. Learn how to read wine labels, learn to decant, be introduced to different wine regions, sample small plates and more. $55 per person.
Eat, Drink and Be Pretty (EDBP), hosted by the Scottsdale League for the Arts, takes place on April 15 from 7 to 11 p.m. at Scottsdale Center for Performing Arts. In partnership with Phoenix Fashion Week, guests will sip fine wines and taste culinary creations as they witness a live runway show featuring the latest spring fashions from leading local designers. EDBP features food from over 25 of the valley's top restaurants and a selection of beers, fine wines and signature cocktails for guests to enjoy as they watch live fashion shows throughout the night. Presented by Envy Residents, tickets to EDBP are available for $85 during presale and $100 at the door.  VIP tickets are also available for $125, which includes exclusive seating at the fashion show, access to the private lounge area, VIP food, private restrooms, private bar and one ticket to the Scottsdale Culinary Festival weekend. For ticket information, visit: http://scottsdalefest.org.
For more fab foodie news, become a fan on Facebook and a follower on @AZFoothillsFood on Twitter and @AZFoothills on Instagram.