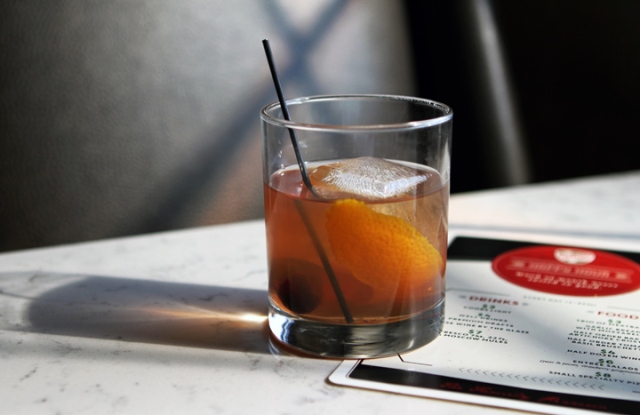 Foodie news roundup for the week of July 20.
The Pig's Head Dinner is back at Bink's Midtown. This family-style dining event features slow-cooked pig's head along with 16 side dishes for $28–and it's all you can eat. The dining event is from 12 to 4 p.m. (reservations required by calling 602.388.4874) and is $28 per person.
The Hash Kitchen took over the Cuttlefish Ocean Kitchen in Scottsdale at The Shops at Gainey Village. The eatery officially opened its doors on the 18th, and the grand opening is scheduled for Aug. 1 and all guests will receive complimentary mimosas in celebration of the opening. This is the latest culinary concept and brunch installation by Executive Chef Joey Maggiore and business partner Cristina Maggiore. The Hash Kitchen is a creative a.m. eatery that is owned and operated by Maggiore Culinary Concepts, the hospitality visionary of Cuttlefish Ocean Kitchen, Tomaso's, Tommy V's Urban Kitchen and Bar, Vivo! Ristorante, and Hogs N' Hops BBQ.
Zoës Kitchen, a popular, Mediterranean fast-casual restaurant is opening a new location in Scottsdale on July 30, marking Zoës' 155th location nationwide. The Zoës Kitchen menu features made-from-scratch entrees using fresh, honest ingredients. Vegan, vegetarian and gluten-free dishes are also available. The new Zoës is located at 14601 North Scottsdale, Suite 701.
Spinato's has unveiled new drink offerings for summer. The new lineup includes the Bae Collins, Ole Roy (pictured), Four Seasons and Summer Crush–all for $7 or $8 each.
Beckett's Table and Southern Rail are launching Christmas in July. Help bring cheer to children spending part of their summer vacation at Phoenix Children's Hospital with the donation of a new, unwrapped (but still in the original package) toy. Drop your gift off at Beckett's Table or Southern Rail on July 25 and 26. For your contribution, you will be entered to win dinner for four at Beckett's Table or Southern Rail. Also, you can buy a $100 gift card and receive a complimentary $25 bonus gift card or buy a $50 gift card and receive a complimentary $10.
National Coffee Milkshake Day is July 26, and The Refuge, which is a social enterprise of Catholic Charities Community Services, is offering a $1 off its specialty blended coffee milkshake called "The Jam".  It's made with peanut butter, Nutella, banana, milk and espresso and is available in three sizes, ranging from $3.75 to $4.25.  Receive $1 off all day on "The Jam" on July 26.
Rand Hand Dan Burger Special is available now through Sunday, July 26, at Hopdoddy Burger Bar. The burger consists of a house-ground chicken patty, smothered with melty Swiss, caramelized onions, mushrooms, three strips of apple-smoked bacon, a freshly baked egg bun and ranch dressing.
Half Moon Windy City Sports Grill is giving away free cheesecake on Thursday, July 30 in celebration of National Cheesecake Day to the first 100 people who show up at the restaurant that day when they open at 11 a.m. (Free cheesecake will be given out only at Half Moon's Windy City Sports Grill location. The Moon Valley location is not participating in this special.) Once the 100 pieces have been given out, they'll offer a special price the rest of the day (until 2 a.m.) of $3 per slice instead of the regular price of $5.49.
To raise funds to help save and improve the lives of children who are part of the Children's Miracle Network Hospitals, participating DQ Grill & Chill and Dairy Queen locations throughout the U.S. will celebrate the 10th Annual DQ Miracle Treat Day on Thursday, July 30. During Miracle Treat Day, $1 or more from every Blizzard Treat sold at participating locations will be donated to CMN Hospitals, which raises funds and awareness for 170 children's hospitals across the U.S. and Canada. All funds stay in local communities.
For more fab foodie news, become a fan on Facebook, a follower on Twitter @AZFoothillsFood and check us out on Instagram.