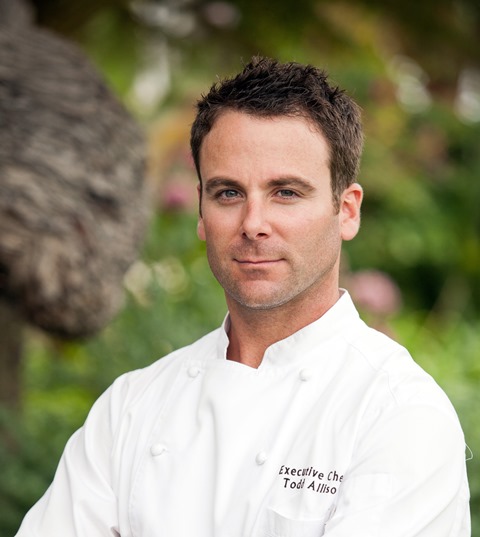 Foodie news roundup for the week of May 18.
Chef Anthony Serrano of El Palacio Restaurant & Cantina in Chandler is teaming up with Prescott Brewing Company on May 27 at 6:30 p.m. for a Surf & Turf beer dinner. The campfire-inspired menu includes Chorizo "Beanie Weenie" Tamale Pie. The cost is $25 per person.
Famous Dave's offers "Military Monday," deal at Famous Dave's four Valley locations. Present a military ID or family military ID and get a 20 percent discount on your meal every Monday. This is for active duty, retired/veterans.
Today, May 21, is Red Nose Day, and Gadzooks Enchiladas & Soup is supporting the cause by offering one of its tasty brown sugar-glazed pumpkin cookies free with purchase of food to all guests who wear their red nose. Walgreens is selling red noses for $1 each, with proceeds benefiting the Red Nose Day Fund.
T. Cook's has hired Todd Allison (pictured) as the resort restaurant's new executive chef. He brings more than 10 years of luxury culinary experience to Royal Palms Resort and Spa, a Destination Hotel. He previously served as executive chef at The Inn at Rancho Sante Fe in San Diego. Allison also worked as Executive Chef at a number of restaurants in California including the 350-seat restaurant, Anthology, Hilton Checkers in Downtown Los Angeles and Bollinger's in Santa Barbara, to name a few.
From May 25 to May 31, all five Valley RA Sushi locations will be hosting the restaurant's largest annual fundraiser, Nicky's Week. In its 11th year, during Nicky's Week 100 percent of sales from a variety of food and beverage items benefit St. Jude Children's Research Hospital. Nicky's Week was founded in memory of Scottsdale resident, Nicky Mailliard. A nephew of one of RA Sushi's founders,  Nicky lost a battle with brain cancer at the age of 13. He received treatment from St. Jude, and his dream was to one day find a cure for cancer.
May 25 is National Wine Day and several Valley eateries are offering up sippable savings: At Cibo e Vino, from 11 a.m. to 6 p.m., take advantage of happy hour pricing of $4 for select glasses of wine. Toast with a $4 glass of house red or white wine from 3 p.m. to 7 p.m. that day at Kelly's at Southbridge. At Salut Kitchen Bar, all day long, when you buy a bottle of regular priced wine, you get a bottle of house wine for $5.
The 9th Annual Farmer in the House Dinner will take place at Binkley's Restaurant on Wednesday, May 27, at 6:30 p.m. The six-course dinner includes passed hors d'oeuvres, multiple amuses, and optional wine pairings. Priced at $96, with wine accompaniments available for $54. Chef Kevin Binkley and Farmer Pat Duncan of Duncan's Trading Co., have developed a partnership that advocates and promotes fresh, local produce. Each course that Chef Binkley has designed highlights the colorful and exotic organic harvests from Duncan's boutique farm in Arizona.
Crust Restaurants hosts the Great Rustica Race set to take place on National Scavenger Hunt Day, Sunday, May 24. With a $1,000 cash grand prize up for grabs, teams of two will embark on the Great Rustica Race, traveling around the Valley snapping selfies at each scavenger hunt location. The team with the quickest total race time will win the grand prize. Prizes will also be awarded for second place, third place and most creative team name. The Great Rustica Race check in will start at Crust Scottsdale, 6989 N. Hayden Road, on Saturday, May 24 at 10 a.m. The race will begin at 11 a.m. Registration is $10 per team of two or more. Space is limited and registration will be handled on a first come, first served basis.
Starting this Memorial Day weekend and running through Labor Day, Brat Haus debuts Skinny Dip Sundays, which will feature a giant slip-and-slide running right down the middle of the beer garden. Brat Haus will offer Jell-O shots, Jager shots and New Belgium Brewing's Skinny Dip Lager paired with a whole pig roast, burgers, brats and fries. Skinny Dip Sundays will take place each and every Sunday from noon to 6 p.m.
From 3 to 7 p.m., kick-off summer with a tasty pre-Memorial Day Patio Party at Del Frisco's Grille on Sunday, May 24. Fuests will be tempted with hearty food specials such as a DFG's signature Prime Cheeseburger & Beer for $14 or Brat & Beer for $10. Del Frisco's Grille is partnering with San Tan Brewery to provide tasty canned beer as part of this patio celebration. Guests will be able to enjoy live music and raffle prizes.
For more fab foodie news, become a fan on Facebook, a follower on Twitter @AZFoothillsFood and check us out on Instagram.