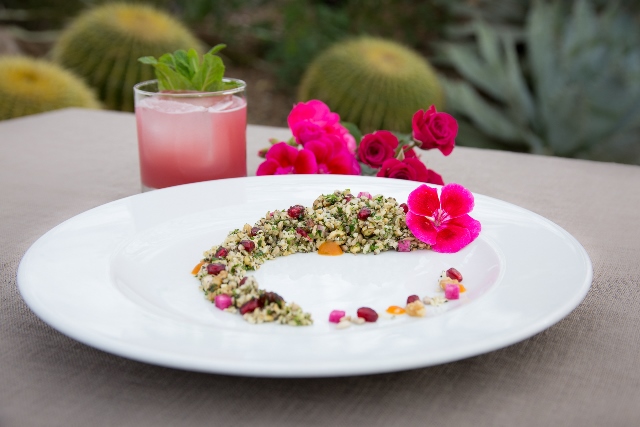 photo: Debby Wolvos
Foodie news roundup for the week of March 12.
The Gladly is making it possible for locals to enjoy the Phoenix restaurant's favorite dishes at home. The Gladly is now serving up nourishing, inspired restaurant-made Family Meals guests can pick up and enjoy in their own homes. Designed to feed between three and four people, Family Meals include a customer's choice of a main-dish protein, salad, side and vegetable, starting at $44 per family. Main plate offerings include roasted chicken breast with salsa verde, grilled salmon with lemon tarragon and capers, and coffee-rubbed beef short rib served with cherry barbecue sauce, along with a variety of salad and veggie offerings.
Mowry & Cotton kicked off its "Meet at Mowry" social dining series last month and is gearing up for its second installment featuring a Wine & Dinner Feast with Paul Hobbs Crossbarn Winery on March 23 (6:30 p.m. reception and 7 p.m. dinner). As is customary with Mowry & Cotton's community dining series, guests will share tables with one another, as well as with winemakers, throughout the evening. Greg Urmini, the director of winemaking at Paul Hobbs Crossbarn Winery, will serve as the event's special invitee. In addition to five unique red and white wine pairings, dinner guests can enjoy continuous courses featuring fresh game, locally sourced vegetables and other seasonal ingredients. Seats for the Dinner Feast with Paul Hobbs Crossbarn Winery are available for $60 per person, plus tax and gratuity. For tickets, call 480.423.2530 or e-mail 00103RestaurantReservations@luxurycollection.com.
Zinburger has announced a few additions to its menu lineup, available at its Biltmore, Gilbert and Scottsdale locations. The WAGYU burger features American Kobe beef, layered with cheddar cheese, wild mushroom, caramelized onion, lettuce and mayo, while additional menu highlights include the seared salmon salad, which is tossed with roasted zucchini, shaved vegetables, avocado, romaine, sunflower seeds, and lemon mustard vinaigrette, and the California burger bowl, made with avocado, griddled sweet potato, roasted mushrooms, caramelized onion, zuchinni and tamari. Seven new cocktails have also been added to the menu.
Gertrude's (pictured) at Desert Botanical Garden is now serving its new spring menus at lunch, dinner and weekend brunch. Must-try spring plates include poached shrimp and jicama, Korean elote, smoked salmon salad and wild boar in green chile, among other fresh and flavorful new dishes and cocktails.
Presented by Budweiser, the Scottsdale League for the Arts is bringing back the ultimate burger-loving, 21-and-over event, Burger Battle. Held on Friday, March 23 at the Scottsdale Waterfront, guests will enjoy sampling their way through locally made burgers from 17 of the Valley's best. Then, guests vote for your favorite burger. In addition to the People's Choice for best burger, a panel of culinary experts and local celebrities will select the Judge's Choice Award winner. Two lucky chefs will win the golden ticket to compete in the World Food Championships in November. Tickets are $65 to $85 and all net proceeds raised will support the nonprofit Scottsdale League for the Arts in its effort to promote the arts and arts education organizations in the Phoenix metropolitan area. (All admissions to Burger Battle include unlimited burger tastings, fries, shakes, ice cold beer, lawn games and live entertainment.)
While most people are sipping green beer, Sonata's Restaurant will be honoring the Persian New Year on March 17. Diners can enjoy an exclusive menu served buffet-style that pays homage to the Persian dining culture. Dishes include grilled chicken kabobs with tzatziki, Koobideh ground beef kabobs and more. Admission is $55 for adults, $30 for children under 10 years old, and includes buffet dinner and entertainment (DJ VS spinning tunes from 7 p.m. to 1:30 a.m.; authentic Persian belly dance performance by Myryka Nunyas from 9 to 10 p.m.; and go-go dancers from 9:30 p.m. to 12:30 a.m). VIP tickets are $110, including buffet dinner, entertainment and complimentary beer and wine from 8:00 to 10:00 p.m. in an exclusive private seating area.
Hyatt Regency Scottsdale Resort & Spa at Gainey Ranch hosts the Domaine Drouhin & Joseph Drouhin winemaker dinner on March 22. The special evening begins with an appetizer and wine reception, followed by an epicurean experience of perfectly paired wines and a memorable four-course dinner. The reception begins at 6:30 p.m., with dinner at 7 p.m. The wine series dinner is $105 plus tax and gratuity per person. Space is limited. Reservations are required; call 480.444.1234 ext 8640. Take-home wines will be available for purchase at a discount immediately following the dinner.
On Friday, March 23, the JDRF Arizona Chapter is hosting a new outdoor fundraiser called Sip…Sample…Celebrate! at La Encantada in Tucson. The public is invited to attend this special night of wine, beer and spirit tastings, while sampling some of the best local restaurants in Tucson. This event will be held from 5 and 10 p.m., and festivities also include live music and fabulous raffle prizes. The ticketed event is $125 per person.
For more fab foodie news, become a fan on Facebook and a follower in Twitter @AZFoothillsFood and Instagram @AZFoothills.