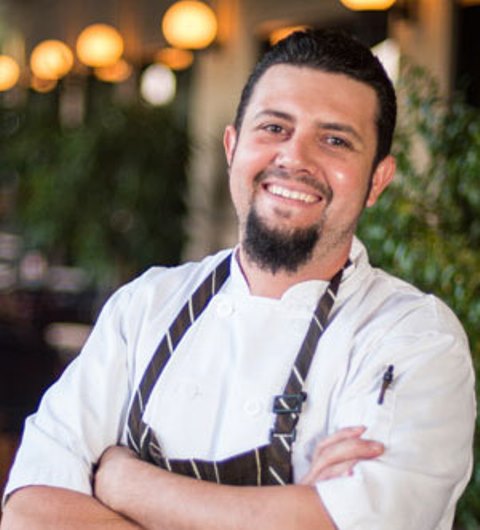 Taste of the NFL's Kick Hunger Challenge  pits fans from all 32 NFL markets against each other for a friendly competition to raise money for food banks nationwide. The season-long fundraiser (October through December) kicks off as part of September's Hunger Action Month and culminates at the 24th Annual Taste of the NFL's Party with a Purpose held on the eve of Super Bowl XLIX on Saturday, Jan. 31, 2015 at WestWorld in Scottsdale. Taste of the NFL is enlisting local restaurants to participate in the challenge to raise funds and compete for a chance to be part of the Taste of the NFL action. All proceeds raised in the "Flavors of the Valley" competition will support St. Mary's Food Bank Alliance in Phoenix and Vista del Camino Food Bank in Scottsdale. The five restaurants that raise the most money during promotion will be invited to participate in the "Flavors of the Valley" area at the Taste of the NFL's Party with a Purpose. Get to know one of the Flavors of the Valley chefs here:
Chef name: Rory Hewitt
Restaurant and location: Phoenix City Grille in Phoenix
Web site: www.PhoenixCityGrille.com
Social media: https://www.facebook.com/PhxCityGrille, @Phx_City_Grille
What inspired you to take part in the Taste of NFL "Flavors of the Valley"? When we first opened the restaurant, owner Sheldon Knapp had a vision for the restaurant to be a friendly, locally owned and supported restaurant that gives back to the community. The Flavors of the Valley Kick Hunger campaign benefiting St. Mary's Food Bank Alliance is a great opportunity to help support our community.
Any hints to what you will be dishing up if you win? We will feature our crispy eggplant bites with tomato jalapeno jam, baby arugula, fresno relish, goat cheese and balsamic reduction.
Say you're hosting a Super Bowl party. What dish do you serve your guests? When I think of the Super Bowl, I think of great, sharable dishes that appeal to the masses like our roasted green chile fundido with crispy corn tortilla chips or Sriracha honey-glazed baby back rib bites.
Have you always had a passion for the culinary srts? How did you get your start? I have always loved food and cooking. When I was young my cousin and I would go through the kitchen and make a competition out of cooking by seeing who could create the best dish. When I was 18, a friend of mine got me a job as a prep cook and I was hooked. It wasn't long after that I was cooking on the line and in love with the organized chaos of a kitchen.
What do you love most about what you do? I love creating dishes that take someone back to a time and place. I also love getting inspiration from other chefs and restaurants. It's a great feeling (even though it doesn't happen all the time) when someone says, "That is the best thing they ever ate."
What are you goals for the coming year? In the year to come, I would like to keep progressing in my food knowledge and learn more about the fascinating foods and traditions of the Southwest.
What food bank are you representing? St. Mary's Food Bank Alliance
Favorite Super Bowl memory: The year the Cardinals went to the Super Bowl, there was an energy in Phoenix that couldn't be denied. Even though we didn't win, it was a memorable season.
Favorite sports watching snack: Pizza and beer is hard to beat! But those Sriracha-honey-glazed pork ribs are great too.
Favorite cocktail to whip up for Super Bowl guests: I have a new favorite cocktail. I take 1 oz. of apple pie moonshine, ½ oz. of Fireball and ½ oz. of apple puckers with 2 oz. of hard cider beer. This would be a great drink for a Super Bowl party.
AZFoothills.com is a media partner and proud to share with you the best chefs in the U.S. and will be featured in our new publication, IN Arizona, to launch January 2015. All the best Arizona has to offer!