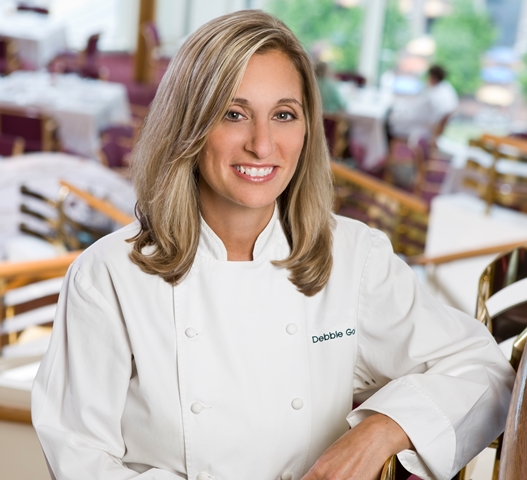 In honor of the upcoming Taste of NFL's Party with a Purpose, get to know the event's participating chefs. Check back weekly to get to know other Taste of the NFL's Party with a Purpose chefs from all over the nation!
Chef name: Debbie Gold
Restaurant and location: Kansas City
Social media: Twitter is @Debbie_Gold; Instagram is deb_gold
What inspired you to take part in the Taste of the NFL's Party with a Purpose? I feed people. I have been in the restaurant business for over 20 years. To be able to use my talent to help raise funds for hunger relief and continue to feed people, that is important to me.
Any hints as to what you'll be dishing up at the party? Chicken-fried Manchester Farm quail with biscuits and gravy.
Say you're hosting a Super Bowl party. What dish do you serve to guests? I like to put out a taco bar. That way everyone can make their taco they way they like it.
Have you always had a passion for the culinary arts? How did you get your start? Always. Always made cookies and cakes from scratch. I cooked at home all the time. I would find recipes, all kinds, and would make them for my family. We had great family dinners, I think. They got to eat whatever recipe sounds intriguing to me.
What do you love most about what you do? Pairing flavors and textures. Working with foods when they are in season. They way food brings people together.
What are your goals for the coming year? I am working on a new project act the moment.
What food bank are you representing? Harvester's.
And a few fun faves…
Favorite Super Bowl memory: The last 13 years. I've been with my TNFL family (the chefs and volunteers) for every game.
Favorite sports-watching snack: I'm a simple girl. I like some good homemade salsa and guacamole with tortilla chips.
Favorite cocktail to whip up for Super Bowl guests: Have an IPA and your favorite lager, and different choices of mixers: hard cider, grapefruit juice, lemonade and Bloody Mary mix
AZFoothills.com is a media partner and proud to share with you the best chefs in the U.S. and will be featured in our new publication, IN Arizona, to launch January 2015. All the best Arizona has to offer!