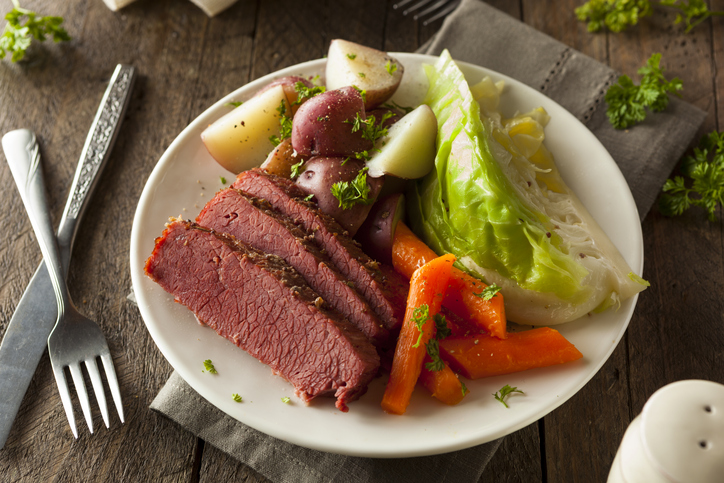 Corned beef and cabbage for everyone! Pop by these Valley restaurants on St. Patrick's Day (March 17) for Irish-inspired dishes and plenty of Guinness and Jameson to go around.
This St. Patrick's Day, Rico's American Grill at Pointe Hilton Squaw Peak Resort offers a special menu featuring a selection of entrees including Sheppard's Pie served with Irish Soda Bread and Beer Braised Brats served with a delicious Guinness Spicy Mustard, pickled veggies, a fresh baked baguette and sauerkraut. Entrées are priced at $14 each and available from 11 a.m. to 10 p.m. on St. Patrick's Day at Rico's American Grill and Rico's Bar and Backyard.
Match Restaurant & Lounge offers diners a taste of the Emerald Isle with Irish Potato Bites with diced corned beef with chives, cheddar cheese and sour cream in a whipped potato filling; Irish Stew with savory lamb medallions stewed to perfection and loaded with potatoes, carrots and a touch of Guinness; Homestyle Corned Beef and Cabbage, a hearty traditional Irish meal, including seasoned and braised corned beef, cabbage, carrots and homestyle red potatoes.
The Brewers Reuben will be available all day at Two Brothers Tap House & Brewery at the special price of $10 (regularly $15). The Brewers Reuben consists of beef brisket naturally brined in house with Domaine DuPage, sauerkraut, Swiss cheese, thousand island dressing on toasted marble rye.
NPX: A Neighborhood Joint will offer $5 Jameson and Guinness, $10 house-cured corned beef and cabbage dinner and $8 house-made corned beef and cabbage egg rolls during St. Patrick's Day weekend (March 15 to March 17).
All day long, Urban Margarita in Glendale is featuring its Mexican Leprechaun Margarita with silver tequila, Midori melon liqueur, refreshing muddled cucumber, and melon and citrus juices for just $6 all day.
Splurge at the Orchard offers a special St. Patty's day shake with mint chocolate gelato, marshmallows, whipped cream, sprinkles, candy lollipop and  topped off with rainbow candy that leads to chocolate candy coins. The sweet treat will be offered through the end of March at Splurge at the Orchard for $10.99.
At Moxy Tempe, guests will enjoy festive floaties in the pool and a decorated lobby, as well as karaoke, raffles, face painting/temporary tattoos, St. Patrick's Day naan with green marshmallows, sprinkles and whipped cream and a selection of drink specials (including green Jell-o shots!)
On St. Patrick's Day, guests of Original Breakfast House will enjoy Irish-inspired dishes: Irish Benedict, corned beef hash patties topped with two poached eggs and hollandaise sauce; served with choice of potatoes and fruit for $14, and Corned Beef Rueben, tender corned beef, Swiss cheese, sauerkraut and thousand island sauce on grilled marbled rye for $11.75. The dishes are available 6:30 a.m to 2 p.m.
Available only from March 15 to March 17, guests can enjoy some of RA's St. Patty's Day-inspired cocktails, including green hot sake, Jameson shots, Lucky Margarita (also available as a punch bowl), Irish Mule and much more. 
Chompie's invites customers to celebrate all things Irish with an authentic meal at any of five locations throughout the Valley from 11 a.m. to close. The meal includes the famous corned beef, boiled red potatoes, cabbage, fresh-baked Irish soda bread, and Lovey's Leprechaun Dessert. It is all-you-can-eat (dine-in only) for $22.99 per person, or single-serving (dine-in or take out) for $19.99.
All weekend long from March 15 through 17, Uptown Alley is offering guests $5 corned beef sliders and drink specials ($3 Irish car bombs, $5 shots of Shillelagh and Jameson and $7 Dublin-tini and Limerick mule cocktails). 
Thirsty Lion Gastropub & Grill is celebrating the Irish by rolling out a new menu just in time for St. Patrick's Day. From Feb. 28 until March 17, all three Valley locations will offer diners a special menu. The Irish-themed menu includes eight new dishes plus a dessert and two new cocktails and a whiskey flight. This year, guests will be able to support St. Baldrick's while enjoying one of the two new drinks or a whiskey flight. Two dollars from each of the new cocktails, an Irish mule and an Irish Old Fashion, and Irish whiskey flight will be donated to St. Baldrick's. This drink special will run in conjunction with the new menu from Feb. 28 until March 17.On St. Patrick's Day weekend, the gastropub will be throwing a St. Patrick's Day party with live music and décor. The Tempe location will have a stage featuring live bands on both Saturday and Sunday.
On March 17, Twin Peaks is toasting the Irish by offering Jameson and Proper 12 whiskey shots for $2.99, green beer on draft and Guinness specials. Diners can enjoy Mom's pot roast, the Billionaire's bacon burger, wings, double stacked nachos and more from the scratch-made menu. 
Paz Cantina is dishing up green beer, Guinness, Irish coffee and $3 corned beef tacos. Wear green to receive 10 percent off food and drink. 
Bar Louie at Tempe Marketplace will be serving $5 green beer and $6 Jameson on Saturday, March 16 and Sunday, March 17. 
Arcadia Tavern is celebrating St. Patrick's Day with some amazing food and drink specials (like $6 Jameson shots, $7 Guinness, $12.99 corned beef and cabbage and more) and a live performance by the Arizona Fire Service Pipe Band from 12:30 to 1:30 p.m. 
Hopdoddy will be offering a special burger to celebrate St. Patrick's Day all month long. The Dubliner burger, inspired by shepherd's pie, will include cheddar mashed potatoes, "lamb pie" patty, mushrooms, carrots, peas, parsley and celery sour cream aioli. Customers will also be able to pair the Dubliner burger with a Guinness beer for $10. Add a shot of Jameson for $2.00 or Caskmates for $2.50. The burger and beer $10 pairing will only be available through March 17. However, the burger will be available all month long. 
Trapp Haus BBQ offers all-day specials like $5 Helio Basin MOO Point Chocolate Stouts, $15 smoked BBQ stout short rib served over cheesy grits, $10 homemade rueben with fries and $3 homemade corned beef and cabbage sliders from 11 a.m. to 3 p.m.
The Phoenix Ale Brewery Central Kitchen will celebrate St. Patrick's Day weekend with a special Mint Porter firkin. The firkin will be tapped at 5 p.m. on Fri., March 15. Glasses of the Mint Porter will be available for $6 each through March 17 while supplies last. A special St. Patrick's Day Reuben Corned Beef Slider served on a fresh, house-made roll will also be available beginning 5 p.m. Friday through close of business on Sunday. Each slider will be $5. "Hoppy hour" pricing of $4 for a glass of Mint Porter will be in effect from 5 to 6 p.m. on Friday and 4 to 6 p.m. on Saturday and Sunday.
For St. Patrick's Day weekend, March 15 to March 17, all Harkins Theatres with lobby bars will be serving green beer or Leprechaun's Brew. Guests can order any of the beers available and ask to "go green." Regular beer prices apply.  
The VIG Restaurants will be offering $4 Guinness cans and $5 Jameson whiskey cocktails all day long on Sunday, March 17.
Padre Murphy's who will be celebrating its 26th annual party under the big top. Doors open, and the green drinks begin flowing, at 10 a.m. along with a traditional corned beef and cabbage feast and other Irish fare (served until 11 p.m.). The party is family-friendly – complete with leprechauns, clowns and face painters – from 10 a.m. to 5 p.m., after which it becomes an adult-only party (ages 21 and over). A variety of local bands, bagpipes and headliners from Vegas will take the stage under the big top.
Wildflower will offer up traditional soda bread that can be pre-ordered online as well as purchased in store while supplies last. Plus, guests can order the Reuben Sandwich (Wildflower Reuben is served with corned beef brisket, caramelized onion sauerkraut, Swiss cheese and thousand island dressing on grilled marble rye).
Kelly's at Southbridge hosts a weekend-long Saint Patrick's Day block party including live music, Irish food and drink classics, Scottsdale Fire Department Bagpipes & Drums, and plenty of green beer to go around.
Sandbar Mexican Grill hosts a St. Patrick's Day celebration on Friday, March 15 through Sunday, March 17. Take in all-day festive food and drink specials. The Mexican-inspired Irish specials include Shamrock-aritas, and Irish Car Bombs. And don't forget the corned beef and cabbage tacos!
On Sunday, March 17, guests of Liberty Station American Tavern and Smokehouse can enjoy the restaurant's take on traditional Irish cuisine in honor of St. Patrick's Day, including green eggs and ham, green chile pork stew Benny, a corned beef dinner specials, green creme brulee, Irish mule, Irish coffee and more. 
Hula's Modern Tiki gets ready to host a St. Patrick's Day Party on Sunday, March 17, from 10:30 a.m. to close. Swing by to enjoy featured St Patrick's Day-themed Tiki cocktails, plus all-day happy hour drink specials until 6 p.m.
Starting and ending at Carlson Creek Vineyard (2 to 5 p.m.), wine lovers can work individually or as a team to solve riddles, visit each of the wineries and win prizes during the Shamrocks & Shenanigans Wine Scavenger Hunt. Registration is $30 per person, including a three-wine tasting at each of the four wineries and a special Scottsdale Wine Trail wine glass. The fastest and most accurate teams are entered to win prizes once the scavenger hunt ends. click here for tickets.