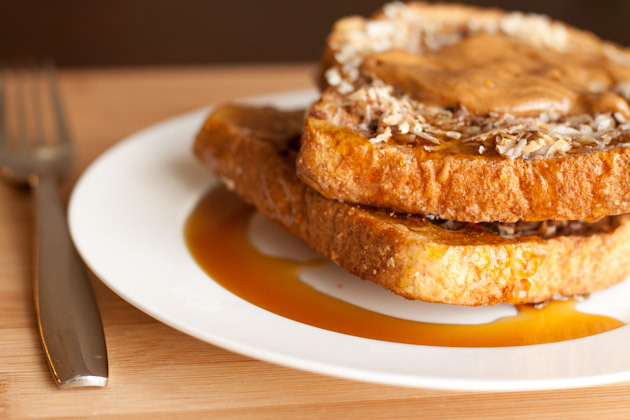 The Valley's Z'Tejas restaurants have debuted a brand new brunch menu, featuring some traditional a.m. eats (think biscuits and gravy) and other Southwestern-inspired deliciousness. The new Z'Tejas brunch menu will be available every Saturday and Sunday at the Chandler and Phoenix locations from 10 a.m – 3 p.m. and Tempe from 11 a.m. – 3 p.m. The Scottsdale restaurant will offer the brunch on Sunday only from 11 a.m. – 3 p.m.
Here's a sneak peek at the new Z'Tejas brunch menu:
Huevos Divorciados
Eggs cooked any style topped with cojita cheese atop crispy corn tortillas, separated by ranchero and spicy tomatillo sauces, served with breakfast potatoes and choice of chorizo or jalapeno bacon.
Sweet Pancakes
Rich flavored pancakes with choice of plain, strawberry, blueberry or chocolate chip mixed in, served with choice of jalapeno bacon or sausage links.
Sweet Shrimp Omelet With Andouille Veracruz
Whipped omelet stuffed with sautéed shrimp, peppers, papaya, herbs and goat cheese, topped with a spicy tomato Andouille sauce, served with breakfast potatoes.
Stuffed French Toast
Crunchy Texas French Toast stuffed with raspberry cream cheese on a bed of warm Chambord prickly pear syrup, topped with whipped cream and choice of sausage links or jalapeno bacon.
Scrambled Eggs & Jalapeno Bacon Stuffed Relleno
Topped with a cojita cream sauce, served with side of warm tortillas and pureed black beans.
Good Morning Torta
Sliced ham, jalapeno bacon, poblano rajas, griddles eggs, Jack cheese and chipotle aioli in a toasted telera bun, served with breakfast potatoes.
Chorizo Pork Scramble Skillet
Layered with seasoned potatoes, scrambled eggs, Cheddar and Jack cheeses, green chile sauce, topped with bacon gratin and chipotle, served with warm tortillas.
Barbacoa Beef Breakfast Enchiladas
Layered beef barbacoa between tortillas with green chile sauce, cojita cheese, green chile rice and black beans, topped with two eggs cooked over easy.
Bloody Mary Style Eggs Benedict
Poached eggs atop of cornbread with a roasted tomato hollandaise, served with fried spinach and breakfast potatoes.
Biscuits & Gravy
Freshly baked and lightly buttered biscuits, topped with a roasted green chile gravy, served with two eggs any style and choice of sausage links or jalapeno bacon.
For more information, visit www.ztejas.com.