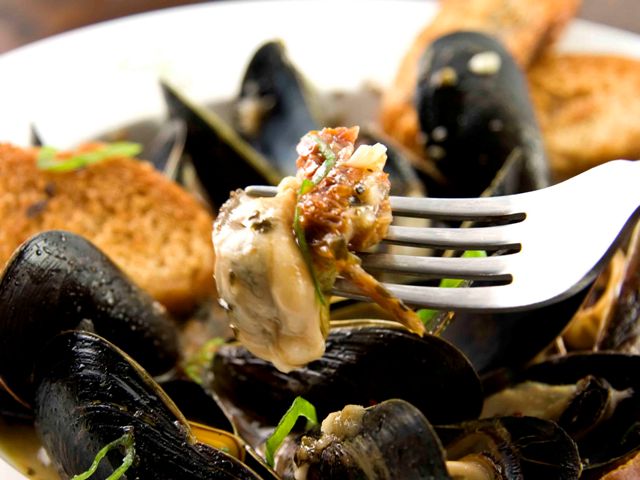 On Thursday, Phoenix's NOCA will be hosting another fabulous tasting–this time, a tasting of the seafood of renown seafood purveyor, Ingrid Bengis. Bengis provides seafood to some of the nation's top restaurants: French Laundry, Per Se, Jean George and Le Bernardin, to name a few, as well as NOCA. (Her seafood is out of the water and to Phoenix in a mere 15 hours!) I'm convinced that NOCA has the best scallops in the Valley, so I definitely recommend stopping by for other seafood goodness. The dinner is $60 per person and wine pairings are an additional $25.
First Course
Peekytoe Crab
English Peas, Vanilla Crème Fraîche, Fines Herbes, Tempura Parsley
Domaine de la Janasse Cotes du Rhone Blanc 2008
Second Course
Bouchot Mussels
Roasted Garlic, Smoked Paprika, Caper Berries, Chili, Mint, Crostino
Terredora di Paolo Lacryma Christi Bianco 2008
Third Course
Penobscot Bay, Maine Line Caught Halibut
Fava Beans, Olive Oil Poached Fingerling Potatoes, Preserved Lemon Nage
Domaine Sigalas Santorini 2008
Dessert
Strawberry Shortcake
Strawberry Gelato, Breton, Vanilla Cremeux, "Strawberry Liquor"
Bisol Brut Rose NV
-Supplemental Course-
Stonington, Maine Lobster a la Diabla ($23 Supplement)
Hand Cut Tagliatelle, San Marzano Tomato Sauce, Chili
Penner~Ash Viognier 2008
To reserve your spot at the seafood tasting, call NOCA at 602.956.6622. http://restaurantnoca.com/.