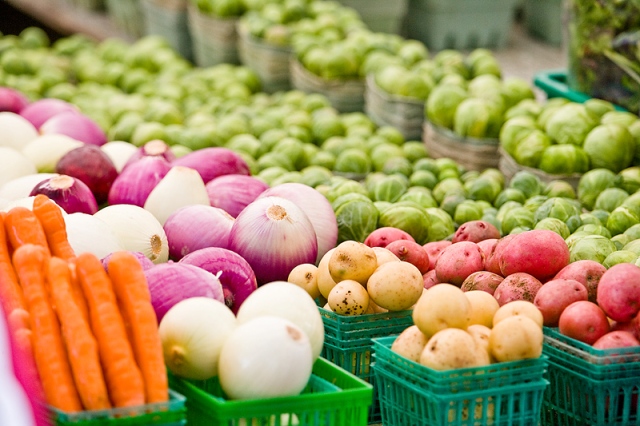 One of the Valley's top farmers' market, the Old Town Farmers' Market, has just kicked off a fun new Edible Education Series, pairing some of the Valley's top chefs with local producers for cooking demos and, most importantly, delicious nibbles. Edible Education Series classes Cs run from 10:30-11:30 a.m. and there are 25 slots available on a first come, first serve basis. Classes are complimentary; however, donations are accepted for the Fallow Fund, an emergency farm relief fund coordinated by Arizona Community Farmers' Markets. Take a look at the upcoming classes in Old Town Farmers' Market's Edible Education Series:
Jan. 28: Citrus Savvy, Curds & Marmalades with Cook and Gardener Caroline Van Slyke of BOHO Farm & Home
Feb. 4: Drizzle This! Olive Oil & Vinegar with Tess McDonough of Outrageous Olive Oil
Feb. 18: Seasonings Spices & Rubs with Chef Eddie Matney and Hopkins Hog Farm
Feb. 25: Fresh Herbs & Edible Flowers with  Terri Nacke and Maya's Farm
March 3: Cheese Making 101 with Chef Elizabeth Meinz of Orange Table and Shamrock Dairy
Can't make it to Old Town? Here's the lowdown on some of the top area farmers' markets. For more info, visit www.arizonafarmersmarkets.com.
ASU Campus Farmers' Market
Every other Tuesday, 9 a.m. -2 p.m.
Tempe Orange Mall, West of Memorial Student Union
Twilight Farmers' Market
Wednesdays, 4 p.m. – 7 p.m.
North Glendale at Citadelle Plaza on 59th Ave and Utopia
Carefree Farmers' Market
Fridays, 9 a.m.- 1 p.m.
Carefree, Corner of Easy St. and Ho Hum Way at Amphitheater Gardens
Mesa Community Farmers' Market
Fridays, 9 a.m. – 1 p.m.
Mesa, 263 North Center St just South of University
NEW: Avondale Farmers' Market
Begins November 5
Saturdays, 8 a.m. – 1 p.m.
Friendship Park by the lake
12325 W. McDowell Rd.
Roadrunner Park Farmers' Market
Saturdays, 8 a.m.- 1 p.m.
Phoenix, Cactus and 51 Freeway, Roadrunner Park
Old Town Farmers' Market
Begins October 29
Saturdays, 8 a.m. – 1 p.m.
City Parking Lot corner of Brown and 1st St. next to Carriage House
Ahwatukee Farmers' Market
Sundays, 9 a.m. – 1 p.m.
SE Phoenix, Ahwatukee Swim and Tennis Center
4700 E. Warner, Phoenix