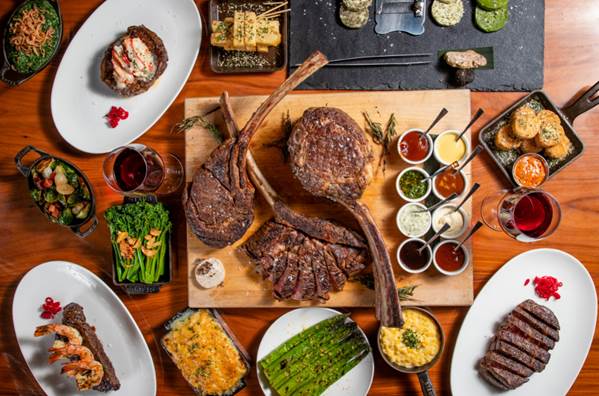 Mavrix
Beginning at 4 p.m. on Feb. 7, Mavrix will host an outdoor watch party on their 5,000-square-foot Trophy Room Patio. The goal is to provide a fun and festive Super Bowl experience – but in a safe manner.The game will be shown on their 20-foot jumbotron LED TV and broadcast through Mavrix's premium AV system. 
They're offering a dining deal – the "Touchdown Package" includes a bucket of five beers, nacho stack and any two 14-inch pizzas for $55. Beyond "football food," they have an incredible menu and cocktails that are also available.
The Patio offers a fully stocked outdoor container bar. 
The party is open to anyone and all ages are welcome, BUT seating will be socially distanced (in other words, first come, first served). The team has implemented a variety of cleaning and sanitization measures.
Mavrix also has yard games like Jumbo Jenga, Connect 4, ping pong and bag toss.
They're also taking reservations for their VIP booths, located inside the Trophy Grill restaurant (but the doors will be open to circulate fresh air and the same cleaning measures are in place). More details here.
Fuzzy's Taco Shop
Fuzzy's Taco Shop's Baja-inspired family meals are sure to score big for any Big Game watch party. The taco shop's Taco Family Meals offer generous portions of the guest's choice of meat, sides, fixings and more, and the Chips & Queso Party Tray is a guaranteed way to be the MVP of the day. After all, who doesn't love football with a side of Baja?
To take your tailgate to championship level, Fuzzy's Taco Shop has teamed up with Avocados From Mexico to offer guests FREE guacamole with the purchase of any Taco Family Meal or Chips & Queso Party Tray.
Fuzzy's guacamole is made in-house daily with fresh Avocados From Mexico so you won't want to miss out on this delicious addition to your gameday. The promotion is available Saturday, February 6 and Sunday, February 7. For orders placed online or through the app, please use code SUPERGUAC at checkout.
The Taco Family Meal is available in two sizes; regular (serves 4-6, $35) and large (serves 6-8, $50), and includes:
Choice of two meats – shredded chicken, seasoned ground beef, spicy pork or grilled veggies (fajita beef, fajita chicken, or shredded brisket are available for an additional charge)
Choice of two sides – borracho beans, black beans, refried beans, cilantro-lime rice, Mix-Mex rice
Chips, salsa and Fuzzy's famous queso
All fixings – tortillas, lettuce, tomatoes, shredded cheese, cilantro, feta, garlic sauce, Fuzzy's Taco Shop Butt Burnin' Hot Sauce®
The family meals are available at participating locations and pricing may vary by location. Place your order online at www.FuzzysTacoShop.com or by contacting your local shop by phone.
Kelly's at Southbridge
Catch the big game in Old Town Scottsdale this year! Kelly's at SouthBridge welcomes Super Bowl LV viewers to watch the face-off responsibly on their 24+ flat-screen TVs, enjoy beer bucket deals + starter specials and cheer on their team in a safe and spacious environment directly across from the Scottsdale waterfront!
Kelly's at SouthBridge offers two large (heated) patios, personal viewing lounges and private event rooms available upon reservation. All lounges feature a personal 55-inch television for enjoying the game with sound on!
Roaring Fork
Sunday, February 7th celebrate Super Bowl 55 at Scottsdale's iconic Roaring Fork restaurant! This evening only, the restaurant will be offering its popular, "Dinner on Us" (buy one entree, get one free) beginning at 4:00 p.m.
Roaring Fork will be serving signature "wood fired" favorites including:
BIG ASS BURGER served with Lettuce, Tomato, Onions, Pickles, Bacon, and French Fries
SUGAR CURED DUCK BREAST with Onion Jam, Sour Cherry Mustard, and Brussel Spouts
SPIT ROASTED HALF CHICKEN served with Mashed Potatoes, Grilled Asparagus, Roasted Garlic Au Jus
BRAISED BEEF SHORT RIBS with Horseradish Mashed Potatoes, & Tomato Jam
Roaring Fork's wood-fired cooking captures the spirit of bold American cuisine, creating flavors that crackle with a rugged edge. In the Old West, the best food was prepared on a simple wood fire.
This same spirit, freshness and flavor are at the heart of every dish served at Roaring Fork. Select from lamb, chicken, beef, pork and fresh fish entrees all perfectly prepared by wood fire rotisserie, open flame grill or wood oven roasting.
Jalapeno Inferno
It's not too late to order up a football field-sized feast (with big fiesta flavor) for the big game! Jalapeno Inferno locations valley wide are offering the following to-go packages for Super Bowl Sunday, February 7:
Appetizer:
Fiesta Platter — Two dozen mini beef chimis, two dozen mini bean burritos, three dozen mini pollo fundidos, two pints (16 ounces) each of guacamole and espinaca con queso, two pints of salsa, and two pounds mixed chips for $139 (substitute beef or chicken for bean for just $6.00 more)
Main Course Selections:
Family Style Fajitas — Three pounds char-grilled steak or chicken, sauteed peppers and onions, one pint of shredded cheese, guacamole and sour cream, 24 flour tortillas, refried beans and Mexican rice for $60
Taco Platter — One pint of shredded chicken, one pint machaca beef, lettuce, tomato, cheese, flour tortillas, refried beans and Mexican rice for $45
Enchilada Meal Deal — One dozen beef, chicken or cheese enchiladas, one dozen mini fundidos, refried beans and Mexican rice for $60
All orders include chips and salsa and all pick-up orders that include a Fiesta Platter and the main course selection will receive a complimentary Key Lime Pie.
Payment via credit card required upon pre-order; pick-up times are between 2:00 p.m. and 4:30 p.m. on Sunday, February 7.
For more information, visit www.jalapenoinferno.com.
Tommy Bahama
Looking forward to enjoying the big game and not worrying about the food? Tommy Bahama makes that easy to do with a special take-out Big Game Pack available at all Tommy Bahama Restaurant & Bar and Tommy Bahama Marlin Bar locations. The Big Game Pack is available through online ordering for pick-up or delivery and includes everything you need for a spirited and tasty Super Sunday!
Big Game Pack ($99, Serves 4-6):
Duo of Dips – Fire Roasted Salsa, Guacamole, House-Made Chips
Hurricane Tots – Hurikake, Soy Glaze, Sriracha Aïoli
All-American Cheesburger/Kahula Pork Sliders – Hawaiian Rolls, Garlic Aïoli, House-Made Dill Pickles, LTO
Mango Habanero Chicken Lollipops – Herb Buttermilk Dressing, Cucumber Batons
Cajun Panko Crusted Mac-N-Cheese
Key Lime Tarts – Macadamia Nut Shortbread Crust, Lime Zest
Orders must be placed by February 4th
Pick-up on Saturday, February 6th, 11 am-3 pm or Sunday, February 7th, 11 am to two hours prior to the start of the game, local time.
Grimaldi's Pizzeria
This year's game is just two days before National Pizza Day, so kick-off the celebration early on game day with your favorite Grimaldi's pizza or one of the meal deal packages! Carryout meal deals must call to order.
For more information or to find the nearest location, visit grimaldispizzeria.com, order online here or download the new mobile app to place an order.
Meal Deal 1 To-go: $25 (feeds 2-4 people)
One 18" traditional cheese pizza
Small house or Caesar salad
Two fountain drinks
Meal Deal 2 To-go: $40 (feeds 4-6 people)
Two 18" traditional cheese pizza
A large house or Caesar salad
Four fountain drinks
Humble Pie
The local bistro is offering a carryout deal that includes two world class pizzas, salad, braised and extra crispy tender wings with house-made sauce choices of buffalo, spicy Korean or chili honey ($49.99 feeds 4 people). Guests can order online HERE.
On Sunday, February 7, Humble Pie opens at 11 a.m. for $10 brunch, $5 cocktails, bottomless mimosas and will close early at 6 p.m.
Humble Pie has two Valley locations located in Scottsdale and Glendale. For more information, visit humblepieusa.com.
Angry Crab Shack
In honor of the big game, why not serve your guests a touchdown worthy seafood boil instead of the traditional wings and sliders?! Diving into plump juicy pieces of lobster, crab, and peel-and-eat shrimp is the ultimate hands-on feasting experience to share with friends and family on game day.
Angry Crab Shack is offering a variety of carryout seafood boil packages to elevate your game day feast, including:
Family Feast ($125, feeds 3-4 people):
Whole lobster and Dungeness crab
Head-off shrimp
King crab
Snow crab
Corn, red potatoes & sausage with your choice of sauce and spice
Neighborhood Block Party ($225, feeds 5-8 people):
Whole lobster
Dungeness crab
King and snow crab clusters
Head-on shrimp
Blue mussels
Clams
Lobster tails
Corn, red potatoes & sausage with your choice of sauce and spice
Angry Crab Shack has 12 locations in Arizona with additional restaurants opening this year throughout the state. For more information or to find the nearest location, visit angrycrabshack.com.
STK Steakhouse
Watch the big game at STK Steakhouse, where they will be showing the game, and featuring specials like Game Day Wings, Nachos, Short Rib Quesadilla & More, along with a HALF TIME SHOT SHOW!
Watching the game at home? Order the Loaded Nachos Kit, Cheesy Fries & Chicken Wings, along with STK Signature items like the Fried Chicken Thigh for delivery right to your door!
Or pregame at STK Steakhouse with Sunday Brunch starting at 11 a.m. featuring bottomless bloody mary's and mimosas, along with STK Signatures & Brunch Favorites!
Order your BIG GAME Grill Package at STKmeatmarket.com.
For more information visit, stksteakhouse.com/venues/scottsdale/.
Menu Items (Dine-In or Takeout):
Loaded Nachos Kit: braised short rib, mustard cream, grated cheese, jalapeno peppers, chimichurri sauce $25
Cheesy Fries: bacon bits, cheese sauce, grated cheddar cheese, scallions $16
Chicken Wings: buffalo, garlic parmesan, or cilantro lime $15
Meatball Hot Wrap: red onion, red pepper tapenade, chili flakes, chipotle ketchup, cheddar cheese $25
Braised Short Rib Quesadilla: fontina cheese, tomatoes, chimichurri, mustard cream, flour tortilla $23
Pedal Haus Brewery
Both Tempe and Chandler Pedal Haus Brewery locations will be hosting Super Bowl Watch parties for the big game. Guests can watch the game on several flatscreen TVs with space to socially distance inside and outdoors.
Guests will enjoy wing specials, $4 mimosas, select $4 Pedal Haus beers, $5 haus wines, $6 haus margaritas and Bloody Mary specials.
Pedal Haus Brewery has been gaining notoriety in the local craft beer scene since 2015 when it opened its location in Tempe.
The popular brewery has won over 33 medals and awards including a gold medal at the Great American Beer Festival in 2018 and Best Brewery in the United States at the 2019 Copa Cerveza de Americas.
Brewmaster Derek Osborne manages the beer lineup at the Tempe and Chandler location.
For more information about Pedal Haus Brewery follow them on Facebook and Instagram, or visit Pedalhausbrewery.com.
Fired Pie
Fired Pie is celebrating Super Bowl Sunday with bundle deals for the whole family! The locally owned fast casual pizzeria is offering eight pizzas and a tray of meatballs and catering salads for $99.99.
Guests may also purchase four pizzas, salads or Mac 'N Cheeses and get one free entrée. This deal is valid only on Super Bowl Sunday, Feb. 7 and must be called in and ordered at least three hours in advance.
Locally owned Fired Pie is co-owned by Fred Morgan and Doug Doyle. It is a fast-casual pizza concept. The eatery is quick, casual and customizable to your pizza, mac 'n cheese, or salad desires.
Fired Pie offers guests a completely customizable experience with over 40 toppings to choose from, including plant-based meats, premium ingredients, freshly made sauce and dough, gluten-free and vegan options, like vegan cheese and plant-based chorizo.
For more information visit, firedpie.com.
Thirsty Lion Gastropub
Celebrate Superbowl 55 at Thirsty Lion Gastropub and enjoy a BOGO deal on all entrees during the big game! Stop by on Sunday, Feb. 7 from 4 p.m. to close, purchase an entree and receive an entree of equal or lesser value for FREE!
Enjoy a chef-prepared gourmet burger, savory salad, or specialty entree while you root for your team. This promotion is available for dine-in only and excludes happy hour. Locations include 2000 E. Rio Salado Parkway, Suite 1041 in Tempe, 2212 E. Williams Field Road in Gilbert, 21001 N Tatum Blvd in Desert Ridge, and 3077 W Frye Rd in Chandler.
For more information visit www.thirstyliongastropub.com.
Match Market & Bar
Match Market & Bar has everything football fans need to host their own intimate Super Bowl watching parties on Sunday, February 7.
The Big Game Munchie Menu is designed to feed two to three people and includes the following for $49 (plus tax):
Trio dip (including muhammara, hummus and guacamole)
Orders can be placed by calling 602-675-8080 or emailing info@matchphx.com; pick-up times arranged at the time of order.
For more information, visit www.matchphx.com.