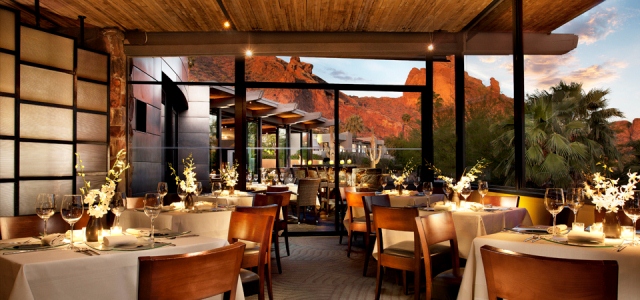 Through August 31, guests and locals visiting Sanctuary on Camelback Mountain's elements restaurant in Scottsdale are invited to enjoy a just-introduced summertime prix fixe menu, featuring appetizer, entree and dessert. Best of all, the three-course menu by the amazing Chef Beau MacMillan ('member him from Food Network's "Iron Chef America" and "Worst Cooks in America"?) is a breezy $39 per person, excluding tax, gratuity and beverages. (The Scottsdale resort restaurant is known for farm-fresh American fare with an Asian influence.)
For starters, diners have their choice of either Elemental Soup, tofu and eggplant fritter with tahini, chickpea and pine nut relish and Meyer lemon oil, or the Farmer's Market featuring grilled vegetables, aged feta, piquillo pepper, basil and balsamic vinaigrette. To end things on a happy note, guests can indulge in either a PB Bomb with peanut butter mousse and chocolate ganache, goat cheese cheesecake with passion fruit, raspberry and basil seeds, or Espresso Dark Chocolate Silk with cocoa nibs, meringue and crème fraiche gelato.
Main course options include:
Loch Duart Salmon with Skillet-Roasted Vegetables, Udon, Soy, Ginger and Coriander
Free Range Chicken Breast with Roasted Shallot Mash, Maitake Mushrooms and Truffle Jus
BBQ Short Ribs "Korean-style" with Jasmine Rice, Fried Organic Egg, Spiced Cucumber and Lotus Root
For more information and to reserve your spot for elements' summertime prix fixe menu, visit www.sanctuaryoncamelback.com.