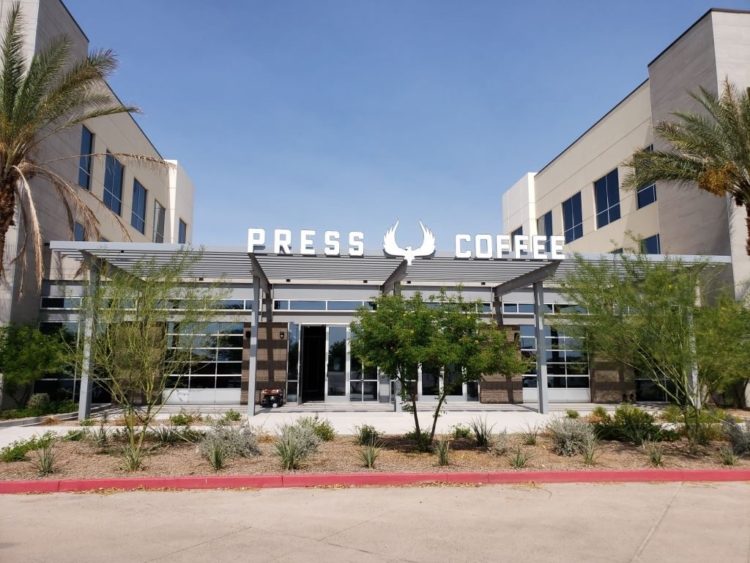 Press Coffee is excited to announce it will open at The Reserve at San Tan, located at 335 E. Germann Rd., Gilbert, on November 6.
Press proudly roasts and serves some of the world's best Specialty Coffee, but just as important is the passion to bring the community together in a comfortable space. This new location will have the largest work space of the Press shops.
The 7,000 square-foot space includes five conference areas with large tables and chairs for small group meetings or friendly gatherings plus traditional café seating near the coffee bar. The renovated shop will have a modern look with a sleek design.
Since 2008, Press has grown and evolved and we're excited to be able to open a new location in the East Valley. This new location is unique due to the extra conference rooms and open workspace. As work schedules and needs change, we hope this space will meet the needs of the Gilbert community in a variety of ways.


– Steve Kraus, founder and co-owner of Press Coffee
The menu will include the same high-quality coffee and coffee-based drinks currently being offered at the other Press locations plus breakfast sandwiches, burritos, avocado toasts and Press original shakers.
To celebrate the grand opening, Press Coffee will sell $1 drip coffees from November 6 to 8 with 100% of profits donated to Winged Hope a Gilbert-based nonprofit that works to prevent family violence and provide programs to support victims. For more information on this charity visit www.wingedhope.org
Due to coronavirus, this location's hours will be 6:30 a.m. until 4 p.m. Monday through Friday and 7 a.m. until 4 p.m. on weekends. These are temporary hours until further notice.
In addition to the in-store retail of whole beans Press offers monthly coffee bean subscriptions shipping locally and throughout the U.S. with subscribers receives first option to buy the quarterly Allocation release – a high end Specialty Coffee offering.
About Press Coffee Roasters:
Press has been Arizona's own local coffee roaster since 2008. Quality driven and community-focused, Press shares its passion for specialty coffee by providing the highest quality coffee products, service, and knowledge with customers and community every day. Press Coffee has eight Valley locations in Scottsdale, Tempe, Phoenix, and Chandler. Visit Press Coffee online at presscoffee.com and on Facebook, Twitter, and Instagram @presscoffee.
Locations:
The Roastery: 10443 N. 32nd St., Phoenix
Tempe at Skywater Apartments: 601 W. Rio Salado Pkwy
Tempe at Nexa Apartments: 1221 E. Apache Blvd.
Scottsdale at Scottsdale Quarter: 15147 N. Scottsdale Rd. #102
Scottsdale Waterfront: 7135 E. Camelback Rd.
Chandler Ocotillo: 2577 W. Queen Creek Rd.
Gilbert: 335 E. Germann Rd.
Phoenix at The Muse Apartments: 1616 N. Central Ave.
Phoenix Biltmore: 2390 E. Camelback Rd.