As my husband and I were enjoying the espresso churros and milkshake at The Mission in Old Town the other night, he made an interesting comment: "I love milkshakes." My dearest isn't usually up for most desserts. Milkshakes and root beer floats are the only treats he's willing to have just about every time (we like to stop at In-N-Out for chocolate shakes if we're out late). I figure there has to be other milkshake enthusiasts out there; those who prefer their dessert in a liquid format, like my husband does. (I'll take my dessert in any format, thank you very much; however, I do have incredibly fond memories of the amazing Pop Burger shake I tried upon a wintertime visit to New York. You should try it.)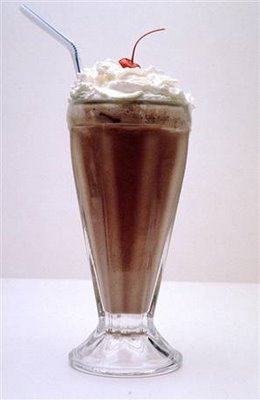 Prepare to lick away those milkshake moustaches, folks. Here are a few of the best shakes the Valley has to offer:
Joe's Farm Grill I know, I know. I can't hush up about this family-friendly Gilbert eatery. However, they serve up some of the richest shakes in the Valley—each topped with a brightly colored (you might even get one that's orange or blue) cherry. And they even have fruity flavors based on availability; I've spied everything from peach to raspberry. 3000 E. Ray Rd. Gilbert, 480.563.4745, http://joesfarmgrill.com/.
Udder Delights Also located in Gilbert, Udder Delights makes tasty shakes using its homemade ice cream, which ranges from lemon-raspberry cheesecake and Monkey Moo (bananas, peanut butter and chocolate). PS We dare you to walk into this adorable shop and not leave without a cupcake. 1385 E. Warner Rd., Gilbert, 480.507.3859, http://udderdelightsaz.com/.
25 Degrees Like your shake with a little kick? Grownups should try the Guinness milkshake at this Phoenix-based CityCenter at CityNorth hot spot. What's not to like? 5415 E. High St., Suite 127, Phoenix, 480.502.1125, http://www.25degreesrestaurant.com/.
MacAlpine's Soda Fountain Doesn't a superior shake or malt in a 50's-style restaurant (complete with a 1952 jukebox) sound irresistible? This Phoenix eatery offers just that. In fact, the old building used to be a drug store. 2303 N. 7th St., Phoenix, 602.262.5545, http://macalpines1928.com/.
Mary Coyle Ol' Fashion Ice Cream This Phoenix outpost is yet another old school (Mary Coyle opened in 1951) stop for delish milkshakes…thick, creamy top-notch milkshakes. Plus, there's a drive-thru. 5521 N. 7th Ave., Phoenix, 602.265.6266, http://www.marycoyle.net/.
Chloe's Corner Though the flavors at Scottsdale's Kierland Commons nook aren't very inventive (chocolate, vanilla and strawberry), they hit the spot for a homemade, creamy concoction. 15215 N. Kierland Blvd, #190, Scottsdale, 480.998.0202, www.foxrc.com.