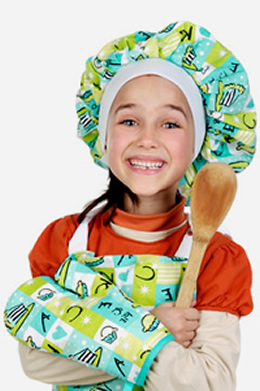 Kids don't like the sweltering heat just as much as us grown-ups. But instead of keeping them cooped up indoors, take them to Press at CityCenter at CityNorth for a few kid-friendly cooking classes via Oven Mitt Kids. (Oven Mitt Kids offers fun, safe, hands-on cooking classes for children that help them with their math, reading, science and social skills.) All classes are $50. Here's the schedule:
Jamaican Papaya Sailboats
Saturday, July 18
1:00pm – 3:00pm – 5 – 8 yrs.
4:00pm – 6:00pm – 9 – 12 yrs.
Sunday, July 19
1:00pm – 3:00pm – 9 – 12 yrs.
4:00pm – 6:00pm – 5 – 8 yrs.
Portable Irish Picnic
Saturday, July 25
1:00pm – 3:00pm – 5 – 8 yrs.
4:00pm – 6:00pm – 9 – 12 yrs.
Sunday, July 26
1:00pm – 3:00pm – 9 – 12 yrs.
4:00pm – 6:00pm – 5 – 8 yrs.
For more information on Oven Mitt Kids and these classes, visit http://ovenmittkids.com/.
Class Guidelines: Oven Mitt Kids! classes are held at Press Coffee Food Wine. The address is 5410 E. High St., Phoenix. Press is located in CityCenter of CityNorth. We may be contacted at 480.278.2066. Your child's safety and health are the most important responsibilities in the world to us. We conduct our classes at a retail food establishment that utilizes a licensed, professional kitchen subject to city code safety regulations and health inspections. Our class size is no larger than eight students within a three to four-year age range of each other. This class size allows our instructor(s) to teach and supervise effectively while being hands-on with each child's project. Kids should come dressed in clothes that are comfortable and o.k. to get chocolate and tomato sauce-stained messy! Please know that we will do our best to accommodate any dietary needs or restrictions your child may have. This may in the form of simply substituting an ingredient or suggesting an upcoming class that features a recipe more suitable for your child. Our facilities are not nut, nut oil-free or kosher. We cannot guarantee that any of our food products are nut, nut oil, wheat and dairy-free or kosher. Please do not send your child to class if he or she is not well.