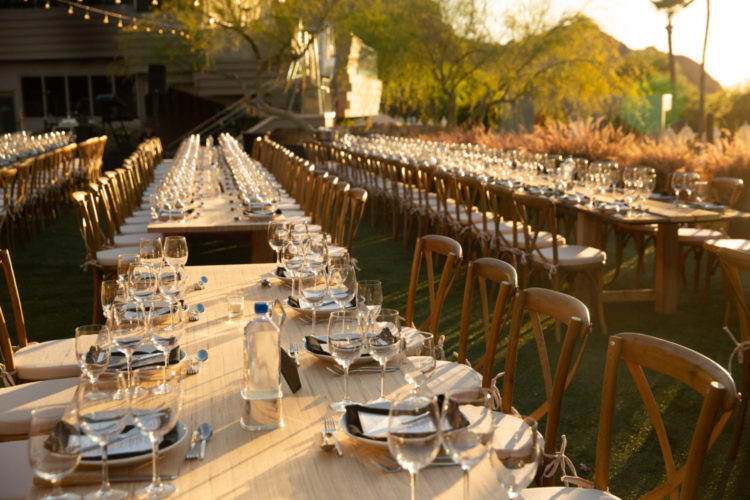 Update: To ensure the health and safety of all who attend, the Nirvana Food & Wine team will reschedule Nirvana Food & Wine Festival to Fall 2020. Guests who purchased tickets or have any questions can each out to the Nirvana Food & Wine team at 877.818.5620.
Scottsdale's highly anticipated culinary, spirits, art and music festival, Sanctuary on Camelback Mountain Resort and Spa's Nirvana Food & Wine Festival, is back April 16 to April 19. Celebrity chefs, mixologists, winemakers, musicians, television personalities, artists and more gather to bring event-goers a lineup of luxurious, food-focused fun. The Bella Twins once again host the brunch-style Rosé Parté while Flutes & Coops celebrates the dynamic duo of Champagne and fried chicken , to name just a few of the events.
"I really think this is going to be one of our best years yet. I feel lucky to have the opportunity to bring so many of my close friends and talented chefs together to celebrate food, wine, spirits, art and music…things in life that really connect us all." – Sanctuary's executive chef, event mastermind and television personality Beau MacMillan
Check out the complete headlining events:
Wood, Wine & Wagyu presented by Far Niente
Date: Thursday, April 16
Tickets: Beginning at $350
The 2020 festival kicks off with this ever-popular event, featuring superstar culinary talent from across North America preparing Snake River Farms American Wagyu cooked over open-wood flames while celebrity mixologists craft whisky-based cocktails utilizing Woodford Reserve. Guests will then be invited to take their places at the table for an intimate, family style dinner with wines hand selected by Far Niente. Country music superstars D. Vincent Williams, Dillon Dixon and Joe Diffy will provide musical accompaniment.
Flutes & Coops
Date: Friday, April 17
Tickets: Beginning at $150
Experience the ultimate Champagne campaign and fried chicken feast headlined by DJ Miss Mixx, Fosterson and 17 of the Valley's best chefs preparing their best fried chicken recipes. This indoor/outdoor event will feature full bars and cocktails shaken by some of the Valley's best mixologists with one chef being crowned king of Flutes & Coops by popular vote. 
Tequila & Tortillas
Date: Saturday, April 18
Tickets: Beginning at $125
Grab the salt and limes! Held at the iconic Hotel Valley Ho, this year's Dia de los Muertos-themed Tequila & Tortillas event will feature nearly 20 locally and nationally recognized chefs cooking up the best of the best in southwestern fare. Since no fiesta is complete without tequila, several of the Valley's top cocktailers will be on-site mixing up delicious tequila-based cocktails.
This year's event also features a team "taco takedown" competition, tequila luges and a stunning art presentation by the renowned Gennaro Garcia.
Best of the West
Date: Saturday, April 18
Tickets: Beginning at $175
The biggest event of the weekend, Best of the West will be hosted by Scott Conant and Tony Abou-Ganim and will offer 20 live-action stations showcasing cuisine from the most talented chefs of the Valley and greater Arizona. Set to the backdrop of the stunning Camelback Mountain, this not-to-miss event will also offer live musical performances from Double D and the Nashville Allstars to close out the night.
Rosé Parté 
Date: Sunday, April 19
Tickets: Beginning at $150
The star-studded rosé-all-day trend continues with Rosé Parté, co-hosted by Robert Irvine and the Bella Twins. Guests will have the opportunity to mix and mingle with some of the Valley's top culinary talent as well as taste two-dozen different rosé wines. This brunch-style party will also include craft cocktails, ice carvings, a raw bar and beats by DJ Miss Mixx. Giving new meaning to the term "Sunday Funday," this is a not-to-miss closing experience.
Tickets to individual events and the festival in its entirety are available for purchase at this link. Room packages are available through Sanctuary and can be booked here.