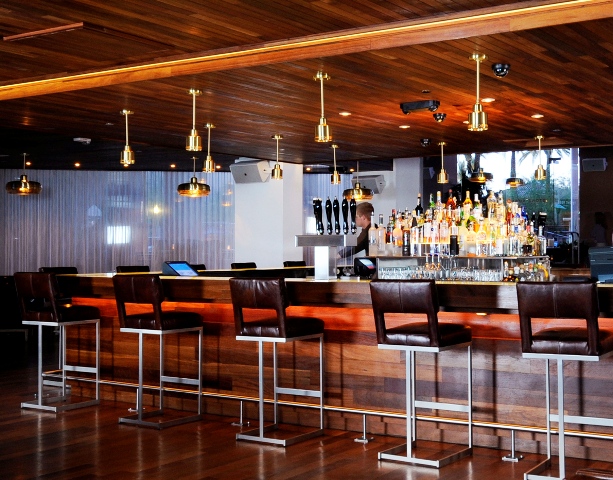 Fairmont Scottsdale's super chic, year-old Stone Rose Lounge has recently announced a new social schedule designed to help its party-seeking patrons save some bucks (including perks for locals and a special birthday Champagne campaign)–and still have fun. Since Arizona has such mild summer nights, I look forward to taking advantage of Stone Rose Lounge's new social schedule at the open-air bar. Here are the details:
Happy Hour – This is what the "in" crowd is up to after the 5 o'clock whistle blows. Every weekday from 5 to 7:30 p.m., guests can enjoy happy hour at the expansive Stone Rose Lounge in Scottsdale with 50 percent off all call liquors and house wines. Stone Rose Lounge introduces its new specially priced happy hour food menu, with a mouthwatering assortment of signature creations new to Stone Rose Lounge.
Sip Stylishly Mondays – What better way to welcome the week than by indulging in one of Stone Rose Lounge's signature handcrafted martinis? From 6 p.m. to 2 a.m. every Monday, throngs of the well-dressed will head to Stone Rose Lounge to indulge in half-priced martinis and wines by the glass. From 5 to 7:30 p.m., guests can enjoy 50 percent off all call liquors, house wines and specially priced food along with Stone Rose classics like the acai blueberry, lychee or grapefruit basil martinis. (I, for one, could go for a grapefruit-basil martini on a Monday evening.)
Fridays and Saturdays – On Friday and Saturday nights, Stone Rose Lounge kicks the glittery nightlife scene into high gear with a collection of featured DJ's and special events and parties. Whatever your pleasure, Stone Rose Lounge provides the ultimate nightlife experience with half-priced bottles of liquor on weekend nights as well as complimentary valet service every time you visit the Fairmont Scottsdale property.
Neighborhood Discount – Arizona-based resorts sure know how to treats locals during the summertime. All guests with a valid Arizona ID card eligible for 25 percent off your bill each time you visit Stone Rose Lounge.
Celebrate Your Birthday with Stone Rose Lounge – Some restaurants give you a free sundae on your birthday. At the movie theater, you might get a small bag of complimentary popcorn. However, at Stone Rose Lounge, the birthday incentives are a bit more bubbly. Indulge in the special new Champagne campaign. Visit Stone Rose Lounge any time during your birthday month and receive a complimentary bottle of Champagne. Offer is valid during your birthday month only. Limit one bottle of Champagne per person, per year. 7575 E. Princess Dr., Scottsdale, 480.585.4848, http://www.fairmont.com/scottsdale/.