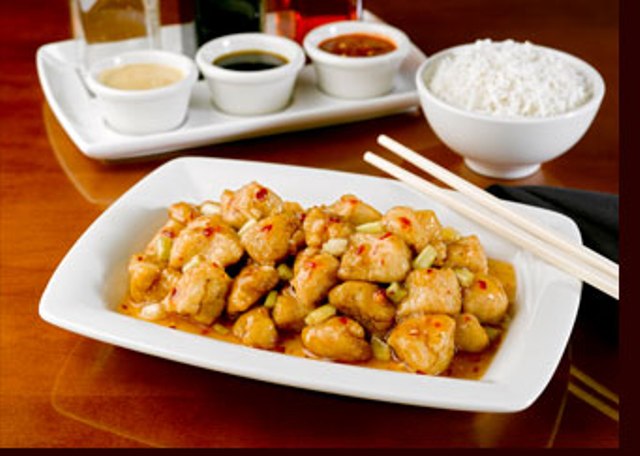 P.F. Chang's will always have a special place in my heart. Years ago, while we were in college, my husband took me to the P.F. Chang's on Mill Avenue in Tempe for one of our first dates. I'll never forget how upset I was that he ate my fortune cookie; I forgave him though because, since then, he always lets me eat his. For years, the Valley's P.F. Chang's China Bistro locations have been must-stops for happy hour on those busy work days. Now, the restaurant has announced its Triple Happiness Happy Hour menu, featuring new signature cocktails as well as dim sum and street fare dishes.
On the Triple Happiness Happy Hour menu, hungry guests can receive smokin' deals on the following items (and more!): nine steamed dumping choices; Flaming Red Wontons; the new tuna tataki crisp featuring sliced ahi tuna, seared rare on a crispy wonton and topped with fresh diced ahi tuna, cucumber and scallions tossed in a citrus-sesame soy sauce; four types of Asian street tacos (traditional beef, spicy beef, red-cooked pork and mahi-mahi); Shanghai Street Dumplings (which recently returned to the menu); chicken lettuce wraps.
To wash down all the tasty menu items, P.F. Chang's has unveiled delish, summer-perfect cocktails, which are all $6 during the Triple Happiness Happy Hour. New cocktails include the yuzu-ginger mojito, Dragon Martini, Dark & Spicy and coconut-lemon sour.
The P.F. Chang's Tripe Happiness Happy Hour is available daily 3 to 6 p.m. There are eight Valley P.F. Chang's locations: Kierland Commons; Superstition Springs; Tempe; Scottsdale Waterfront; Happy Valley; Goodyear; Peoria; and Chandler. http://www.pfchangs.com/.