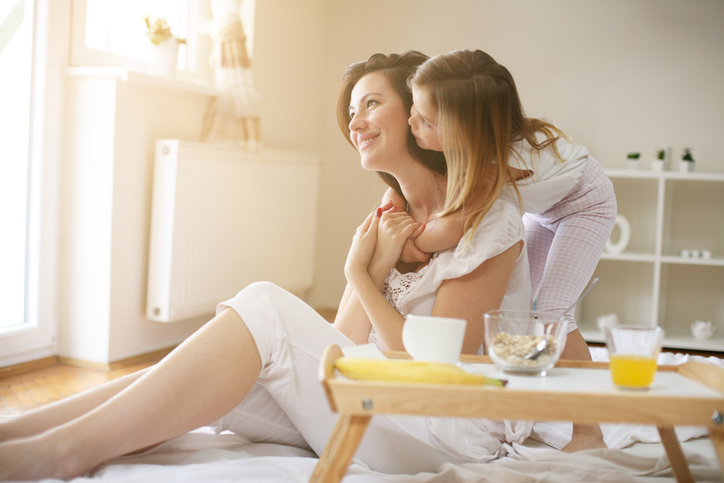 Mom deserves the royal treatment more than ever this year. To treat her this weekend, check out these Valley restaurants that are offering delicious to-go and delivery options for families this Mother's Day (Sunday, May 10).
This Mother's Day, Executive Chef Conor Favre of Fairmont Scottsdale Princess is dishing up a magnificent hand-crafted brunch available for curbside pickup at the resort, where families have celebrated the holiday for three decades. The brunch provides seasonal spring favorites (including mains of pork loin and rack of lamb!) for up to four people, available for $195 plus tax. Place your reservation request via the form below by May 7. Curbside pickup for brunch and any add-on items will be located at the resort's Palomino Ballroom entrance on Saturday, May 9, between 1 and 3 p.m. Credit card required at time of reservation. 72-hour cancellation notice required or subject to 50 percent cancellation fee. Add-ons include wine, mimosa or Bloody May kits, flowers, wellness-focused gift boxes and more.
Just in time for Mother's Day, Fogo de Chão Scottsdale dishes up three new to-go experiences with fully cooked and ready-to-grill components. The Date Night package serves two for $98, the Celebration experience serves four for $75 (our Mother's Day pick!) and the Full Churrasco Home Experience feeds six-plus diners for $95. Plus, for our readers, mention AZ Foothills for a five percent discount off any package and a complimentary bottle of wine!
This Mother's Day, Tarbell's allows families to treat Mom like royalty with to-go selections like Faroe Islands salmon, Arizona honey-basted ham, Two Wash Cornish game hens and whole-roasted tenderloin. Each dish comes with a thoughtful selection of well-paired sides and add-ons (hello, lobster mac and cheese!) All orders will be prepared family-style, ready for pickup starting May 9 at 4 p.m. with printed re-heat instructions.
Choose between comforting classics like chicken parmesan or healthy picks like salmon with sun-dried tomatoes for your Mother's Day feast from The Cottage and Z Catering. Family meals, including sides like mashed potatoes and sauteed veggies, are $40 and feed four to five people. Text 480.747.0756 or email dina@zcateringaz.com your order by 4 p.m. on Thursday.
Hash Kitchen is hosting a brunch parking lot party for Mom complete with a DJ this Sunday from 9 a.m. to 1 p.m., with $30 brunch and $8 meals for kids 12 and younger. Each meal starts with Hash Kitchen's signature cannoli doughnuts and comes with a bottomless Bloody Marys or mimosas with one-cent refills. Then, diners can choose between more than half a dozen brunch favorites, and to-go packages are available.
The Sicilian Butcher is offering an Italian-style prix-fixe Mother's Day menu this Sunday including cazzilli, stuffed zucchini blossoms, roasted beets and figs, Sicilian lasagna, chicken fricassee, cannoli and mixed Italian cookies for $40 a person. Each dinner package serves four people.
ZuZu at Hotel Valley Ho offers a choice of pre-madebeef short ribs or crab cannelloni with an assortment of sides for $36 per person. Want to cook? Choose from take-and-make family meals; prices are based on the number of people served and start at $89. Desserts and flowers are also available. Orders will be taken through May 7 at 5 p.m. On May 10, pick-up for all orders will be between 10 a.m. and 6 p.m., and customers have the option to pick-up take-and-make meals on May 9. Free delivery is also available for orders within five miles (minimum order $100).
Mastro's to-go Mother's Day dinners include raw 28-day, wet-aged gyro-vac sealed steaks accompanied by Mastro's Secret House Steak Rub, caesar salad, a ready-to-bake side dish and Mastro's Signature Butter Cake. Pair the Mother's Day meals with Mastro's Rose Therapy kit to indulge and relax the Mom in your life. Orders must be placed by May 8 at 8 p.m.
Chompie's locations around the Valley are offering pre-packaged family meals from brunch through dinner available for curbside pick-up or delivery via DoorDash. As a special treat for the woman of the day, Mom receives a free slice of Chompie's epic seven-layer cake with every pick-up order.
Celebrate Mother's Day with "Mom-osas" at Farm & Craft and Dierks Bentley's Whiskey Row Gilbert. All moms will receive a penny mimosa package (bottle of Poema Brut or Rosé with orange juice) with the purchase of any item on the restaurant's family menus. Hand Cut is offering the same special with the purchase of two entrees. Valid only on May 10 from open to close. Family meals must be pre-ordered.
PHX Beer Co. is teaming up with local nonprofit Homeward Bound over Mother's Day weekend. On Saturday and Sunday, PHX Beer Co. is offering $20 32-oz. crowlers of Bloody Marys, margaritas or mimosa kits (OJ and Champagne). $10 of each item sold that weekend will go to Homeward Bound.
The Mother's Day Family Meal Special from VooDoo Daddy's Steam Kitchen feeds four for $62.95 (not available for third-party delivery services). The feast includes shrimp and chicken linguine, garlic remoulade toast, house salad, beignets and a bottle of Cote des Roses Rosé.
Crowne Plaza San Marcos Resort in Chandler is offering brunch to-go from 10 a.m. to 2 p.m. The take-out meal feeds a family of four and features a main dish (like salmon or short ribs), quiche, sides, salad and dessert.  All orders must be placed by May 6. The meal is $125 plus tax.
Mother's Day dinner for four for $90 at Mingle + Graze in Downtown Chandler. The menu includes a cheese and charcuterie board, crudités with hummus, seasonal salad, beef roast, pasta salad, dinner rolls and Camila's Chocolate Cake. Pre-orders will be taken until May 7. Available for pick up on Mother's Day between 11 a.m. and 1 p.m.
For pick up or delivery, SanTan Brewery dishes up Mother's Day specials like honey-glazed ham, garlic mashed potatoes, green bean casserole and more.
Gertrude's offers a Mother's Day menu for brunch and dinner with the likes of salmon toast, shellfish quiche, crepes, pot roast and more, plus cocktail kits are available. Meals are offered in single-serve or family-of-four options. The menu is available for delivery or curbside pick up on May 8 and May 9.
Morning Squeeze offers a Mother's Day brunch package for $120 plus tax that feeds four to six. It has two quiches, breakfast potatoes, biscuits and gravy, fresh fruit and chocolate chip French toast casserole. Bubbly is also available. The package is for take away only and can be picked up at either the Tempe or Scottsdale Morning Squeeze on May 10. Orders should be placed by Friday, May 8.
Miracle Mile Deli offers family meals for breakfast (a spread of smoked salmon, yogurt, granola and more for four for $55), lunchtime sandwich kits for $45 or dinner Miracle Meals that feed up to 10 on Mother's Day. Plus, spend $80 for a $100 MMD gift card. It starts May 1 and runs until June 21.
While Serrano's is closed on Mother's Day, the restaurants will offer a Mother's Day dessert special on May 9, featuring churro doughnuts. Two churro doughnuts covered in cinnamon sugar and sprinkled with powdered sugar are $3.99 or a six-pack of churro donuts may be purchased for $12. While supplies last.
Prep & Pastry's Mother's Day offerings include Breakfast in Bed chef's boards for $45, brioche bread pudding, brunch for four, craft mimosas and more. All orders will need to be pre-ordered by Friday 2 p.m. to schedule pick-up times.
Order up a complete meal from Chase's Diner with half off an entrée just for Mom all day long on Mother's Day. Moms can enjoy this offer with meals available for takeout, curbside pickup and delivery via Postmates and GrubHub.
Dickey's Barbecue Pit is hosting a social media giveaway in honor of Mother's Day. Through May 31, guests can post on their social media tagging Dickey's and using the hashtag #motherlyadvice to share the best advice their mom ever gave them. A random winner will be chosen to win free barbecue for a year! Dickey's is also offering its Classic Family Pack for the holiday, available for delivery and takeout, for $34.99 and feeds four.
Guests at Maggiano's Little Italy can order a cold-prepped Mother's Day bundle, packed with generous portions classic Italian dishes, a dessert sampler and more to feed four to six for $95. Bundles can be picked up May 8 to May 10.
Original Breakfast House is featuring delicious breakfast specials available for the whole family all day long on Mother's Day, including crab omelettes, shrimp and grits, triple-berry French toast and more.
Chef Marcellino of Marcellino Ristorante offers a special Mother's Day Take-Out Menu. Orders need to be called in by Friday, and the restaurant will open at noon on Sunday for pickup. In addition to the normal menu, the restaurant will offer Tagiolini Mare e Monte for $25 featuring Chef Marcellino's handcrafted pasta sautéed in rich tomato sauce with tailed shrimp and mushrooms. Mom will also enjoy tiramisu, compliments of Chef Marcellino.
Chef Lisa Dahl is offering two Mother's Day packages via her "Dahl-to-Door" e-commerce platform. The meals are freshly prepared in her Sedona restaurants, frozen and shipped with ready-to-heat instructions. Packages include Mother's Day Italian Style ($74 plus shipping, to order: dahltodoor.com/Mothers-Day-Italian-Style-p196045315) and Mom's Comfort Favorites ($67 plus shipping, to order: dahltodoor.com/Moms-Comfort-Favorites-p196055544). Must order by Tuesday, May 5, at 3 p.m. Ships UPS Second-Day Air.
All day on Mother's Day, Fired Pie will running a $10 off $40 deal and also a $5 off $20 offer. Enter TENOFF at online checkout for the $10 off $40 deal or code word FIVEOFF to receive $5 off a $20 order. Not valid for third-party delivery.
Ling & Louie's Asian Bar and Grill is giving you two ways to celebrate with Mom! Enjoy a very special brunch available from 11 a.m. to 3 p.m. featuring classic brunch fare with a unique modern Asian spin. From 3 p.m. to close, the restaurant will offer a three-course dinner with new items crafted with Moms in mind. For those who wish to celebrate Mother's Day at home, there will be special Mother's Day Brunch package and Mother's Day Dinner package available for take-out or delivery.
Grimaldi's Pizzeria is offering a free chocolate cannoli to all mothers with the purchase of a pizza on Mother's Day. Mention "MOMSDAY" when placing the order. Only one cannoli offer per order. Not valid on through third-party delivery services.
Tommy Bahama Restaurant in Scottsdale offers brunch (with quiche, smoked lox crostini, butter rum French toast and more) and halibut dinner packages for Mother's Day that must be pre-ordered Friday by noon. And don't forget the cocktail kits!
Featuring family-style versions of favorite Fat Ox dishes, enjoy a three-course brunch for four, six or eight people, including insalata di casa, lasagna, Italian sausage skillet and banana bread French roast, plus polenta and a split bottle of bubbles. Or savor the same chef-crafted feast for Mother's Day dinner, with the addition of a Linz prime filet mignon entree course. Fat Ox's Mother's Day brunch is offered from noon to 3 p.m.; dinner from 3 to 8 p.m.
Maple & Ash's special Mother's Day brunch takeout offer is available from 11 a.m. to 7 p.m. The meal includes fire-roasted filet mignon, a smoked salmon platter, shrimp cocktail and more for $80 (serves two). Cocktail kits and add-ons (like a bouquet) are available as well.
Thai Chili is celebrating Mom this week with some sweet specials. When using code UNITY, guests will receive 20 percent off their total bill (ongoing); when customers buy one entrée at full price, they can receive 25 percent off a second entrée with code BOGO25 (expires Sunday, May 10); and on Sundays only, through May 31, diners can use code NOODLE to receive $3 off any rice or noodle entrée. Offers are valid on website and app orders for pick-up or delivery.
Pomo Pizzeria's Mother's Day package feeds four to six. For $60, pre-order a delicious meal for Mom to enjoy with the family, including a Mista Salad, eggplant parmigiana , two margherita pizzas, strozzapreti salsiccia pasta and panna cotta for dessert. You can also order a batch cocktail for $40 extra (four  to six servings) of Pomo's Puma drink.
Roaring Fork honors moms with a specialty Mother's Day takeout menu available for pickup between 11 a.m. to 5 p.m.  The specialty menu designed for four people features a selection of signature menu items (like crispy chickens or beef tenderloin) plus two sides, dinner rolls, and a choice of dessert for $65 to $75.
Angry Crab Shack's Mother's Day Seafood Boil Bag ($32) features lobster tail, shrimp, snow crab, corn, potato and Champagne split. Available May 10 and accepting pre-orders as well. Order by phone for curbside pick-up or delivery available within a five-mile radius of the restaurant.
Merkin Vineyards Old Town Scottsdale is offering a special menu for pickup on Saturday, May 9, from 11:30 a.m. until 7 p.m. The menu features agave-glazed ham with green beans, red potatoes and a salad for $25, lemon-herb salmon with a choice of red potatoes or garden veggies for $35 and the weekly pasta offerings with a side salad for $25.
The Mission dishes up a Mother's Day family-style brunch that serves up to four people for $125. Pre-order now for pickup between 11 a.m. and 4 p.m for a feast of sangria (of course!), chilaquiles, pumpkin bread French toast and more. A la carte eats are available too.
Enjoy a Mother's Day take-out family feast for four from Zinc Bistro for $140 (with butter-braised Maine lobster and filet mignon!), as well as a la carte offerings like Zinc French toast and eggs benedict.
Tempe Marketplace and Desert Ridge Marketplace have you covered this Mother's Day with a plethora of dining specials from the likes of Barrio Queen, California Pizza Kitchen, Cold Stone Creamery and more.
AZ Giving: From 10 to 11 a.m. on May 8 and May 22 hundreds of single-parent households battling cancer will be participating in drive-through meal service and gift donation service spearheaded by local nonprofit, The Singletons. The event will take place at 13831 N 32nd Street in Phoenix.  The Singletons Care Distribution Day will provide families with the following on May 8: a few of the 600 meals that were donated from Chestnuts, necessities like toilet paper and cleaning supplies and bouquet of flowers and national charity league family gift for Mother's Day. The distribution on May 22 will provide different gifts and foods such as chicken potpies from Mamma Toledo's The Pie Hole.