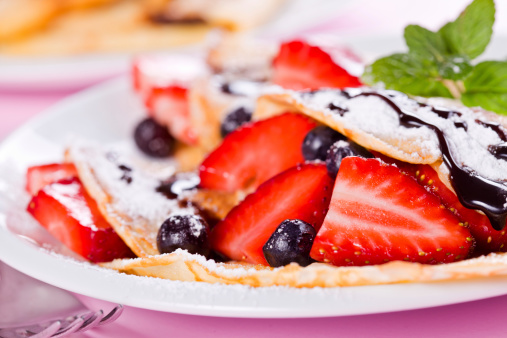 Celebrate the mamas in your life this weekend at one of these fantastic Mother's Day dining options–from brunch to dinner–in Phoenix. Reserve your spot now.
Celebrate Mother's Day at Province restaurant with a special brunch menu available from 9 a.m. to 3:30 p.m. on Sunday, May 12. The menu includes many options to customize a delicious brunch including a gourmet eggs benedict station and a scrumptious build-your-own waffle station. www.provincerestaurant.com.
Treat mom to a memorable and delicious Mother's Day brunch at District American Kitchen and Wine Bar in Phoenix from 10 a.m. to 3 p.m. on Sunday, May 12. The menu features endless Champagne along with traditional favorites inspired by mom's homemade recipes that includes local ingredients and herbs from the restaurant's garden. Each mom will be presented with a beautiful rose. www.districtrestaurant.com.
Gina's Homemade offers fully prepared take-out Italian dinners that serve four people this Mother's Day. The meal includes lasagna, panzanella salad and more. The meal is $99 or $79 excluding wine. Simply heat and enjoy. Orders must be placed by May 10. www.ginashomemade.com.
Mother's Day brunch at T.Cook's begins with a starter buffet filled with seasonal delights including fresh fruit, assorted salad, pickled vegetables, seafood bar, meats and cheeses and more. Next, comes a wide selection of entrees followed by a dessert buffet. The brunch ranges from 9 a.m. to 2 p.m. www.royalpalmshotel.com.
The Ritz-Carlton, Phoenix will present its annual Mother's Day Champagne Brunch on Sunday with menu inclusions to feature beloved favorites including garlic-studded prime rib, a shrimp and oyster raw bar, omelet station, Belgian waffles and roasted salmon. www.ritzcarlton.com/phoenix.
Special Mother's Day brunches are available at Fox Restaurant Concepts restaurants: Modern Steak, True Food Kitchen, Culinary Dropout, The Greene House, The Arrogant Butcher, Olive & Ivy and North. www.foxrc.com.
Taggia at FireSky Resort and Spa in Scottsdale is featuring a three-course, prix fixe menu (featuring the likes of lasagna, filet of sole and more), available on Sunday, May 12 from 12 p.m. to close. www.taggiascottsdale.com.
On Sunday, spoil mom with a delectable Mother's Day brunch at Prado at Montelucia Resort. In addition to the traditional brunch favorites, Prado will serve a selection of delicacies from the wood fire, as well as yummy desserts and bottomless mimosas and Champagne. www.montelucia.com.
The brunch menu at El Chorro features a carving station, a variety of salads, a breakfast station and a dessert spread. The special holiday menu will include El Chorro's famous sticky buns, handcrafted bread and butter, coffee and tea. www.elchorro.com.
ZuZu at Scottsdale's Hotel Valley Ho hosts its regular brunch menu alongside tasty Mother's Day specials. Guests are also invited to whip up custom cocktails at the Bloody Mary bar. www.cafe-zuzu.com.
The Farm at South Mountain will be holding its annual Mother's Day brunch with nine seating options. The delish pecan French toast, sweet potato salad and coconut cupcakes are just a few items on the Mother's Day brunch menu. www.thefarmatsouthmountain.com.
Roaring Fork celebrates Mother's Day with a specialty brunch featuring a selection of breakfast items, a carving station featuring roasted pork prime rib and smoked beef brisket, salads, eggs, signature side dishes, entrees and tasty desserts. www.roaringfork.com.
The signature Latilla restaurant at the Boulders Resort will be offering a Mother's Day brunch featuring a carving station, omelet station, cold and hot items, bread and bakery, dessert and a children's station. www.theboulders.com.
From 4 to 8 p.m. on Mother's Day, The Stockyards will dish up a full dinner menu being offered, including our delicious steaks, slow-roasted prime rib of beef, fresh seafood and wild game specials. Plus, moms will receive $25 gift cards to be used at a different time. www.stockyardssteakhouse.com.
Moms at Arizona Biltmore will enjoy mouthwatering holiday dining choices, including Mother's Day Brunch in Wright's at The Biltmore and a three-course pre-fixe menu in Frank & Albert's. www.arizonabiltmore.com.
Wrigley Mansion's Sunday Champagne Brunch, including a seafood station, an omelets-to-order station, salads, fruits, fresh rolls and a
carved-to-order meat station serving prime beef and lamb, will be expanded to include three separate seatings (10 a.m., 12:30 p.m., and 3 p.m.). www.wrigleymansionclub.com.
Champagne and an extensive buffet of fresh fruits, salads, international cheeses, muffins, bagels, breads, a crepes station, an omelet station, a variety of breakfast entrees and much more is on the menu at Scottsdale Resort & Conference Center. www.thescottsdaleresort.com.
The Palette at Phoenix Art Museum is hosting a Mother's Day brunch on May 12, including a four-course organic menu filled with various dietary options (vegan, vegetarian, gluten free and dairy free) and a wonderful desert buffet. www.phxart.org.
On May 12, from 10 a.m. to 4 p.m., a menu full of delightful dishes created with local ingredients will be available for Mother's Day brunch at Beckett's Table. Moms can take a break from the kitchen with a choice of house-smoked brisket, Nutella crepes, giant sticky buns and more. www.beckettstable.com.
Different Pointe of View at the Pointe Hilton Tapatio Cliffs Resort will offer an elegant culinary experience for Mother's Day. The brunch will include a carving station, as well as waffle and frittata stations, a selection of seafood and more. www.differentpointeofview.com.
Rico's American Grill, Pointe Hilton Squaw Peak's farm-to-table restaurant, is hosting a Mother's Day brunch buffet featuring carving stations, breakfast faves, a children's buffet and more. www.ricosag.com.
Treat mom to a three-course brunch at Fleming's Prime Steakhouse & Wine Bar. Guests can enjoy innovative brunch favorites, and moms will receive a $25 dining card valid for a future visit. www.flemingssteakhouse.com.
On Sunday,  LON's at the Hermosa shows appreciation to mothers by hosting a four-course Mother's Day brunch. Served from 9 a.m. – 2 p.m., mothers will also be presented with a flower on behalf of LON's. www.lons.com.
Arrowhead Grill in Glendale dishes up a three-course Mother's Day brunch from 10 a.m. to 2 p.m. on Sunday. Prime rib, pork tenderloin and more are on the menu. www.arrowheadgrill.com.
From 11 a.m. to 3 p.m., Alchemy at CopperWynd Resort in Fountain Hills dishes up a seasonally driven buffet for Mother's Day. Buffet items include buttermilk whipped potatoes, seared ahi tuna, pan-seared salmon and more. www.copperwyndresort.com.
The House at Secret Garden is hosting an all-day Mother's Day brunch, featuring four courses of creative, fresh and local food. Seatings are from 11 a.m. to 6 p.m. http://www.houseatsecretgarden.com/.
Newly opened Salty Sow in Phoenix will be celebrating Mother's Day brunch on Sunday, May 12 featuring signature dishes, desserts and
breakfast items. www.saltysow.com.
This Mother's Day, Central Bistro is offering a complimentary mimosa for mom with purchase of an entrée. The Mother's Day brunch menu is
comprised of a selection of pancakes, waffles, healthy eats, benedicts, omelets and breakfast pizzas. www.centralbistroaz.com.