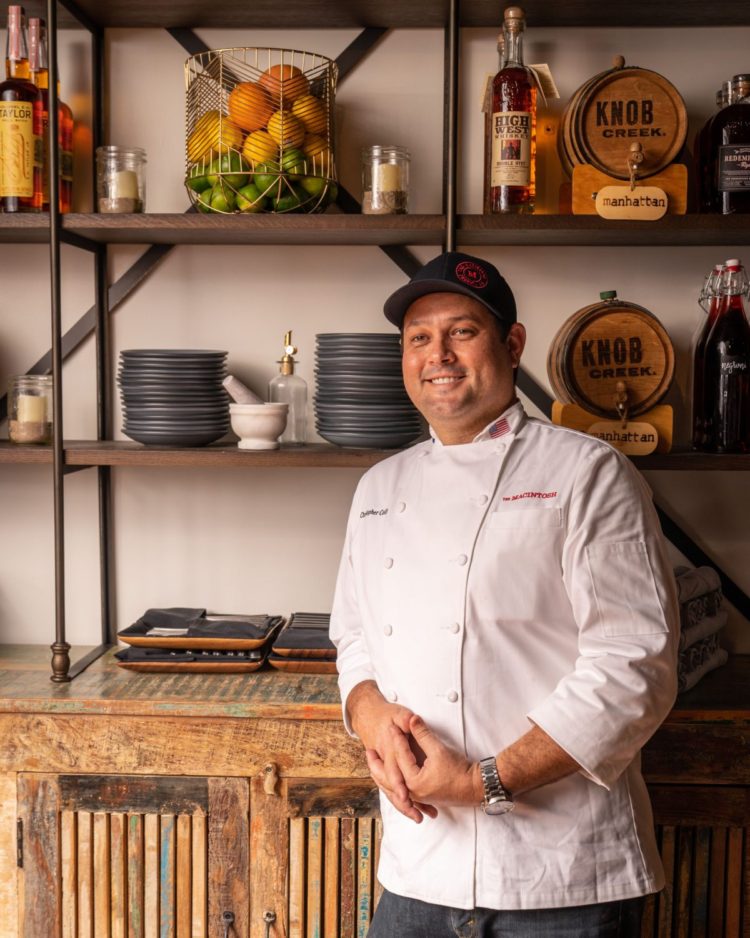 Christopher Collins is a fourth-generation restaurateur and founder of local restaurant group, Common Ground Culinary. After graduating from Boston University with a degree in hospitality management, he was invited to join Hillstone Restaurant Group's famed management program. "I learned the restaurant business from top to bottom, food to equipment," says Collins. Prior to a formal education, Collins says watching his father taught him "it's all about soul. A restaurant is not just a building." He now lives in Phoenix with his wife and two sons and has successfully opened Valley favorites like Grassroots, Twisted Grove Parlor & Bar, The Collins Small Batch Kitchen, The Macintosh and Sweet Provisions. We had a chance to catch up with Collins to learn more about his ambitions as a chef as well as Common Ground Culinary's identity, mission and vision.
AFM: What inspired you to begin Common Ground Culinary?
CC: After opening Grassroots in 2011, I wanted to make sure that our local brands had synergy and after about a year of writing down different names and concepts in my journal. I settled on Common Ground Culinary as the parent company of my future hospitality group. I believe that food is a centerpiece of our lives and is one of the few things that brings a community together. No matter if we're gathering family and friends, celebrating wins and even losses, getting together with food fosters common ground amongst our community.
AFM: Tell us about your life before the start of Common Ground Culinary.  
CC: Since I was a boy stealing bacon in my dad's restaurants, I knew that I wanted to spend my career in a kitchen. I received a full ride swimming scholarship to attend Boston University's School of Hospitality and was recruited by Hillstone restaurant group to join their management training program. While with Hillstone, I traveled to six cities and experienced operations as a kitchen manager and general manager. After leaving Hillstone, I worked at elements under Chef Beau McMillan and at Royal Palms under Lee Hillson, learning different cooking techniques and operations. 
AFM: Tell me a little bit about the restaurant group's history.
CC: Common Ground Culinary has achieved so much in such a short period, starting with the opening of our first concept, Grassroots Kitchen & Tap in 2011 at the Via De Ventura and Hayden location. In 2014, I opened my first Phoenix restaurant, now known as The Macintosh at the Town & Country Shopping Center. In 2015, we launched Twisted Grove Parlor & Bar in the same center as the original Grassroots. In 2016, Sweet Provision, our homemade ice cream shop and bakery, opened. Plus, I purchased the Wally's American Pub N Grill in Gainey Ranch from my father and did a slight rebrand as Wally's American Gastropub. In 2017, Common Ground Culinary opened its second Phoenix restaurant, now known as The Collins Small Batch Kitchen at 32nd Street & Camelback Road. Most recently in the fall of 2019, we launched our catering concept, Arcadia Catering Company, to help service the Phoenix and Scottsdale communities 
AFM: Where do you see Common Ground Culinary in the future? What are your goals?
CC: We will continue to look for unique opportunities to open neighborhood focused concepts that cater to the surrounding community. Common Ground Culinary has no desire to leave the Valley and will focus all our attention on being the best local hospitality group.
AFM: What can we expect from Common Ground Culinary in 2020?
CC: No immediate plans for new concepts, with the recent roll out of Arcadia Catering Company, we are focused on fine tuning and expanding our catering operations to serve our community.
AFM: What is the restaurant group's accompanying mission statement and values?
CC: To serve and reflect our communities and neighborhoods while offering uncompromised service and quality to the families that support our group.
AFM: How would you describe your restaurant group's identity?
CC: Casual fine dining that offers guests a place to enjoy as a family, on date night or with colleagues for a business gathering.
AFM: What can we expect upon visiting a Common Ground Culinary restaurant?
CC: Friendly and hospitable service paired with high-quality cuisine at a fair price in a clean and well-appointed environment….plus some fun and laughs, because why not?
AFM: Of course, we must ask, what is your favorite dish from any Common Ground Culinary restaurant?
CC: I'm in love with our pizzas at The Collins. The dough comes from a 10-year-old sourdough starter and the wood-fired oven puts out beautiful and perfectly crisp pies. My absolute go to is a tossup between the Atta Boy and Mushroom & Sausage pizzas. —Aubrey Martin