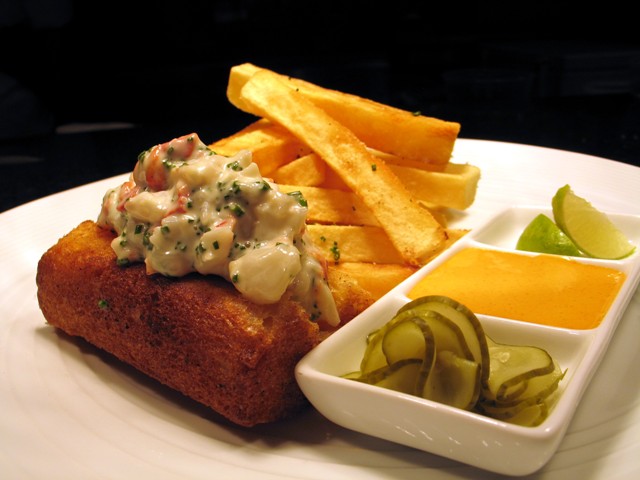 Wednesdays don't usually call for much celebration. It's still a bit too early to get into weekend mode, but Manic Monday is over and done with. The highlight for me is usually the "American Idol" results show. Phoenix's NOCA (which was crazily omitted from the James Beard Foundation Awards Best New Restaurant finalist list), however, has found a way to make Wednesday pretty great. Every Wednesday–and only Wednesday–chef Chris Curtiss serves up a finger-licking good lobster roll ($23).
The roll spotlights Maine lobster provided by Ingrid Bengis, a seafood purveyor who supplies to only a few, select eateries. And NOCA is in good company. Ingrid supplies to Thomas Kellar's The French Laundry in Napa Valley, as well as Jean-Georges Vongrichten's slew of restaurants. Ingrid, in fact, provides all of NOCA's amazing seafood (my favorite is the restaurant's slightly sweet day boat scallops).
Last night, I experienced NOCA's lobster roll, which is an east coast favorite, for the first time. And it was a magic moment. The golden brown, crisp roll is chock-full of delicious lobster that has been tossed in garlic aioli, fine herbs and celery root. I enjoyed the lobster roll best when topped with NOCA's pickles. The dish is also sided with tasty duck fat fries. Wednesdays, you're not so boring after all. 3118 E. Camelback Rd., Phoenix, 602.956.6622, www.restaurantnoca.com.