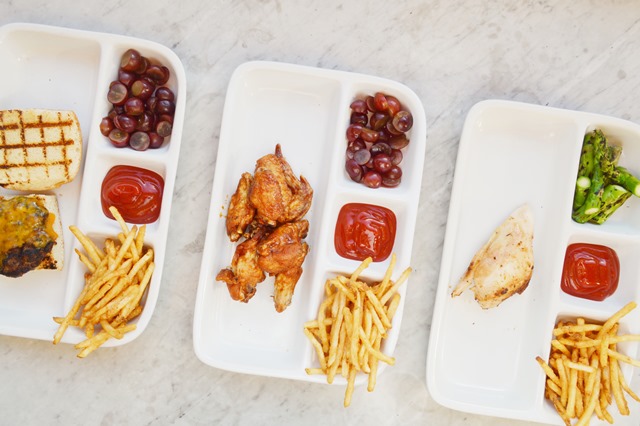 You know what's even better than a kid's meal that doesn't center around boxed mac and cheese or a greasy hot dog? A kid's meal that is free. Both of which are the case at Grassroots Kitchen & Tap and Twisted Grove Parlor + Bar in Phoenix and Scottsdale, and Wally's American Gastropub in Scottsdale (the trio is part of the family-owned Common Ground Culinary restaurant collection).
Recently, the restaurants launched a program that allows kids to eat free with purchase of adult entrée from 3 to 6 p.m. Knowing how tricky it is for families to dine out, Christopher Collins of Common Ground Culinary wanted to make it a little easier (and more wallet-friendly) for Mom and Dad. "As the father of two young children who was practically raised in the kitchen by my family, I understand how difficult it can be for families to enjoy a nice meal out without breaking the bank, or feeling like you're unwelcome," says Collins in a press release. "We want to make sure that local families always have a great spot to gather and enjoy delicious kids meal options and where the kids don't feel forgotten with just a few skimpy options."
Though being free is pretty sweet, the fact that Grassroots Kitchen, Twisted Grove and Wally's serves meal that kids will actual eat–and parents will approve of–is even better. During a recently trip to Twisted Grove Parlor & Bar, our littles enjoyed thick noodles with butter and parmesan and delicious marinated filet, alongside broccolini and French fries. The filet and broccolini, in particular, were huge hits with the entire table–parents included–as we learned the restaurant doesn't skimp on quality just because the meal is on the kid's menu. (Other entree choices include roasted chicken breast, cheese pizza, noodles with marina and more.)
To end the meal, kids even receive a voucher for a free scoop of ice cream at Common Ground Culinary's Sweet Provisions ice cream and sweets shop (the simple strawberry ice cream is amazing!) for dessert. And we can't blame Mom and Dad if they treat themselves too.